3 Top Snorkeling Spots in Los Cabos, Mexico
If you want to get up close with some of Cabo's colorful undersea creatures, there are some really incredible spots to snorkel in Los Cabos. The beautiful waters of the Sea of Cortez are home to an amazing variety of marine life. This profusion of sea life once prompted famed oceanographer Jacques Cousteau to nickname the Sea of Cortez "The World's Aquarium." A variety of snorkeling tours are available, departing throughout the day from the Cabo San Lucas marina.
Here are 3 of our top picks for spots to snorkel in Cabo: 
1. Pelican Rock at Land's End is accessible via water taxi from Médano Beach or the marina in Cabo San Lucas. A number of tour operators also offer snorkeling tours. While the Pacific-facing waters at Land's End are too rough for swimming, the bay side can offer excellent snorkeling and diving when conditions are good. Pelican Rock is a great snorkel spot in the protected Cabo San Lucas Marine Preserve. Many species can be sighted here, including sea turtles, surgeonfish, parrotfish, angelfish, Moorish idols, rays and many others. Playful sea lions are also visible in the waters nearby.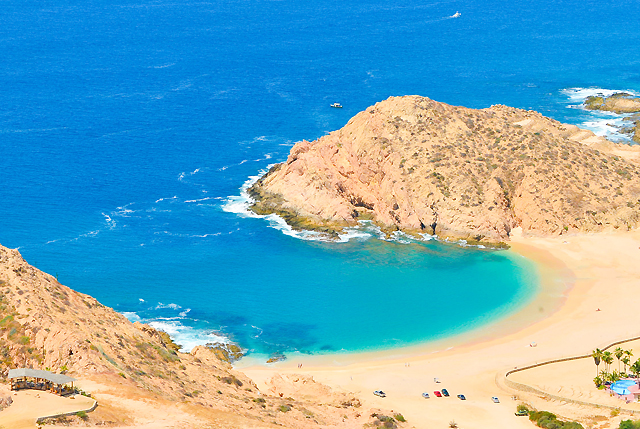 2. Santa Maria Bay is situated on the Tourist Corridor between Cabo San Lucas and San José del Cabo. Another very popular spot for snorkeling, tours arrive from the Cabo marina in the morning and early afternoon. You can also access this lovely crescent-shaped bay near Km. 13 on the highway (follow the signs to the parking area). Colorful schools of fish can be spotted in the waters swimming among coral and sea fans.
3. Chileno Bay is on the Corridor not far from Santa Maria and is a top pick with sheltered waters. This spectacular bay is located near Km. 14.5 from the main highway. Offshore reefs host a variety of species including eels, tropical fish and sea fans. Villa Cielito is a spectacular private 7-bedroom vacation rental with expansive beachfront terraces offering breathtaking views over the bay. Nearby, the luxurious Chileno Bay Resort & Residences overlooks this spectacular beach. A beloved spot for families and tour boats leaving out of the Cabo San Lucas marina, you're sure to enjoy viewing the abundance of brightly hued fish in these waters.
More Information:
Snorkeling Tours in Los Cabos