Lobster Salad Recipe from Award-Winning Canto del Mar Restaurant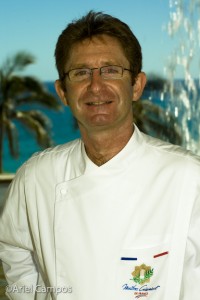 The award-winning Canto del Mar restaurant at the beautiful Marquis los Cabos Resort is known for breathtaking Sea of Cortez views, an intimate dining room that seats only 25 guests and the lush signature cuisine of Chef Thierry Dufour. A rotating 6-course menu is the centerpiece, highlighting the freshest local seafood and locally-grown produce. Traditional and contemporary French techniques bring simple, quality ingredients to life. Sommelier Angeles Sanchez oversees the impressive wine list, and live jazz guitar sets the mood for an unforgettable evening.
Here, Chef Thierry and Carlos Torres, Food & Beverage Director at the Marquis, share one of the restaurant's recipes, a vibrant lobster salad that goes great with ocean breezes.
Warm Lobster medallions, saffron-tomato concassé & asparagus salad with grapefruit vinaigrette
Ingredients (Serves 4)
Lobster tail (raw)                                                450 gr (15.75 oz.)
Seafood fumet (stock)                                        1 LT (4 ¼ cup)
Tomatoes                                                              350 gr (3/4 lb.)
Onion                                                                    120 gr (1/2 cup)
Olive oil                                                                6 oz.
Saffron                                                                  1 pinch
Sugar                                                                     1 pinch
Green asparagus                                                 12 stems
Mixed greens                                                       10 leaves
Arugula                                                                 10 leaves
Freshly squeezed Grapefruit juice                   3 oz
Champagne vinegar                                           ½ oz
Sea salt                                                                  ¼ teaspoon
Black pepper                                                       1 pinch
Preparation
Prepare a sauce with the concasséed tomatoes, onion and sugar when ready, add saffron and stir for 1 min. Keep at room temperature.
Cook asparagus tips (1 inch) for 2 min. in boiling salted water. Put it into iced water for 5 min and set atop paper towel to drain.
Prepare vinaigrette by mixing olive oil, grapefruit juice and champagne vinegar. Add salt and pepper.
Mix greens and arugula and keep in fridge.
Poach lobster in the seafood fumet (seafood stock) for 3 min, remove and keep warm into shell.
In a salad plate, set mix greens and asparagus tips (tossed with vinaigrette) add tomato sauce on the side (1 soup spoon per serving).
Cut lobster tail in medallions and arrange over tomato sauce, add a touch of sea salt.
Serve immediately.
Wine Paring Suggestions.
Old word wines: Spanish Albariños or un-oaked Chablis.
New world wines: Fume Blanc from California, Chardonnays from Chile or Argentinean Torrontes (Argentina's flaghship white grape).