Recipe: A New Twist on Ceviche from Celebrity Chef Tadd Chapman of Don Sanchez Restaurant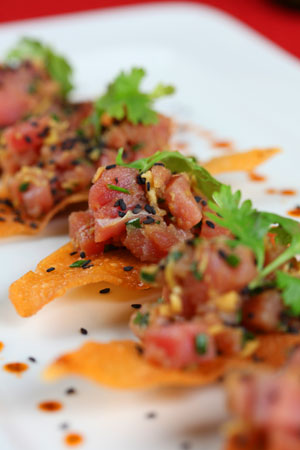 Offering what has been described as as "Contemporary Baja fusion," Don Sanchez Restaurant in San José del Cabo has a loyal following of both locals and tourists. Headed up by award-winning owner and Executive Chef Tadd Chapman, this wonderful restaurant boasts a tantalizing selection of steaks and local seafood accented by farm fresh organic produce and an enviable wine selection of over 300 labels. Tadd enjoys creating imaginative cuisine blending local ingredients and international flavors. What's more, an extensive recent remodel has enhanced this stylish restaurant, one of the most unique dining experiences in Los Cabos. Located in a historic building in charming downtown  San José del Cabo, Don Sanchez is perfect for an unforgettable dining experience.
The owner and Executive Chef F. Tadd Chapman hails from Vancouver Island, Canada where he began his culinary studies at the age of 15 years. He fell in love with Los Cabos in 1998, and soon thereafter opened his first culinary venture in this breathtaking destination.  He also heads up Habanero's Gastro Grill in San José. Here, he shares his unique take on ceviche.
Gingered Tuna Ceviche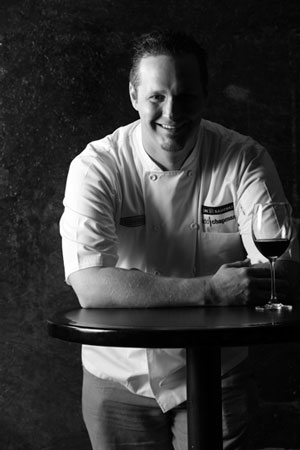 Prep Time: 30 minutes
Quantity: Approx. 16 pieces
Ingredients:
1 pound          Sashimi Grade Ahí Tuna (diced)
2 tbsp             Minced Ginger
1 tbsp             Minced Lemon Zest
2 tbsp             Minced Chives
½  cup           Ceviche Sauce (see below)
16                    Wonton triangles
Garnish
16                    Cilantro Leaves
1 tbsp               Sesame Seeds
Ceviche Sauce
1/6 cup Rice wine vinegar
¼ cup soy sauce
¼ cup sesame oil
1 serrano chili
1 tbsp minced ginger
Sauce Method:
Place all ingredients in a blender and blend until smooth, set aside.
Wonton Crisps:
8 pz.   Wonton wrappers
2 liters Vegetable oil
Method:
Heat oil in small sauce pan to 350 Degrees Fahrenheit. Cut wonton wraps in two diagonally. Fry wonton wrappers in oil untill edges behind to turn golden, then flip and fry the other side for 20 more seconds (approx.) Drain on paper towel and set aside
To serve
–        Combine diced tuna, chopped ginger, lemon, zest, chive and ceviche sauce in a stainless steel or glass bowl and mix untill ingredients are combined.
–        Place one rounded tbsp of tuna mixture on each wonton crisp
–        Sprinkle with sesame seeds and garnish with a cilantro leave.
–        Serve immediately and enjoy
Visit Don Sanchez Restaurant:
Edificio Eclipse Local #3, Blvd. Mijares s/n
Col. Centro, San Jose del Cabo, B.C.S.
011-52-624-142-2444