A Perfect Vacation Getaway in the Heart of Cabo's Marina
Whether you're visiting Cabo San Lucas for the incredible fishing, exciting activities or great dining, you'd be hard-pressed to find a more central location close to all of the fun than Marina Fiesta Resort. Overlooking Cabo's beautiful world-class marina, this great resort is literally steps to some of the area's best things to do. If the incredible location weren't enough, the resort's superb "Dine-Out All-Inclusive" plan gives you a fantastic variety of dining options.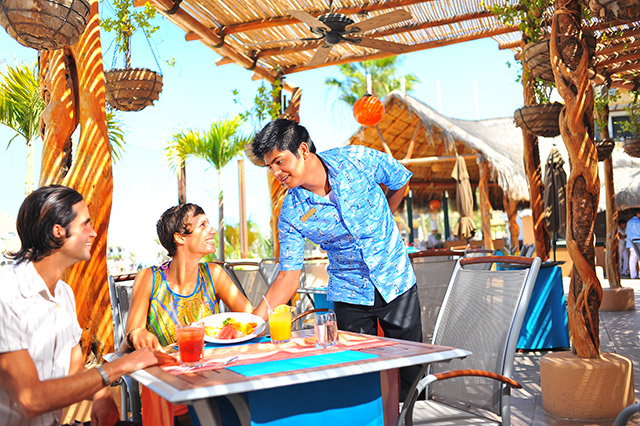 At the heart of the vacation experience at Marina Fiesta Resort, is the resort's outstanding all-inclusive program offering you the chance to experience exceptional cuisine at the resort, at the Marina Golden Zone and at the resort's breathtaking sister resort, Hacienda Encantada (accessible via a shuttle from Marina Fiesta). Savor a variety of international cuisines, including traditional Mexican dishes, authentic Italian favorites, creative sushi, prime steaks, fresh local seafood and much more! In addition, the resort's stylish bars and lounges offer a great place to kick back with your favorite beverage. Marina Fiesta's newest addition is the Golden Legends Sports Bar, an ideal spot to watch the big game with a cold beer and delicious pub-style fare including nachos, burgers and chicken wings.
Read More About Marina Fiesta's Dine-Out All-Inclusive Program…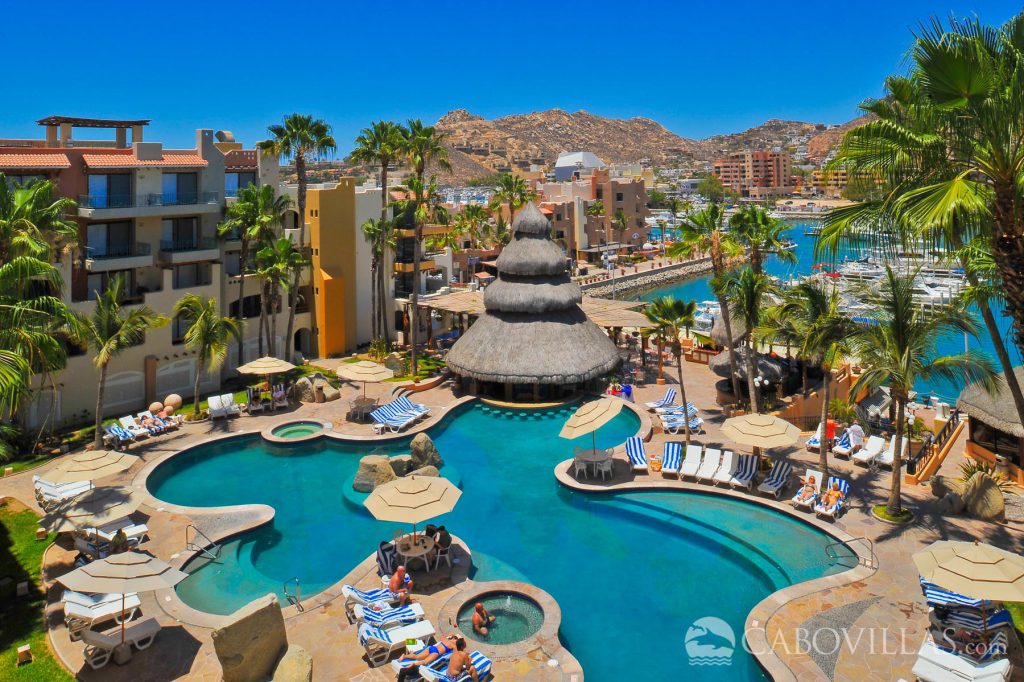 The winning combination of style, service and amenities awaits guests at the Marina Fiesta Resort. Relax around the beautiful swimming pool as you soak up the sunshine or grab a drink at the swim-up bar. The best of Cabo's marina is steps away; take a stroll to do some shopping, hop aboard a water taxi to Médano Beach or Lover's Beach, embark on a fishing charter in search of prize marlin, or set course for a sunset cruise. Guests return time after time to Marina Fiesta for the friendly guest service and comfortable, stylish accommodations. Ready to relax? Head to the Marina Fiesta Spa offering massages, body treatments, manicures, pedicures and facials.
If you are planning a fishing trip to Cabo with friends, a family vacation or romantic getaway in the heart of the action, Marina Fiesta is a winning choice for a perfect retreat.
More Information:
Marina Fiesta Resort