Behind the Scenes Video! Los Cabos, Mexico Photo Shoot
Behind-the-Scenes video from the Los Cabos, Mexico photo shoot
Each year, Earth, Sea & Sky Vacations (CaboVillas.com) coordinates a spectacular photo shoot in Los Cabos. We talked to Robert Trama, Director of Marketing and the company's in-house photographer, about this year's shoot and the making of the behind-the-scenes (BTS) video.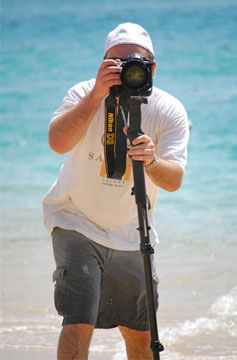 This is your 7th year shooting in Los Cabos. What was the purpose of the annual photo shoot? We try to get down to Cabo every May to do the cover shoot for our annual Los Cabos Vacation guide. Additionally, we always schedule time to shoot some lifestyle, vendor and activity stuff at the villas, by the beach and in the water. Fiesta Americana Grand Los Cabos also hired me to do a big shoot for them which I completed the week before the cover shoot.
How long was the photo shoot? The cover and lifestyle shoot lasted four long days. The Fiesta Americana shoot lasted five days.
What properties were used as locations for the photo shoot? Why were these villas chosen/what makes them unique? We shot at Villa Captiva, Villa Vista Ballena and Villa Turquesa. We decided on these three platinum-level properties due to their remarkable settings, opulence and unmistakably Mexican feel.
Who were the models for the shoot? For the cover, typically, we hire local talent for our shoots but on occasion we bring in models from the states or Mexico City. This time around we worked with two stunning Cabo-based models named, Miroslava Hernandez and our long-time fave, Eva Ullmann. Additionally, we worked with Suzanne Morel and her amazing team of expert spa therapists as well as A Matter of Taste Catering and their excellent concierge and catering staff.
Who were the assistants for the shoot? Our shoot team consists of myself (photographer), Danny Ramirez (second shooter, BTS videographer, assistant), Ana Mojica (stylist and make-up artist) and Don Hirschaut (company president and lead BTS videographer). This lineup hasn't changed at all since we started shooting together back in 2007.
What are some of the more memorable aspects of the shoot? Getting a head start on the light requires us to awake at 5AM or earlier and affords us the opportunity to see some extraordinary sunrises. The sunrise at Villa Captiva was truly remarkable (check out the beginning segment of our BTS video). Working with the lovely Argentine model Eva Ullmann is always a memorable experience. She is a real professional and such a pleasure to work with. Her constant clowning around and contagious laugh always elevates the mood of everyone on the shoot team.
What makes Los Cabos so unique for photography? Besides the countless, breathtaking locations to shoot, the arid and warm climate offers year-round low humidity and little rain which equates to some of the best weather conditions available for tourism and fashion photography.
What equipment do you use? As a Nikonista my primary camera body is the Nikon D4 and my bag is filled with a variety of full-frame lenses. As for lighting, when not shooting with natural light, I employ Photogenic strobes and Nikon Speedlights.
When can we expect to see the new Los Cabos Vacation Guide with the latest photography? We're slated to go to press the first week of November 2013 so it should start shipping before Thanksgiving.