Los Cabos International Film Festival Returns in November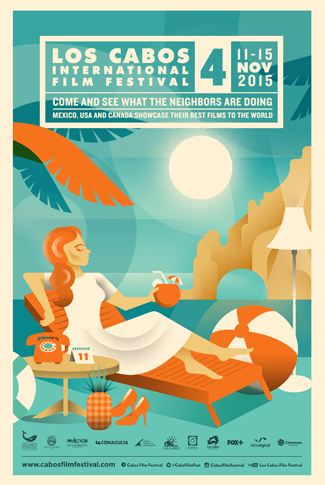 The Los Cabos International Film Festival returns this year with an exciting selection of films and some famous names this November 11-15, 2015. Taking place each November in this breathtaking vacation destination, the festival showcases international fiction and documentary films with an emphasis on selections from Mexico, the United States and Canada plus an exciting competition and an engaging forum for discussion and new partnerships in the North American film industry. As in years past, some very well-recognized film industry stars are expected to be in attendance. Screenings will take place at various local venues throughout Los Cabos (tickets available).
The Los Cabos Film Festival has recently announced its official selection for two central competitions which will grant sizable cash prizes to the winners:
Competencia Los Cabos Contest Selections:
Desde Allá by Lorenzo Vigas (Mexico/Venezuela).

Tangerine by Sean Baker (USA)
Room by Lenny Abrahamson (Canada/Ireland)
Chronic by Michel Franco (Mexico)
James White by Josh Mond (USA)
Les Êtres Chers by Anne Émond (Canada)
Un monstruo de mil cabezas by Rodrigo Plá (Mexico)
Nasty Baby by Sebastián Silva (USA/Chile)
Sleeping Giant by Andrew Cividino (Canada)
México Primero Contest Selections
Semana Santa by Alejandra Márquez
Sabrás qué hacer conmigo by Katina Medina Mora
La caridad by Marcelino Islas
Las elegidas by David Pablos
Te prometo anarquía by Julio Hernández Cordón
Almacenados by Jack Zagha
For more information, visit Los Cabos International Film Festival.