Rising Star: Puerto Los Cabos offers Tranquility & Luxury
At the Puerto Los Cabos marina, the ambiance is a magical blend of traditional Baja charm, low-key relaxation and state-of-the-art modern convenience. You can sip a cool drink as you watch lavish yachts cruise by, check out the catch of the day coming in on the local panga boats or enjoy the freshest gourmet ceviche at a marina-side eatery. What had been until recently a quiet fishing village (La Playita) located minutes outside of San José del Cabo, the site of Puerto Los Cabos has quickly established a reputation for luxury, gorgeous views of the Sea of Cortez and a laid-back pace that's a striking contrast to the bustle of Cabo San Lucas just 22 miles away.
What to Do:
Developed as a luxury residential resort community, Puerto Los Cabos is anchored by a stunning world-class marina (eventually to house 400 slips). While progress has meant change for the existing village of La Playita, care was taken to integrate the vibrant local community, with a special area of the new marina reserved for the resident panga fishermen and a host of infrastructure improvements. A prime destination for sport fishermen, one of the area's richest fishing grounds is Gordo Banks (located just 8 miles from Puerto Los Cabos) where tuna, marlin and dorado can be found in seasonal abundance. You can also stand-up paddle in the marina or rent a beach cruiser for a scenic bike ride around the area.
Another highlight at Puerto Los Cabos is the spectacular golf course. Boasting two 9-hole layouts by Jack Nicklaus and Greg Norman, this is a rare opportunity to experience the unique design strategies of these two golfing greats in one location. Along the course, golfers can enjoy splendid views of the Sea of Cortez.
While dining and nightlife options aren't as varied as in Cabo San Lucas, you'll find a few gems. The Container Bar is a quirky marina-side restaurant partially constructed out of its namesake shipping containers. This is a great spot to enjoy a bite or cocktail with lovely views of the marina throughout the day. Another local favorite is The Drunken Sailor serving up a delicious variety of creative ceviches, seafood tacos, great margaritas and more. Of course, if you're looking for even more options, you're just a short drive to the historic heart of charming San José del Cabo, brimming with romantic courtyard restaurants, boutiques and spots to hear live music, dance or sip a cocktail in the evening.
Where to Stay:
If you're looking to get away from it all in style, Puerto Los Cabos won't disappoint. From chic boutique-style hotels to luxurious villa rentals, the area's accommodations blend serene surroundings and high-end creature comforts.
For an all-inclusive escape, Secrets Puerto Los Cabos (from $226/night) is one of the area's newest stars. Offering "Unlimited-Luxury®," gourmet dining, unlimited premium drinks, snacks, concierge services and more are conveniently included in the nightly rate. Overlooking stunning views of the Sea of Cortez and golf course greens, this adults-only all-suites resort is the ultimate romantic retreat.
Sophisticated arts-inspired Hotel El Ganzo (from $244/night) is as unique as they come. This 72-room hotel makes a big impact with one-of-a-kind design, a star-packed calendar of visiting musicians, gourmet dining and a rooftop infinity pool that's guaranteed to wow. Some of the hotel's more distinctive amenities include iPads in every guest room and underground recording studios. The vibe is a blend of bohemian romance and fashion-forward refinement. The Beach Club at Hotel El Ganzo is often a lovely spot for swimming, depending on conditions.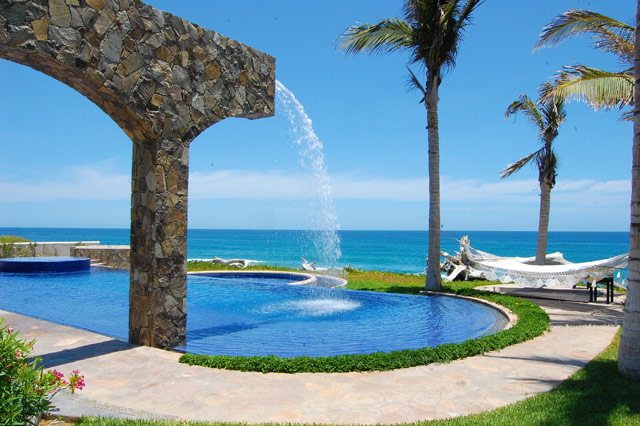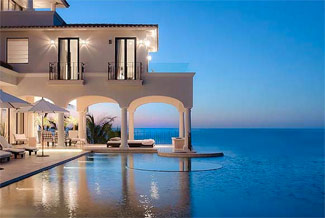 If you're seeking your own piece of paradise to share with close family and friends, nothing beats the comfort and privacy of a villa rental. With 5 bedrooms and 7 bathrooms, Villa las Piedras (from $796/night) features a captivating blend of traditional Mexican architecture and contemporary style. Step out onto your terrace to take in the ocean views from your magnificent swimming pool. 5-bedroom Villa Bella (from $2,500/night) offers a gorgeous beachfront pool terrace that's a great spot to keep an eye out for migrating whales passing offshore. Villa Tranquilidad (from $2,400/night) lives up to its name, with a delightfully serene setting, 7 bedrooms, an expansive terrace, open living areas, an oceanfront pool and top-of-the-line amenities. An impressive setting for a special event, vacation getaway or destination wedding, 5-bedroom Villa Estero (from $1,800/night) feels like a private beachfront resort, with a palapa-shaded patio dining area, an infinity-style jacuzzi, elegant furnishings and glorious views. Villa Paradiso Perduto (from $4,800/night) is truly paradise found, with 8 bedrooms, beautiful bedroom suites, a spacious great room, a breathtaking pool and striking Mediterranean-inspired architecture.
When you stay at Villa Estero, Villa Tranquilidad or Villa las Piedras, you can also take advantage of access to the Puerto Los Beach Club where you can enjoy the restaurant, pool and fitness center. In addition, you can take a leisurely stroll along the beach from the Fundadores neighborhood of Puerto Los Cabos (where Villa Estero & Villa Tranquilidad are situated) to Buzzard's Bar & Grill, a great spot for breakfast, lunch or dinner overlooking a pristine stretch of sand.
Ready to plan your Puerto Los Cabos getaway? Contact our team to get started!