Sand under the Arch! El Arco Beach Appears Again in Cabo San Lucas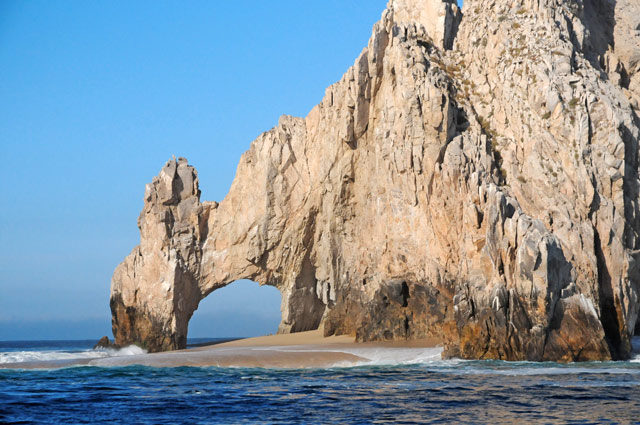 From time to time (sometimes years may go by between appearances), a sandy beach is unveiled under the natural stone arch at Land's End in Cabo San Lucas. This spot marks the meeting of the Pacific Ocean and the Sea of Cortez at the tip of Mexico's Baja Peninsula. Different marine conditions affect the unveiling of the sand under the arch, including tides and seasonal currents. Seeing the sight of the beautiful beach at this iconic spot is truly unforgettable and glimpses can be had aboard a cruise or panga ride. Cabo Sails is an excellent local tour provider offering cruises in this area.
The arch is located in the rock formations adjacent to Lover's Beach, one of the most recognized and beloved Cabo beaches. This small beach faces Cabo San Lucas Bay and can offer good snorkeling and swimming when conditions are right. The views of Cabo are truly unforgettable from Lover's Beach. Neighboring Divorce Beach faces the Pacific Ocean. Water conditions here are generally unsafe for swimming due to strong currents and surf.