Shopping for a Car Rental in Cabo? Here's What You Should Know
When you're visiting Los Cabos, a car rental is a great idea for sightseeing and getting around. Whether you'll be visiting local golf courses, doing some shopping, visiting local beaches or heading to historic San José del Cabo or charming Todos Santos, nothing beats the convenience of getting around the area on your own schedule. If you're planning on a car rental in Cabo during your vacation, here are few important things you should remember: 
1. Hidden Fees Can Really Add Up
If you see a car rental deal that seems too good to be true, it probably is. Some car rental agencies advertise astonishingly low daily rates, only to bundle a staggering number of add-ons and fees at the end. Xavier de la Fuente Acuña of AVIS Mexico says, "unfortunately some Los Cabos visitors book the lowest looking daily rate only to be unpleasantly surprised by a lot of hidden fees. We prefer to be transparent about our fees up-front." Furthermore, some car rental agencies will place a substantial hold on your credit card for the duration of your stay – placing an unwelcome damper on your vacation funds. 

2. Insurance and Loss & Damage Waiver Protection
Many Cabo visitors don't realize that their U.S. car insurance will not cover them abroad. That's why it's a very wise choice to opt for coverage. But not all coverages are made the same. Some low end car rental agencies will provide high deductible plans that, should anything occur, will end up costing more than the peace of mind of taking the better coverage with a reputable dealership like AVIS Mexico in the first place. Save yourself the stress, and go with the coverage.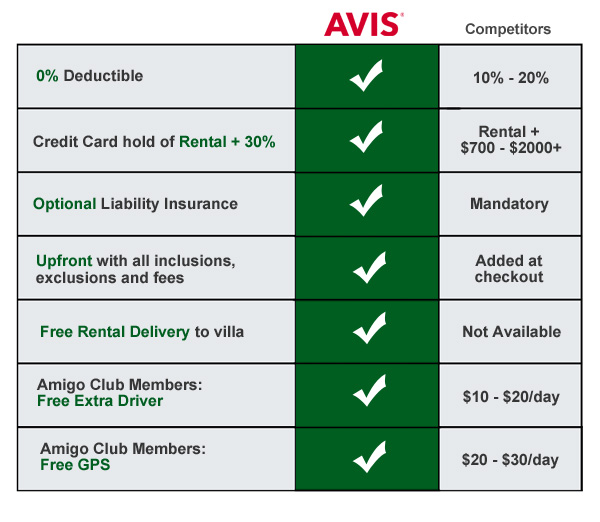 3.  Customer Service Counts
We work exclusively with AVIS Mexico and for good reason. Should you have the rare problem with your car rental in Los Cabos, experience a flat tire or just need some extra assistance, the team at AVIS is widely recognized for their outstanding customer service, professionalism and availability. Furthermore, when you book your villa vacation with us, we'll provide a complimentary and convenient arrival transfer* AVIS will deliver your car rental to the villa for FREE. *contact us for full details
4. Find the Perfect Vehicle to Get out and Explore
With an extensive fleet, you're sure to find the perfect vacation vehicle with AVIS Mexico. Book a clunker with a less reputable car rental agency and you're never sure what you'll get. AVIS maintains an excellent fleet of vehicles including economy choices, convertibles, luxury sedans, SUVs and more. Whether you envision yourself cruising down the Cabo highway in a convertible to the best beaches with your wind flowing in the breeze or driving the family to explore the area's cultural riches in a Jeep, you'll find all of these options and more.
More Information: Car Rentals in Cabo San Lucas