Tequila Fusion Brings a Twist to the Cabo Dining Scene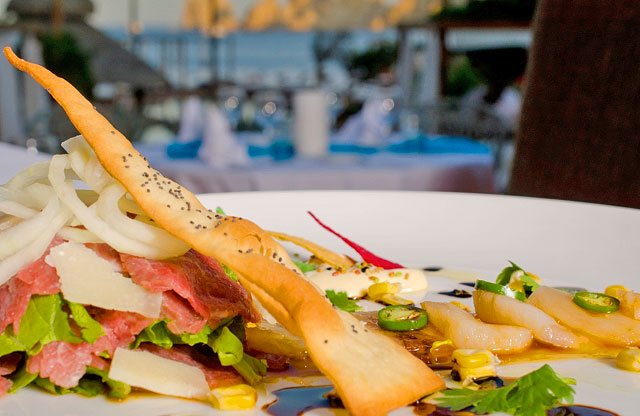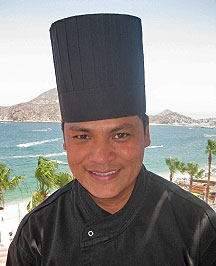 Known for its sizzling Nikki Beach Club, celebrity clientele and gorgeous beachfront location in Cabo San Lucas, the ME Cabo Resort is now home to an exciting new restaurant. Tequila Fusion is already receiving rave reviews for a fresh menu of creative small plates and a sexy lineup of tequila-infused cocktails. We talked to the restaurant's team about what makes the dining experience so special.
What makes the location so unique? 
Located at the chic ME Cabo Resort, Tequila Fusion offers a sophisticated setting with a tantalizing menu, for a stylish and fun dining experience. Contemporary yet relaxed in tone, Tequila Fusion features a variety of dining options. Seating is available in the covered but open-air main dining room and at the outdoor patio bar where guests have unprecedented views of Land's End and the Sea of Cortez. From the live entertainment to the chefs making tacos on the flaming robata grill in direct view of guests – Tequila Fusion is a fun time for all.
What is the concept behind Tequila Fusion? 
Tequila Fusion is a multi-faceted gastro-lounge that offers guests an exciting menu of traditional and modern Mexican classics, served Spanish tapas style. The small plates are perfect for sharing with friends to sample a variety of dishes. We also have a fresh seafood bar and spectacular flaming cooking. By mixing fine dining with fun dining, every meal and cocktail at Tequila Fusion is a multi-sensory experience, with alluring flavors and a modern twist on Mexican classics. adsfasd
We offer an extensive drink menu with heavy focus on innovative tequila infused cocktails, including signature margaritas made from fresh fruit and home made premium tequila infusions. We have a wide selection of tequilas and also feature professional tequila tastings.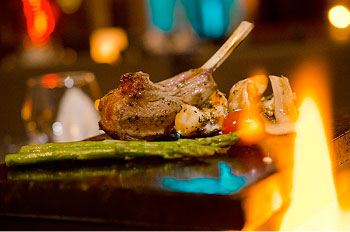 What are some of the signature/more unique menu items? We're very proud of our innovative menu. A few of our signature dishes include:
Surf & Turf Aguachile – local scallops and fillet mignon freshly marinated in tequila, served with cucumber, coriander, corn, arugula and roasted garlic dressing
Mango Shrimp – grilled shrimp with asparagus, cherry tomatoes, served with mango chutney and chocolate tequila infusion dip on the side
Lobster Burritos – a flour tortilla stuffed with poached lobster, avocado, mango, bacon, sundried tomatoes, caramelized onions and light mustard tequila dressing
Stone crab tortillas Don Julio Style – fine stone crab meat marinated in pibil and Don Julio tequila, served on crispy tortillas with avocado and Xnipec sauce
Seared Lamb Chops – served with mandarin tequila sauce, polenta cake and green tomato marmalade
Margarita Shrimp Tacos – flamed with tequila on our flat grill and served with our six traditional sauces
Tequila Fusion Hot Stone – a selection of prime meats and shrimp served in the middle of the table to cook yourself on a hot granite stone, served with side dishes and our traditional six sauces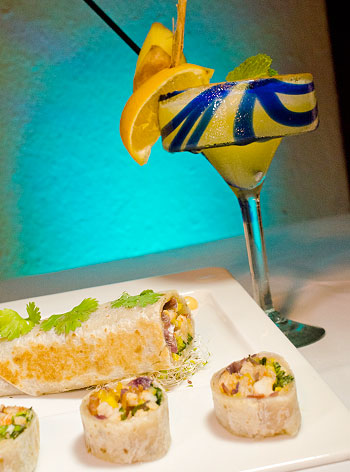 The specialty cocktail menu focuses on tequila and includes options such as:
Mango Margarita – mango & pineapple tequila infusion, mixed with fresh mango pieces and frosted with a Tajin chili ring
Spicy Kiwi Margarita – jalapeño and kiwi tequila infusion mixed with frozen kiwi and OJ
Banana Margarita – orange and cinnamon tequila infusion with fresh banana and cinnamon ring
Pomegranate Margarita – hibiscus flower and lemon tequila infusion with pomegranate juice and refined with a splash of aged Don Julio
Tequila Fusion is located at the ME Cabo Resort in Cabo San Lucas.
Visit the restaurant online at www.TequilaFusion.com