Top 10 Water Activities in Cabo
Los Cabos is celebrated for the beauty of its seascape. Located at the tip of the Baja Peninsula where the mighty Pacific Ocean meets the incredible aquamarine waters of the Sea of Cortez, no visit to Cabo is complete without getting on (or in) the water. While it's no secret that the region is an amazing destination for fishing, there are plenty of ways to experience the seas of Los Cabos.  Whether you're looking for heart-pumping thrills or a relaxing cruise at sunset, here are some of our favorite water activities in Cabo.
1. Stand Up Paddle – Standup paddle boarding ("SUP") has its roots in various historic forms, but the sport has really surged in popularity in the last decade. SUP is an excellent way to see the sights and get a good workout in the process. Located in the heart of Médano Beach in Cabo San Lucas, CABO SUP offers lessons and rentals.
2. Swimming with Whale Sharks: There are only a few places in the world where you can have the opportunity to swim with whale sharks. These gentle giants are massive filter-feeding fish belonging to the shark family but are far from the fearsome reputation of their notorious relatives. Feeding mainly on plankton, whale sharks can reach up to 40 feet in length. The warm Sea of Cortez is one of the finest spots to experience whale sharks up close. This is truly a once-in-a-lifetime experience. The knowledgeable and friendly team of Cabo Expeditions leads seasonal excursions to view these enormous animals.
3. Sunset Cruises – One of the most romantic experiences in Los Cabos is cruising out beyond Land's End at sunset to view the iconic arch (El Arco), the wide sandy beaches of Pedregal and the twinkling lights of Cabo San Lucas after the sun has gone down. There's a sunset cruise for every taste, from romantic and intimate cruises to energetic party boats complete with dancing. The CaboMar Catamaran features a "fiesta dinner cruise" with a taco dinner, international bar and dancing to the Latin rhythms of salsa, merengue and cumbia. The Rissalena is a smaller catamaran accommodating up to 24 guests. The sunset cruise includes dinner and open bar. For lovers of all things pirate-themed, the Buccaneer Queen is sure to charm you and your mateys with its evening sail complete with a show and fun activities.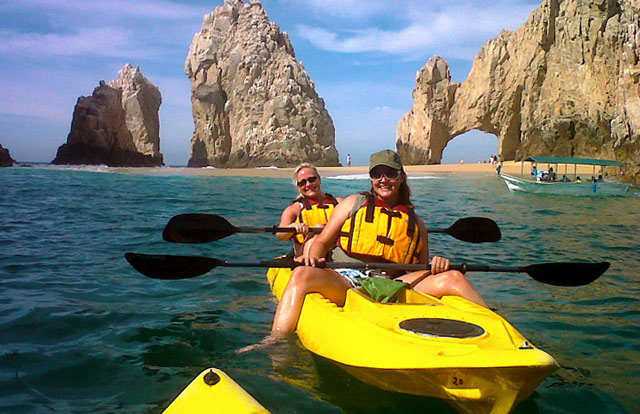 4. Kayaking – Another unforgettable way to explore the coastline of Los Cabos is via kayak. Whether you kayak out to scenic Lover's Beach or in one of the beautiful bays along the Tourist Corridor, you'll have an number of options for getting into a kayak in Cabo. Both High Tide Los Cabos and Cabo Expeditions offer great tours to Land's End aboard kayaks with clear bottom panels, affording you nice views of the sea life below.
5. Whale Watching – During the winter months, migrating gray and humpback whales make their way down the Pacific coast of North America from Alaska to the warm waters of the Sea of Cortez to give birth to their young in protected lagoons. A number of local tour operators offer excellent whale watching excursions. One of our favorites is Cabo Expeditions, which boasts intimate whale watching trips aboard Zodiac boats let by experienced captains.
6. Snorkel & Diving – The Sea of Cortez was once nicknamed "The World's Aquariam" by Jacques Cousteau – and for good reason! The incredible variety of marine life makes this region exceptional for snorkeling and scuba diving. Among some of the area's more popular spots include Cabo San Lucas Bay near the rock formations of Land's End, Santa Maria and Chileno Bays in the Tourist Corridor and Cabo Pulmo out on the East Cape (one of North America's only living coral reefs). Day tours are available to many of the area's best-loved spots. The professional teams of Cabo Expeditions and Cabo Adventures both offer great local snorkel and dive tours. One of the area's most respected dive operators is Manta Diving, featuring a full range of diving certification courses and expeditions, as well as night dives. The Nautilus is a state-of-the-art dive vessel that boasts live-aboard excursions to the Revillagigedo Islands about 250 miles south of Cabo San Lucas.
7. Surfing lessons – Cabo is also  known as an excellent surfing destination. Some of the most popular areas include Zipper's at Costa Azul (on the Tourist Corridor approaching San José del Cabo), and Pacific beaches near Todos Santos including Rancho Pescadero and Los Cerritos. A number of great breaks are available along the Corridor and out to the East Cape. Some lineups are busy with both locals and tourists, others are hidden gems frequented mainly by area residents. High Tide Los Cabos and Baja Outback both offer lessons for surfers of all ability levels. There are even classes for kids who would like to learn how to catch a wave.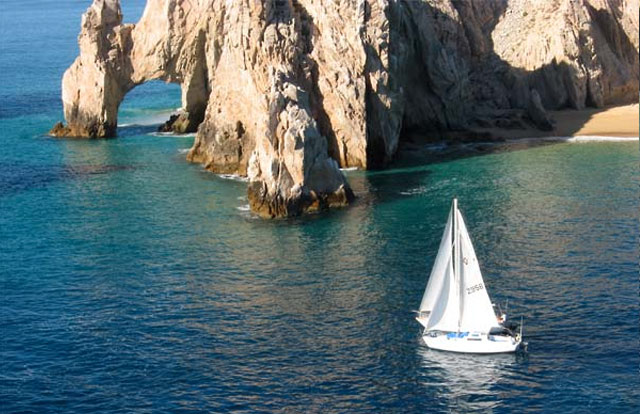 8. Sailing – The experience of sailing aboard a magnificent ship with the wind blowing in your hair and a gentle sea mist cooling your brow under the Baja sun is timeless, enchanting and exhilarating. Sailing tours are offered in Los Cabos by Cabo Adventures, Cabo Sails and Cabo Sailing, with a variety of private charters and public cruises available. For a limited time, Cabo Adventures is offering a 3 for 2 promotion – (pay for 2 adventures and third is free!) See link for details.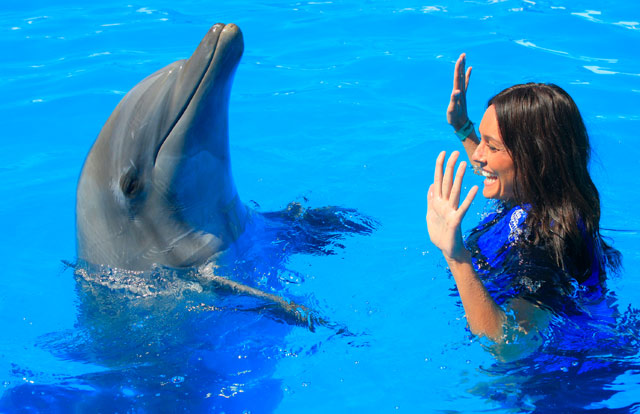 9. Cabo Dolphins – If you've always dreamt of getting up close with a beautiful dolphin, here's your chance. Cabo Dolphins offers some great educational programs at their world-class facilities near the marina in Cabo San Lucas and in San José del Cabo. You can experience being a "Trainer for a Day" while learning all about the unique physiology and conservation concerns of these wonderful animals. Interact with dolphins under the guidance of an experienced team and take home a souvenir photo of your special day. For a limited time, you can take advantage of a 4 x 3 promotion (guests choose 4 tour types on any dolphin program and pay for only 3) at the San José del Cabo facility.
10. Flyboard – Combining the thrill of soaring in the air with watery fun, the Flyboard is a unique activity for adrenaline junkies. A professional instructor will train you on the proper use of the flyboard equipment. With 400 lbs. of thrust, you'll be blasted up from the water up into the air – a one-of-a-kind experience!
More Los Cabos Tours & Activities…