Top 5 Family Activities in Los Cabos: Guest Blog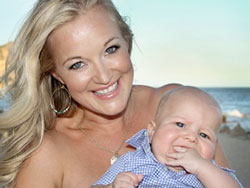 Jenni Reichert heads up Baja Baby Gear, a great company that offers convenient rentals of cribs, strollers, high chairs and more for your Los Cabos vacation – perfect if you don't want to lug along all that bulky equipment for your little one on the flight. Here, she shares some of her top picks for family fun in Los Cabos. 
Visiting a new place can be a little daunting – even more so when you are bringing children with you. It's hard to know where the locals go unless you know someone from the area. My husband and I have made it our business to check out the top family friendly things to do in Cabo – and I would love to share it with you!
1. Wild Wet Fun Water Park
Wild Wet Fun is a large family-friendly water park. It is located approximately 20 minutes from San José and 45 minutes from Cabo San Lucas. Currently only open at the weekends, Wet Fun is hands-down our favorite thing to do with our son. Catering to all age-groups, you can spend hours of fun paddling in the pools, shooting down slides, climbing through the pirate ship and getting large quantities of water dunked on your head! The park is spotlessly clean, with a good amount of staff. Food and beverages are available at reasonable prices and there are large amounts of shady seating areas for the whole family.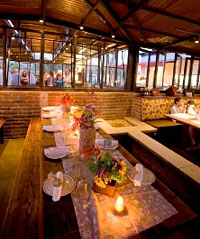 2. Flora Farms
Not only is Flora Farms our favorite spot to eat for our family, it is also a place to relax, and take in a different way of life. Everything that is consumed in Flora Field Kitchen has been grown or raised on site. Family style dining is encouraged, with lush areas of grass and a play yard in full view of the restaurant. Parents get to sit and relax, kids get to run around at their leisure.
Flora Farms has recently added cottages available for purchase, along with an art gallery. There are more expansion plans in the works. Again, this is a drive away for most, but so worth it! Serving just lunches and dinners, Flora Farms can cater to any size group. Just call ahead to make a reservation.
More info…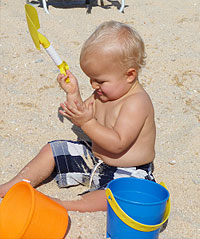 3. Chileno Bay
This is our favorite swimming spot. With little to no waves, all members of the family can feel comfortable lazing in the ocean here. There is no shortage of beautiful things to look at either above or below the water. Snorkeling is a must, which can even be done in shallow water for those of us who are learners!We recommend Chileno because it has palapas ready for your use when you arrive, and public toilets. Chileno is the ultimate spot for relaxation, family fun and safety for the family.
4. Farmers Market in San José (October through May)
If you need to buy a few souvenirs and really see the local talented arts people – stop by the Farmers Market in San José. Open on Saturdays, this market is a great place to meet locals, spend some time tasting local produce and enjoying some free entertainment. You can buy jewelry, art, material, clothing, organic produce, food, toiletries and more every Saturday.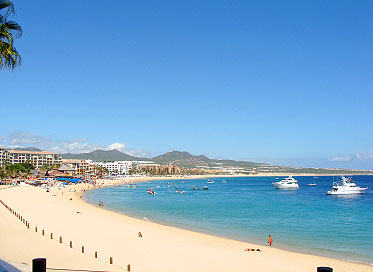 5. Médano Beach
This is the total opposite of Chileno Bay, in that Médano is the Beach that everyone is on! There are people everywhere, the beach is lined with amazing restaurants and there are so many activities to choose from… all of which are available all day long. Sky tours, para-sailing, snorkeling, banana boats, wave runners, glass bottom boats… you name it, you can do everything on this beach!
Traveling to Cabo? Jenni's team can supply all the gear you need for your little ones. Check out Baja Baby Gear's Offerings.
Photos courtesy of Jenni Reichert