Tranquility on the Bay of Dreams, Baja Sur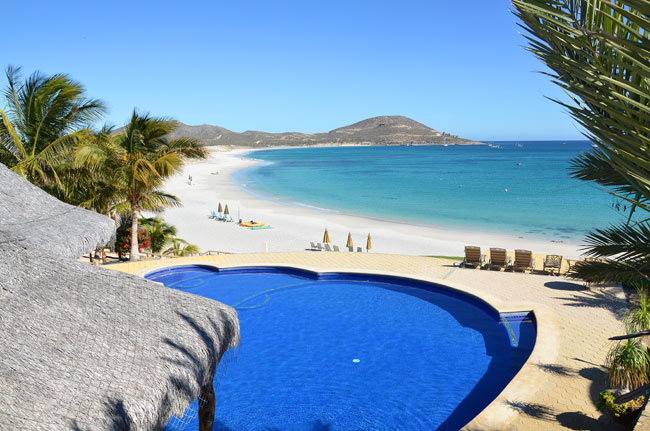 The Bay of Dreams has one of those names that almost sounds like a cliché—until you come for a visit. There is an otherworldly enchantment that permeates the area, and visitors are immediately swept under its spell. Nestled along the peaceful shores are a handful of luxurious vacation retreats, including the expansive beachfront Rancho de Costa. Here's an overview of this remarkable region.

Historically, the Bay was the main port for Baja Sur in the 1500s, where many a Spanish galleon docked to unload their European goods. There are still stairs and the walls from that period that were part of the docks and the open market. More recent riders on the waves have included sportsfishers looking for a challenge from some of the many big billfish patrolling the waters. Landlubbers looking to swing a club can take their pleasure on a championship course designed by the renowned Tom Doak. The giant Cardon cacti watching over the course (and the views to the mountains and the sea) remind you that you're in an area where the desert strikingly meets the ocean.
Speaking of oceans, the Bay of Dreams has one of the most beautiful beaches in Baja Sur, with calm waters 85% of the year. Snorkelers and scuba divers—let's face it, all water lovers—will find endless delights above and below the warm waters, which teem with marine majesty. Warmer waters yet can be found in the little town of El Sargento, where you can relax in natural hot springs, just a quick 20-minute trip from the Bay.
For all its extraordinary beauty, it might be the people that are the biggest draw to the Bay. The small surrounding towns of Juan de Los Planes, Agua Amarga, and Juan Domingues Cota are a delight, particularly for the warmth of their residents. Of course, La Paz, the capital city of Baja California Sur is also near by, should visitors want a taste of city excitement.
Baja Sur is distinguished by its lovely sights and exciting activities—the Bay of Dreams is an area that makes that distinction shine all the brighter.
More about the La Paz Coast & the Bay of Dreams…
– By Tom Bentley