Traveler's Night In – Live from Los Cabos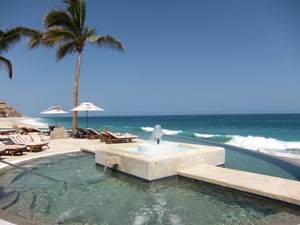 Recently, we had the great opportunity to take part in a "Traveler's Night In" (#TNI) Twitter tweetup at the breathtaking Marquis Los Cabos. #TNI is a weekly travel industry twitter event that brings together many of the industry's leading professionals, travel writers, bloggers, hotels, activity providers and agents to discuss a different travel-related theme each week from 3:30-5PM ET. Started up by ZipSetGo.com, the hashtag is now one of the travel industry's most followed—and a great way for travel junkies to keep up to date with the latest trends, great suggestions and interesting ideas.
While TNI is a virtual event, the "Mini-Indulgences" TNI on June 9th included a live meeting in Los Cabos of the event's sponsors, including Ella Messerli, the ever-charming General Manager of the Marquis Los Cabos, the ZipSetGo hosts, Andrea and Rachel, Virgin America, Hartmann Luggage and Luxury Avenue among others.
In addition to the opportunity to admire the truly spectacular Sea of Cortez vistas, outstanding service and plush accommodations of the Marquis Los Cabos, the event included a number of surprises, including a sumptuous dinner of tapa-sized interpretations of the resort's award-winning cuisine by Executive Chef Thierry Dufour. Participants were also treated to a mini-sized version of the resort's celebrated $1,000 popsicle made from one of the world's most expensive tequila brands, Tequilas Premium Clase Azul Ultra, as well as a tour of Cabo's designer boutique mall, Luxury Avenue.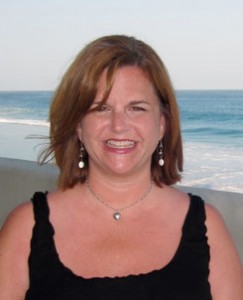 We sat down with Andrea O'Carroll, one of the #TNI founders, to discuss why the weekly event is so unique:
How did Traveler's Night In get started? When the economy changed, we asked ourselves how we could create a resource that would continue to share our rich meetings and incentives travel industry knowledge. ZipSetGo.com emerged as a handy virtual library for meeting planners. As we shared our information via social media, we were looking for a way to more broadly engage the vibrant travel community on Twitter, start conversations and create a networking environment. We heard of an event called "Foodies' Night In" and loved what they were doing. Now, #TNI has a life of its own!
What are some interesting stats about #TNI? The event sees between 500-600 participants every week, with up to 6,000 tweets over the course of its 1.5 hours and reaches about 1.2 million unique users, with up to 19 million impressions. It's a great combination of cocktail-party style chit chat and fascinating travel insights.
How can folks participate? If you're on Twitter, follow the #TNI hashtag using a service like Tweetchat.com between the hours of 3:30-5PM ET. Just dive in!
Photos from the #TNI Event at the Marquis los Cabos: