Unexpected Cabo! Our Fave Unique Experiences in Los Cabos
Whether it's your first time coming to Los Cabos or you're a seasoned Cabo regular, you probably know that this popular vacation destination is famous for outstanding dining, big-game sport fishing, spectacular golf courses, fun-filled water activities and exciting nightlife. But, what you may not know is that the region offers plenty of off-the-beaten path experiences, cultural treasures and unique activities. Whether you choose to take a refreshing dip at a magical desert oasis or release an adorable baby sea turtle into the ocean, you'll find so many special ways to discover the beauty of Baja California Sur.
Here are just a few of our favorite unique experiences in Cabo: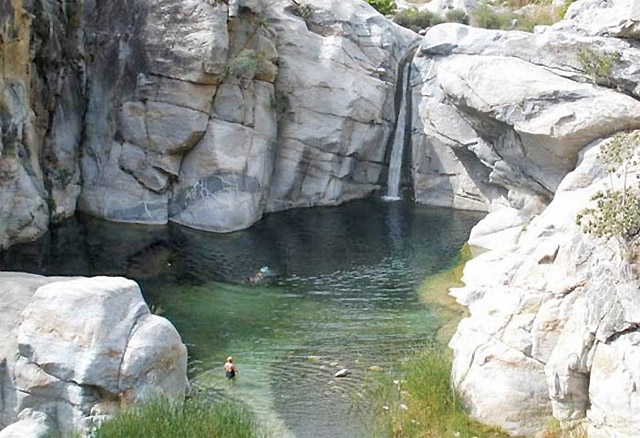 1. Hike to a Desert Waterfall
When you think of Los Cabos, sun-swept beaches, the shimmering Sea of Cortez and striking desert landscapes may first spring to mind. However, tucked into the rugged outback of Los Cabos is a surprising oasis – a natural waterfall nestled into striking rock formations. Located in the Cañon de la Zorra (Fox Canyon), this clear mountain pool and waterfall are a memorable sight. The best way to get there is to take the guided tour from High Tide Los Cabos which includes a hike to the waterfall. Read more about the waterfall and neighboring hot springs on our previous blog post: Desert Oasis: The Mountain Waterfall of Los Cabos
2. Release a Baby Sea Turtle
Los Cabos is home to a number of endangered sea turtles, including the leatherback, olive ridley and black sea turtles. While sea turtles are largely ocean-going creatures, they do make their way to land each year to lay their eggs in the warm sands of Baja California Sur. A number of conservation challenges face these stunning creatures and impact the ability of young sea turtles to successfully hatch and to make their way to the ocean. Several local organizations have created noteworthy programs to either protect nests or gather and incubate eggs at "nurseries" to increase the fragile young turtles' chance for survival. From mid-November through April, visitors to Los Cabos can take part in a truly unique experience by assisting with the release of the tiny hatchlings into the sea. Baja Outback Los Cabos offers one such program led by certified and experienced guides.
3. Discover the Historic Cultural Treasures of Los Cabos
If you've only ever experienced vibrant Cabo San Lucas with its downtown, marina and action-packed Médano Beach, then you might be surprised to learn that there are some historical treasures not far from the heart of this bustling city. Located just 20 miles from Cabo San Lucas, enchanting San José del Cabo offers historic architecture, romantic courtyard restaurants in old haciendas, and a traditional town square anchored by a lovely old church. With a thriving arts district, one of the best ways to experience San José del Cabo is to participate in the weekly Art Walk taking place from November through June. A number of galleries keep their doors open late, live music fills the streets and restaurants offer great specials. Todos Santos is another cultural gem located just an hour from Cabo San Lucas along the Pacific coastline. A former sugar mill town, this town has been designated as a "Pueblo Mágico" (Magical Village) by Mexico's Secretariat of Tourism in recognition for its unique natural beauty and cultural heritage. In addition to a charming historic mission church, the town is also home to a range of exciting restaurants, boutique hotels and art galleries. Along the coastline lie some of the area's best spots for experienced surfers.
4. Visit an Organic Farm & Enjoy Gourmet Cuisine
A thriving culinary scene has placed Los Cabos squarely on the map for foodies. International restaurants span the gamut of offerings, from casual taco stands to award-winning fine dining establishments. One of the most unique spots to enjoy excellent fare is Flora Farms. Located just a short drive from San José del Cabo, this incredibly beautiful setting offers an open-air dining room tucked along the working fields of this organic farm. The creative cuisine and fresh ingredients, along with live music and a good wine list make this an experience not to be missed for any lover of great food. Another treasure is Huerta Los Tamarindos, another organic farm and restaurant embracing the gourmet "farm-to-table" concept in a range of innovative menu offerings. Both establishments offer a range of seasonal events, including cooking lessons.
4. Tour the Beach on a Camel
If you've already seen the sights in Los Cabos by boat, ATV, horseback or jet ski, the next adventure is taking in those amazing views while riding a majestic camel. Cabo Adventures offers a popular Camel & Outback Safari which combines a guided nature walk, camel ride, tequila tasting and full Mexican meal.
Looking for more ways to experience Los Cabos? Check out Cabo Tours & Activities for more inspiration!