Where To Vacation Swimmingly in Cabo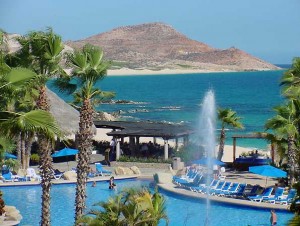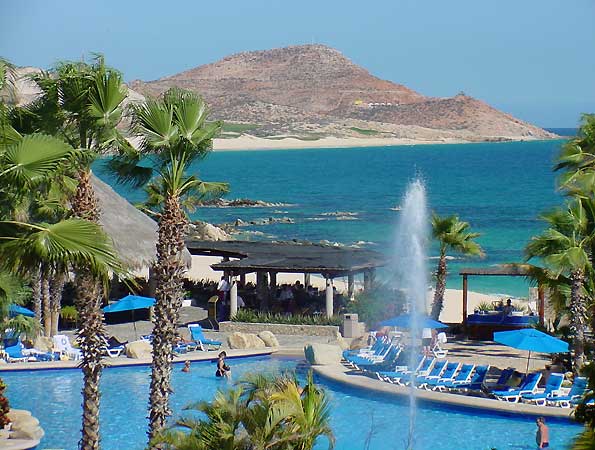 While Cabo's all about that winning combination of golden beaches and the impossibly turquoise sea, many visitors are surprised to know that a lot of the Los Cabos coastline simply isn't recommended for swimming. Due to the confluence of the waters of the mighty Pacific Ocean and Sea of Cortez, strong undertows and unpredictable waves make it wiser to play it safe and admire the ocean views from your resort's pool. However, there are a few wonderful spots where gentle beaches invite you to take a dip and play in some of the world's most pristine waters. Here are our some of our top picks of resorts and villas on Cabo's most swimmable beaches…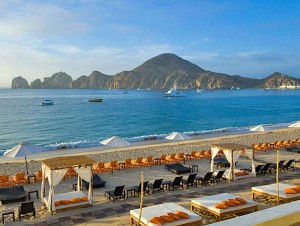 Médano Beach
The bustling heart of the waterfront in Cabo San Lucas, Médano ("The Dune") Beach is alive with sun-worshipers, parasailers and beach vendors. Overlooking Cabo San Lucas Bay and the rock formations of Land's End, this postcard-perfect stretch of sand offers two miles of fun. Kick back at one of the beachfront cantinas and admire the view. Perfect for people watching, this beach also boasts wonderful waters that are hands-down the best place to swim in Cabo San Lucas. Lined with resorts, there's no shortage of great accommodations along Médano. Villa del Arco is a family favorite, with wonderful suites, fantastic service, great cuisine and the amazing 31,000-square-foot Desert Spa. Another top pick is Casa Dorada Beach Resort, a celebrity favorite with a splendid beach club and a great location steps to some of Cabo's best beach clubs including Mango Deck. Stylish Cabo Villas Beach Resort is another hit, offering a panoramic view from its rooftop Baja Brewing Company.
Chileno Bay
Snorkel cruises make a beeline from Cabo San Lucas for the tranquil waters of Chileno Bay, where the colorful underwater sea life delights visitors. The beach sees an inviting combination of local families and blissed-out vacationers, but never really feels overly crowded. While development has been planned for this area in the future, it remains a delightfully laid-back piece of paradise, with just a few luxury villas dotting its shores. Villa Cielito, a mid-20th century oasis of Rat-Pack style charm, offers a truly spectacular vantage over Chileno. This 7BR villa, surrounded by lush palms, is an incomparable retreat for a family or group getaway.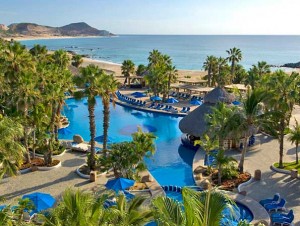 Playa Bledito / Cabo Real
A man-made breakwater protects a lovely cove along a warm, wonderful expanse of beach. Situated side by side are the luxurious Hilton Los Cabos and the all-inclusive Melia Cabo Real. The Melia's striking contemporary architecture is an attractive counterpoint to the incredibly beautiful natural surroundings. When you get home, it may be hard to describe just how incredibly blue the Sea of Cortez waters are fronting the coastline here. Keep an eye for migrating whales offshore in season!
Cerro Colorado
The exclusive residential development of Cerro Colorado has been blessed with a pleasant and attractive beach that is often wonderful for swimming. About a 3-minute walk to the beach, hacienda-style Villa Taz gives you the perfect home base to enjoy this beautiful Baja beach.
Palmilla
Home to the One&Only Palmilla, one of the world's most luxurious elite resorts, this popular half-moon shaped bay offers good swimming and snorkeling, with about a miles of sheltered shore.
A Note about Swimming Safety in Los Cabos
It's best to always exercise caution on Los Cabos beaches. Rip-tides and strong currents can make it difficult to return to shore in some areas. Most beaches are not patrolled by lifeguards, so when in doubt, soak up the sunshine on the beach or at the pool instead. Many resorts use a flag safety system to indicate water conditions, with green meaning it's safe for swimming and red indicating "stay out." With proper precautions, your Cabo beach experience can be wonderful.
Explore More Los Cabos Accommodations…