5 Ideas for a Romantic Escape in Cabo
With sunny beaches, swaying palm trees, stunning sunsets and spectacular ocean views, Los Cabos is a breathtaking backdrop for a romantic escape! Whether you're planning a lavish Valentine's Day retreat with your main squeeze or a quick getaway to fan a new flame, here are some of our top ideas to fire up the passion in paradise:
---
1.  Find Your Perfect Romantic Retreat
Whether your taste runs toward the traditional charm of old Mexico or sleek modern luxury with a cosmopolitan feel, there's a resort for every style in Los Cabos. When planning a romantic getaway in Cabo, you'll find that enchanting ocean views, world-class spas and gourmet dining are a given at the area's high-end resorts – along with some unique twists! Sheraton Hacienda del Mar is a favorite for romantic getaways, with elegant architecture and glorious views of the Sea of Cortez. By day, lounge next to one of the pools as you watch for migrating whales passing just offshore. In the evening, head to De Cortez Grill to enjoy premium steaks, fine wines and live entertainment by candlelight in an incredible oceanside setting.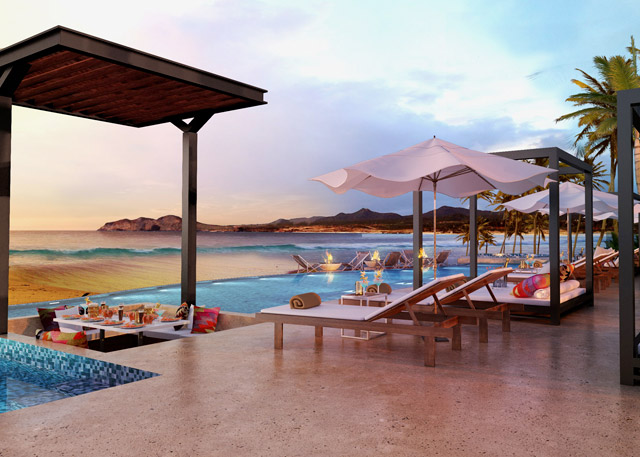 At the renovated Casa del Mar Golf Resort & Spa, the timeless hacienda-style architecture, lush gardens, fountains and handcrafted decorative accents are a fitting complement to the marvelous beachfront setting. Take a long stroll with your sweetie on the scenic stretch of warm beach, sip a cool tropical drink by the pool or treat yourselves to relaxing spa treatments.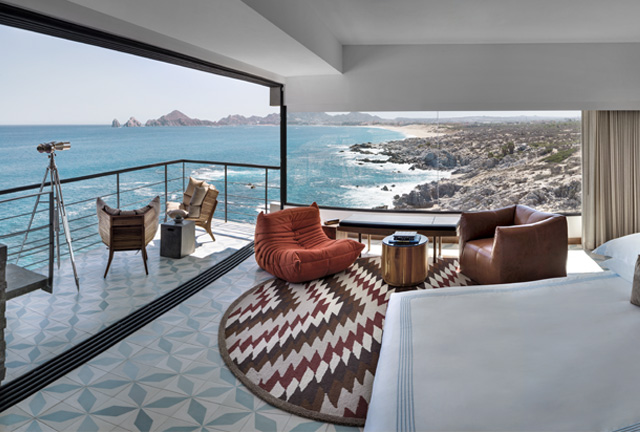 If you're in search of a sexy and sophisticated ambiance, the new The Cape, a Thompson Hotel is sure to sweep you off your feet. This stunning resort features striking modern architecture and laid-back elegance, with décor evoking a retro mid-century vibe. Sip a handcrafted cocktail at The Rooftop as you enjoy spectacular views of El Arco in the distance. Then, head to the highly acclaimed Manta restaurant for innovative pan-Pacific gourmet fare accompanied by captivating vistas.
---
2.  Wine & Dine to Your Heart's Content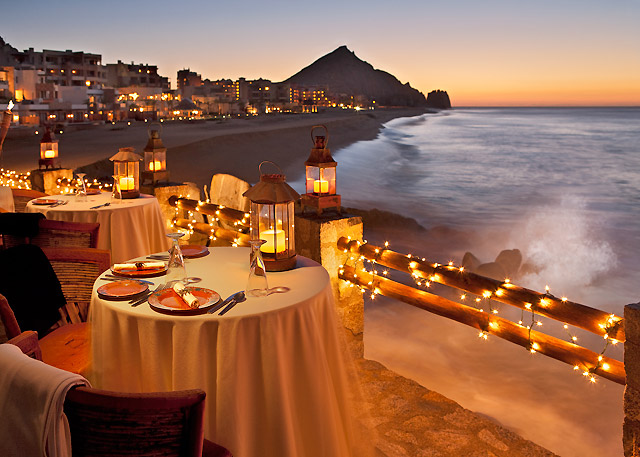 While Los Cabos has its share of wonderful inexpensive taco stands and mariscos eateries, you'll also be pleasantly surprised by the gourmet international options throughout the area. Cabo has gained a solid reputation as a foodie destination for good reason! You can enjoy a different unforgettable fine dining experience every night, feasting on everything from local seafood, steaks, and organic farm-to-table fare, to sushi, traditional Italian favorites and creative Mexican cuisine. Our list of recommended dining options in Cabo is long, but here are a few of our favorite romantic restaurants.
You can't beat the ocean views at El Farrallon at the Resort at Pedregal. Tucked along a rocky hillside overlooking the Pacific Ocean, this is a magical spot to listen to the waves as you savor outstanding seafood and sip champagne accompanied by the glow of lantern light under the stars.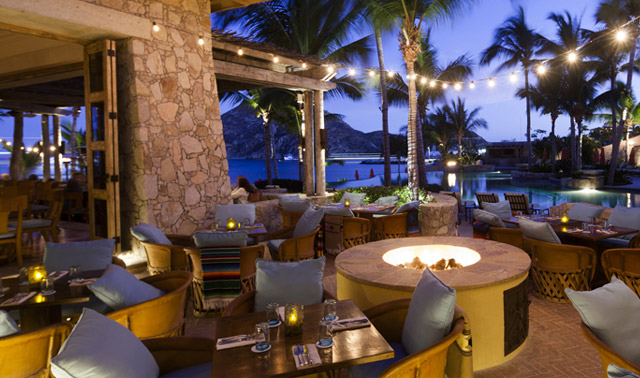 Hacienda Cocina is another favorite. This gorgeous restaurant, located at the Hacienda Beach Club & Residences, overlooks Médano Beach and serves inventive interpretations of Mexican classics in a dramatic setting. Settle in on the terrace with the pulpo cantina appetizer (sauteed octopus and calamari), followed by lobster enchiladas or sea bass with tropical pico de gallo. As the stars begin to shine, you'll enjoy views of ships rocking gently in the bay. The churros de la casa (accompanied by chocolate and caramel sauces) are the perfect sweet ending to a romantic dinner.
If you're willing to explore a bit off the beaten path to be rewarded with one of the most unique dining experiences in Los Cabos, then head to Flora's Field Kitchen at Flora Farms. As you take the rugged, dusty road just outside of Puerto Los Cabos to Flora's, you might wonder where this is leading. When you arrive, however, you'll be astonished by this gem tucked into the hillsides. A working organic farm, Flora's is also home to a one-of-a-kind eatery serving up some of the most creative organic fine cuisine in the region. The freshness of the ingredients is rivaled only by the enchanting atmosphere, especially in the evening. While the food is exceptional and this is a very special dining experience, the atmosphere is far from stuffy.
---
3.  Enchanting Experiences
If you're looking for a romantic way to see the sights in Cabo, you'll find a host of fun activities. Nothing beats watching the last golden rays as you steal a kiss at sunset while passing by Cabo's iconic stone arch known as "El Arco." What better way to enjoy a radiant sunset than on a beautiful sailboat or catamaran on the pristine waters of Cabo San Lucas? Cabo's sunset cruises offerings range from classic sailboats to fun-filled party boats complete with dinner and dancing. Another great way to take in the views is while riding a beautiful horse along a sandy beach. Led by professional guides, horseback riding tours will take you along either the Pacific Ocean or Sea of Cortez as you ride a friendly and majestic horse matched to your riding ability. For a life-changing experience, a whale watching tour will treat you and your sweetie to magical views of these magnificent denizens of the deep. The winter months are the best time to view migrating whales visiting the warm seas of Los Cabos as they make their annual journey down the Pacific coast of North America to the peaceful lagoons of the Sea of Cortez.
---
4.  Heart-Thumping Thrills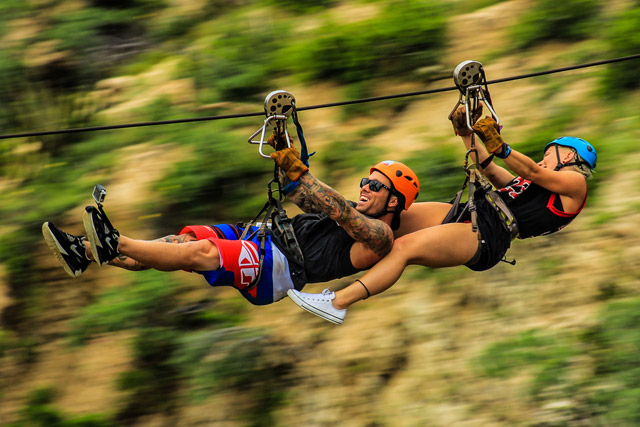 If adrenaline-pumping adventure better fits your idea of romance, you'll find that, too! A variety of exciting zip-lining tours are available, offering you the chance to soar above desert canyons. Wild Canyon Adventures also offers an awesome gondola-based bungee jump that's sure to get the blood flowing. Another action-packed experience is an off-road tour along the rugged desert outback of Los Cabos. Xtreme Adventures features the change to explore the striking landscape while riding a 4×4 all-terrain vehicle to view a historic traditional village, scenic beach and a 450-ft high lookout perch.
More Tours & Activities in Cabo…
---
5.  Fall in Love with Lover's Beach
No visit to Cabo San Lucas would be complete without taking the boat ride out to Lover's Beach. This pretty beach is nestled along the stunning rock formations of Land's End near Cabo's famed arch. You'll enjoy some of the most magnificent views of Cabo San Lucas from this scenic spot. Accessible via water taxi or glass-bottom boat from either the marina or Médano Beach, swimming and snorkeling can be good on the bay side at Lover's Beach depending upon conditions. The adjacent Pacific-fronting beach is known as Divorce Beach and is not safe for swimming due to rough surf. When visiting Lover's Beach, bring a picnic and whatever you'll need for your visit as there are no services. Also be sure to arrange your return trip with your boat operator.