Love is in the Air: Plan a Perfect Valentine's Day Getaway in Cabo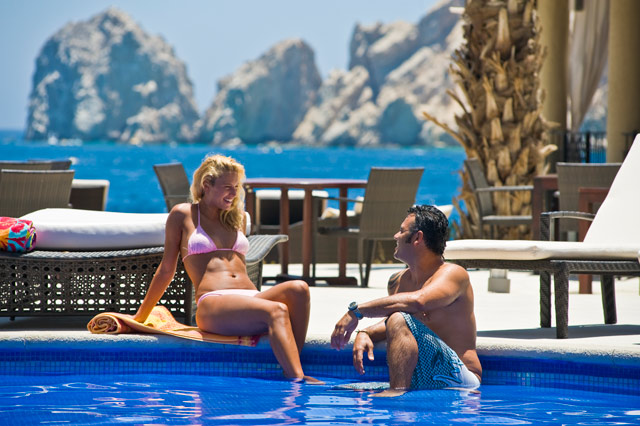 Just a quick jaunt via air from many major U.S. cities, Cabo San Lucas is a great pick for a perfect Valentine's Day weekend. Not only does it offer gorgeous beaches and warm winter weather, couples will find lots to love in the way of romantic accommodations, gourmet restaurants and high-end amenities. If you're looking to impress your sweetheart, it's easy to plan a getaway that would make Cupid proud. Whether you want to pull out all the stops with a lavishly luxurious retreat or just enjoy each other's company in a cozy love nest with a fantastic ocean view, Cabo offers something for any couple wanting to venture beyond the heart-shaped box of chocolates this year.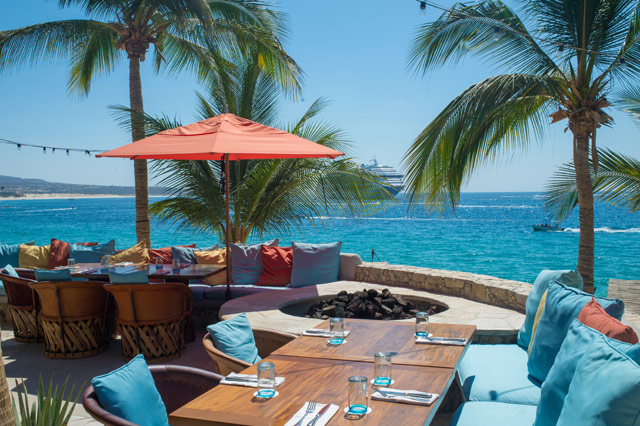 A Gourmet Retreat
Although Cabo San Lucas has its share of great local taco stands, the destination has also made a name for itself as a  gourmet hot spot. Cabo's restaurants span international cuisines and many offer gorgeous views to complement the wining and dining. Hacienda Cocina y Cantina (located at the Hacienda Beach Club & Residences) is a favorite, with magnificent views of Médano Beach in Cabo San Lucas from its atmospheric terrace areas and an impressive Mexican menu; the ceviche is a highlight! A wonderful spot to enjoy fine steaks, lush pastas and fresh seafood, Puerto San Lucas is an attractive restaurant located near the Playa Grande Beach Resort. Sip a vintage from the great wine list as you admire the marina views and savor house specialties like sea bass with mango sauce, filet mignon and lobster, crab ravioli and more in an elegant setting. Templo is another excellent choice, with a menu described as "East meets Baja" fusing preparation styles and ingredients from Asian and Latin American cuisines. While the restaurant is a bit off the beaten path, it's worth seeking out for memorable dining. Check out more Cabo dining ideas.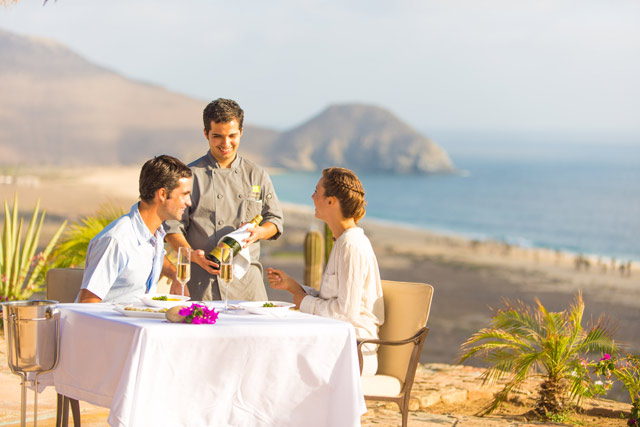 Romantic Resorts
Cabo is home to some of the world's most magnificent resorts. If you're in the market for the perfect piece of paradise to enjoy with your significant other, you'll be pleased by the incredible variety in Cabo. Beautiful all-inclusive Pueblo Bonito Pacifica is a stunning property located on a Pacific-facing beachfront. Although it feels wonderfully remote, you're just minutes to the heart of downtown Cabo San Lucas by car. This 154-room resort features "Luxury without Limitations" a luxury all-inclusive program offering gourmet a la carte dining, enhanced guest services and a wide range of amenities. You'll love lounging in a private beach bed or enjoying a soothing spa treatment at the resort's spectacular spa. This is also an ideal place to stroll hand in hand on the beach for incredible sunset views. If you're looking for a luxurious Valentine's getaway in the heart of the action, Casa Dorada Beach Resort & Spa offers the perfect combination of plush accommodations, great service and an amazing location overlooking Médano Beach, Cabo's central beachfront with inviting, swimmable waters. You're also steps to some of the area's best restaurants and bars.
If you're looking for something truly unique and off the beaten path, Guaycura Boutique Hotel Beach Club & Spa offers a romantic getaway in a historic setting. Located in Todos Santos about an hour north of Cabo San Lucas on the Pacific Coast, this intimate luxury hotel also boasts access to that area's only private beach club. Todos Santos has been designated as a "Pueblos Mágico" by the Mexican government in recognition for its unique cultural significance. Visitors enjoy strolling the historic streets admiring the lovely architecture and browsing the many fine art galleries and shops.
Of course, these are just a few of the Cabo resorts available for an amazing Valentine's escape in Cabo. 
Valentine Villas
Another option for a romantic escape in Los Cabos is a private villa rental. Villas offer unbeatable privacy and comfort. While many villas are optimal for larger groups or families, some smaller villa rentals are perfect for two. Villa Mira Flores exudes charm and is within walking distance of downtown Cabo San Lucas. You'll love the private pool terrace with lovely views of the bay and city lights in the evening. Villa Serrana is another great 2-bedroom villa in a convenient walkable location in Pedregal, Cabo's most prestigious neighborhood. Raise a glass to love as you sip a cool drink at the swim-up bar and admire the views. Located in the Corridor area of Los Cabos just outside Cabo San Lucas, Villa Cristina is wonderfully private and is just a short walk to an inviting beach. These are just a few of our many villa rentals available in Los Cabos.
If you want to make your romantic villa getaway even more special, consider adding some extras to your stay. Plan a candlelit dinner on your terrace with gourmet fare prepared by our private chefs. A special romantic pre-stock package offers champagne, chocolate-covered strawberries and red roses to enjoy in your villa. For an added bit of pampering in-villa spa services are a true treat. Choose from a range of massages, facials, body treatments and Valentine's Day packages offered by the friendly and professional team of Suzanne Morel Face & Body Care.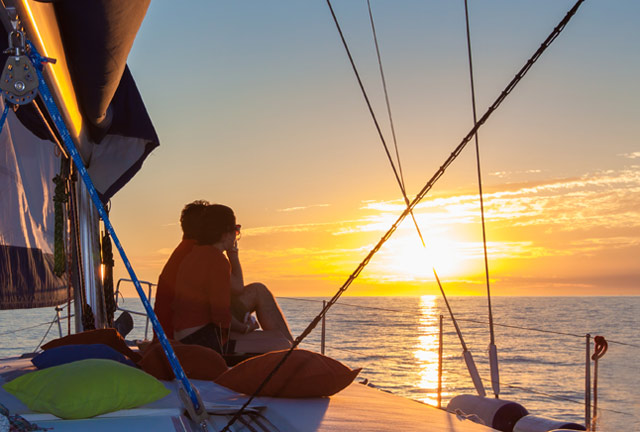 Heart-Throbbing Fun 
Whether you want to get the adrenaline pumping or simply relax under the sunshine aboard a sailboat, Cabo offers an endless range of tours & activities to enjoy with your honey. If you're a fan of action, an off-road adventure is the way to go, combining captivating views of the desert outback, exciting ride along rugged trails and enchanting sights of the ocean. For magic on (or under) the sea, head out on a snorkel tour to view tropical fish or a sunset cruise past the Cabo's iconic stone arch. And, of course, no Valentine's Day getaway would be complete without a visit to Lover's Beach. Tucked along the rock formations of Land's End, this photogenic beach offers beautiful views of Cabo San Lucas and can be reached via water taxi from Médano Beach or the marina. Swimming can be good on the bay side depending upon water conditions. Bring what you'll need for the day (there are no services) and arrange your return trip with your boat operator. Stay away from the water on adjacent Divorce Beach, where the strong surf is too dangerous for swimming. Explore more Cabo activities.
Ready to plan your Valentine's Getaway in Cabo San Lucas?