Mobile Pampering: The Los Cabos Spa that Comes to You
As any seasoned spa-goer knows, it's hard to hold onto that feeling of relaxation once you step out of a tranquil spa setting and emerge into the bustle and noise of daily life after a soothing day of treatments. What if you didn't have to leave your own private sanctuary after the massage was over? Visitors in the know have discovered that one of the very finest spa experiences available while vacationing in Los Cabos can be delivered directly to them in their villa rentals without sacrificing quality. After enjoying your relaxing massage, facial, pedicure or body scrub, you can head right out to your own terrace to lounge by your private pool or in your jacuzzi.
Suzanne Morel Face & Body Care is a boutique mobile spa company that specializes in providing guests an exceptional experience at their villa rental, yacht or hotel. With over 30 years of expertise in providing luxury spa services, Suzanne and her wonderful team consistently receive rave reviews. We talked to Elsa Dilasser, the spa's General Manager, about what makes their offerings so unique.
What distinguishes your spa services from those at Cabo's resorts? We like to think of ourselves as a full-service spa "on the go." We can totally customize the spa ambiance for each of our clients right at their Los Cabos vacation rentals, complete with tranquil music, candles, and decorative accents to fit their preferences. While it's true that Los Cabos has some of the most spectacular resort spas in the world, our clients find that there really is nothing better than enjoying a spa treatment right in their home away from home. We offer a full menu of treatments and packages provided by our highly trained staff, so guests can select the services that best meet their needs, whether it's a relaxing aromatherapy massage or a refreshing facial to nourish their skin and make them feel their best.
What types of treatments do you offer? We provide all of the most popular spa services, including massages, pedicures, facials, manicures, and exfoliation. Our massages include relaxed/Swedish, deep tissue, reflexology, sport, bio-energy, hot stone and pregnancy massages. We offer a variety of proprietary body scrubs and wraps made in-house using products infused with natural fruit extracts. We also feature a range of spa packages combining some of our most-requested treatments to provide a comprehensive wellness-focused experience. We can also customize spa parties for villa guests. This is the perfect addition to any group vacation, bachelorette party, girlfriend getaway or pre-wedding celebration. Our team is highly skilled and trained, and we pride ourselves on our professionalism, friendliness and customer service.
Los Cabos is recovering rapidly from Hurricane Odile, which made landfall in September. How has this impacted your services? Because a number of popular resorts spas are still closed at the moment while renovations take place following the storm, we're pleased to offer our clients a selection of extra "perks" to make the in-villa spa experience even more luxurious and attractive than ever. Many guests like to take advantage of the saunas, steam rooms and jacuzzis at resort facilities. We're integrating similar amenities already available in many of Cabo's luxury villa rentals into our treatment programs. For example, a guest experiencing a massage at a villa is invited to soak in their private ocean-view jacuzzi after the treatment in order to extend the soothing properties. In addition, we've developed a new spa dining menu in conjunction with the talented team of A Matter of Taste Catering. For just $25/person, villa spa clients will enjoy a delectable buffet including a mini cold soup, Caprese salad, water, lemonade, crudités and fresh fruit brochettes. Lastly, while we've always offered an on-site spa concierge, we are currently offering an additional spa concierge assistant at the villa to bring a number of great extras including fresh towels, tea and fruit to the guests as part of their treatments.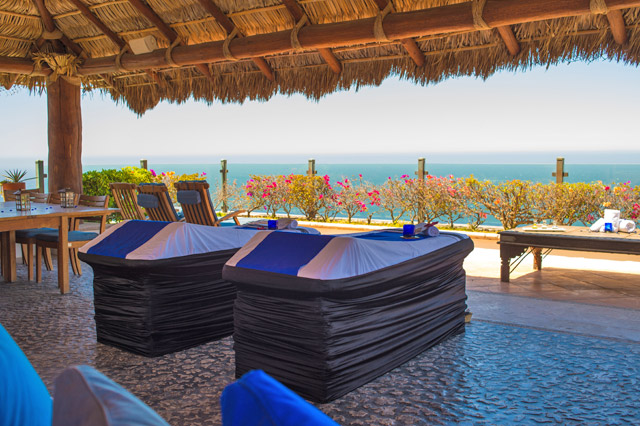 In addition to spa services, your team has been recognized repeatedly for your skilled beauty services. What do you provide? It's true that a big aspect of our business is wedding hair and makeup. We can provide practice makeup sessions and full packages for the entire wedding party, whether the clients are looking for a sophisticated and glamorous look or a more romantic and natural touch. Beyond weddings, we're happy to provide beauty services for any special occasion, whether it's an anniversary party, birthday or simply a fun night out on the town in Cabo San Lucas. Our primary focus is to help our clients look and feel their best while vacationing in Los Cabos, Mexico.
View the full spa menu:  Suzanne Morel Face & Body Care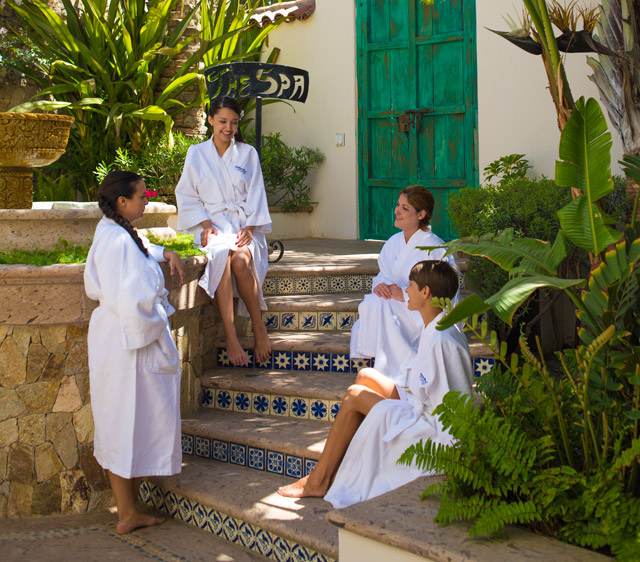 To learn more about in-villa spa and beauty services, visit: Suzanne Morel Face & Body Care