One for the Record Book: Bisbee's East Cape Offshore Fishing Tournament
Record-Setting Tuna Caught at the 13th Annual Bisbee's East Cape Offshore Tournament
Even the best-laid plans go awry sometimes. That's especially true in tournaments when the fish don't show up. Or in the case of the 2012 Bisbee's East Cape Offshore, the right fish failed to make an appearance.
No qualifying marlin were weighed in this year's 13th annual event, which took place July 24-28. But by all other measures, it was an unconditional success. Three hundred and five anglers fishing aboard 61 boats caught 94 billfish during the three days of competition. Three marlin didn't meet the 300-pound weight requirement. A total of 48 striped marlin, 30 blues, one black and 15 sailfish were returned to the water alive, however, for an impressive release ratio of 96.8 percent. In the gamefish category, 15 dorado and 3 yellowfin tuna were weighed.
"Conditions were good all three days," said Capt. Sammy Talbert, skipper of Sneak Attack, a 65-foot American Custom Yacht. "We went one for two each on stripers and blue marlin on Friday, all off Punta Arena. I don't know why there weren't any big fish."
One big fish did make it to the scales Friday and that tuna, caught by Awesome, a 30-foot Island Hopper home-ported in East Cape, set a new East Cape Offshore tournament record. The 262-pound yellowfin earned Capt. Luis Duran and his team $37,095. Shaun Speer was the official angler for the catch.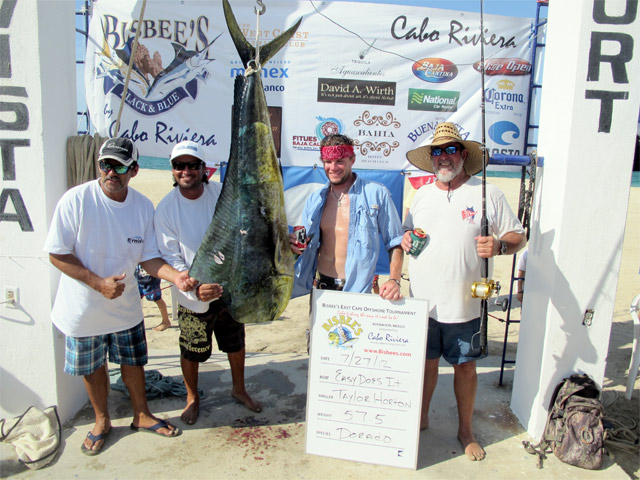 Newcomer Taylor Horton and his buddies Dave Christman and Samuel Cosio also had a nice payday. Horton's big dorado, a 57.5-pounder, earned $37,095 for the Ez-Duz-It team, skippered by Capt. Ernie Cosio of Cabo San Lucas.
Team Tenacious pocketed $22,950 in winnings for a nice 213-pound yellowfin, boated by Eduardo Aripez Beltran. Tenacious earned two day's worth of the gamefish daily jackpot with the catch.
Ned Wallace, owner of Tiger Spirit, a 72-foot Donzi, collected $11,475 in daily jackpot money for his 40.1-pound dorado caught on the first day. Chip Wagner, who owns Hang 'Em High, a 58-foot Miller Marine, is also taking home $11,475 in jackpot money for his 42.4-pound dorado landed on the second day.
Sniper, a 35-foot Cabo skippered by Capt. Angel Cesena of Cabo San Lucas, guided his crew to two blue marlin, one black and one striper. Those catches earned the team the top release honors. Sneak Attack was second in overall releases (2 blues and 2 stripers), while Wildcatter was the third place release team (2 blues and 1 striper).
The 2012 awards were presented on the beach overlooking a tranquil Sea of Cortez at the host facility, Hotel Buena Vista. Revelers enjoyed the presentation and great live music by the local cover band, Cabo Max.
"Word is getting out about this event," Tournament Director Wayne Bisbee told the assembled crowd. "We had $461,790 in prize money at stake this year. And next year, with half a million dollars and all the new slips that'll be available at Cabo Riviera, there are going to be a lot more boats wanting to get in on the fun. That's pretty impressive for a little local tournament here in East Cape."
The 2013 East Cape Offshore Tournament is scheduled for July 23-27, 2013. The next event for the 2012 Bisbee's Baja tournament series is the Los Cabos Offshore Charity Tournament, October 19-21 followed by the biggest event of them all, Bisbee's Black & Blue, October 23-27.
About Bisbee's Black & Blue Tournaments
Bisbee's has been producing sportfishing tournaments in Los Cabos, Mexico for over 30 years. Known as "the world's richest tournament" the Black & Blue, which takes place every October, holds the world record for sportfishing cash awards at $4,165,960 set in 2006.
Book a Los Cabos Fishing Charter