Ring in 2019 – New Year's Eve Events in Cabo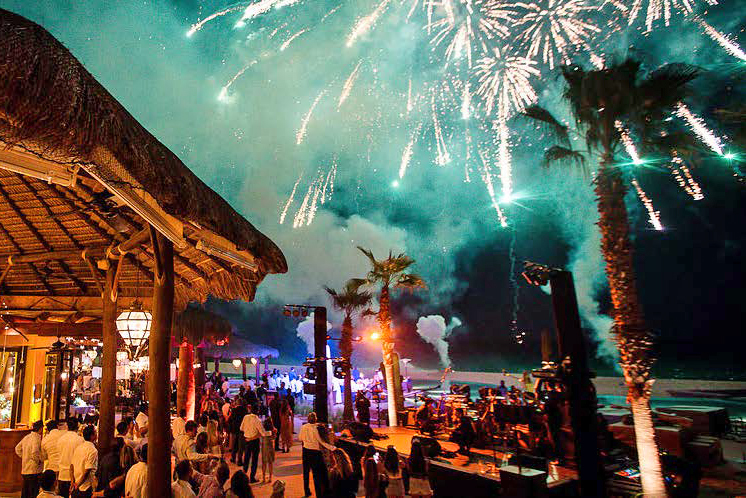 Cabo San Lucas has a well-earned reputation for fun. New Year's Eve 2019 is just another reason to party it up in paradise. Los Cabos visitors can celebrate with a variety of New Year's Eve events, including all-night dance parties with celebrity guest DJ's, glamorous dinner celebrations with live music, an unforgettable fireworks show above Médano Beach and more! For a more intimate New Year's party experience, host your own party in one of our private Cabo villa rentals.
Here are a few of Cabo's many New Year's events below:
NOTE: If you are a CaboVillas.com guest, please contact your sales agent to book New Year's Eve events. Details subject to change. Contact venues for most current details. Reservations required. Prices in USD unless otherwise specified.
---
Fireworks over Médano Beach
Each New Year's Eve, the skies sparkle above Médano Beach in Cabo at midnight. This annual fireworks spectacular lights up the sky above the Cabo beachfront and is an unforgettable accompaniment to a midnight kiss or champagne toast. Details: Take in the view from beachfront clubs, restaurants, resorts or on Médano Beach.
---
New Year's Eve at Cabo Wabo Cantina
Enjoy a rockin' NYE party at the legendary Cabo Wabo Cantina with music by the house band "Santo Rojo" as well as dinner, access to club area and more. Details: First dinner seating: 8PM; $140/person. Second dinner seating: 10PM; $100/person. More info & reservations at: Cabo Wabo Cantina
---
New Year's Eve at Resort at Pedregal
This gorgeous luxury resort offers sensational views of the Pacific in Cabo San Lucas. Ring in the New Year in style at one of the resort's incredible gourmet restaurants. Details: Dinner at Don Manuel's $190/adult; $95/child under 12 years old. Dinner at El Farallon $190/adult; $95/child. Resort at Pedregal
---
Roaring 20's New Year's Eve – Grand Velas Los Cabos Enjoy an unforgettable gala dinner with a 5-course menu by world-class chefs, live music and an oceanfront after-party overlooking the Sea of Cortez at this breathtaking resort. Details: $350/adult; $175/child (6-16 years old); Children under 6 free. Grand Velas Los Cabos
---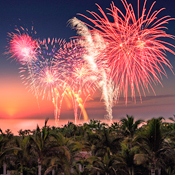 NYE Fireworks Fiesta Party at One&Only Palmilla
Let your heart run wild at One&Only Palmilla's biggest party of the year. Enjoy an exhilarating and unforgettable night of great music by DJ Coleman and Josh Weathers, dancing, premium cocktails and bottle service. Details: Party begins at 9:00 pm; $250/adult; $100/child (12-18); under 12 free. New Year's Eve Dinner at Agua by Larbi (includes party): $450/adult; $130/child (6-12); under 6 free. New Year's Eve Dinner at SEARED (includes party): $550/adult; $140/child (6-12); under 6 free. Excludes tax and gratuity. One&Only Palmilla.
---
New Year's Eve at ME Cabo
One of Cabo's hottest NYE parties, the Blue Marlin Ibiza Club at the ME Cabo Resort brings Bob Sinclair to Cabo to ring in 2019. Details: General Access: $1,000MXP; High Tables: $14,000MXP; Lounge Zone: $18,500MXP; Cabanas: $40,000MXP – More pricing options available, contact us for full details. Ages 18 and over only. Reservations: (+52) 624 122 2001 More Info…
---
Back to the Future Party at Casa Dorada
Recharge your flux capacitor and get ready to celebrate 2019 as if you were traveling through time! The New Year's Eve celebrations at this beachfront resort in Cabo San Lucas are always a huge hit. Live show, dinner, bar, party props and more. Details: $160/adult; $84/child; $28/under 5 years old. At Casa Dorada Los Cabos…
---
Arabian Nights NYE at Casa del Mar Resort
Come join us for an Arabian Nights-themed celebration at this wonderful beachfront resort in Los Cabos. End the year in sophisticated style as you toast the new year ahead – and don't forget to take a photo with a camel. Details: $175/person, dinner, open domestic bar, fireworks and more. At Casa del Mar Resort…
---
New Year's Eve at the Office
Enjoy front-row seats to the sights of Médano Beach by ringing in the new year at the world-famous Office, a beachfront restaurant right on the sand. Included is a special dinner menu, glass of sparkling wine, entertainment and party favors. Details: $200/person (beverages not included). More Info: The Office on the Beach.
---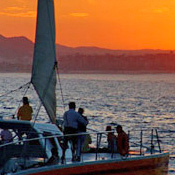 New Year's Eve Cruise on the TROPICAT
Ring in the 2019 aboard the Tropicat, the most luxurious catamaran in Cabo. You can dance under the starlit skies as you experience the sensational fireworks show over Médano Beach while anchored in the bay! Details: $85/adult; 10:00 pm – 1:00 am. Book in advance: Tropicat Catamaran.
---
New Year's Eve Cruise on the Cabo Mar
Enjoy a dinner under the stars with a special new year's menu on the CaboMar catamaran. The party continues with DJ dancing and unlimited open bar. Welcome 2019 as you watch the fireworks from Médano Beach, while anchored in the bay! This fun cruise sells out every year! Details:$85/adult; 10:00 pm – 1:00 am. Book in advance: CaboMar Catamaran.
---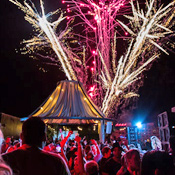 Ball Drop Party at The Cape, A Thompson Hotel
Say goodbye to 2018 with a stylish night of dancing, world-famous DJs, and plenty of bubbly to go around. Take in breathtaking views of the Sea of Cortez and El Arco as you sip cocktails to the beats of Polo & Pan and Chad Hugo at The Rooftop at The Cape. Details: From $3,960MXP; Contact for info. Tickets.
---
New Year's Eve Dinner at >Hotel El Ganzo
This stylish arts-inspired boutique hotel in Puerto Los Cabos offers a sophisticated atmosphere and gorgeous views. Enjoy an incredible New Year's Eve dinner with an exciting special gourmet menu. Details: $160/person includes dinner and one glass of sparkling wine, access to The Rooftop for New Year's Eve (drinks extra); vegan menu is also available. Access to The Rooftop without dinner is also available with bottle service purchase for up to 4 people (price varies).
---
New Year's Eve Dinner at Hacienda Cocina
Boasting one of the most breathtaking beachfront settings in Cabo San Lucas overlooking Médano Beach, Hacienda Cocina will be serving a special 5-course New Year's Eve menu, reservations required. Details: $3,230MXP/adult; $1,615MXP/child – 2 Seatings available: 7:30PM; 9PM. More Info: Hacienda Cocina
---
New Year's Eve Party at OMNIA Los Cabos
One of the hottest new clubs in Los Cabos is the stylish OMNIA in San José del Cabo at Vidanta. This New Year's Eve party will feature music by Jermaine Dupri in this sophisticated setting. Special packages available. Details: More Info, Tickets & VIP Tables: OMNIA New Year's Eve
---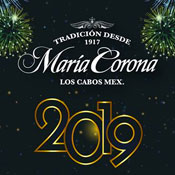 New Year's Eve Party at Maria Corona
With delicious authentic Mexican cuisine, this restaurant is a very special spot for excellent dining. Celebrate New Year's Eve with dinner, a Mexican folklore show, dancing and more. Details: $89/adult; $44/child. More Info at: Maria Corona
---
New Year's Eve Dinner at Edith's
One of the most beloved fine dining restaurants in Cabo San Lucas, Edith's is famed for outstanding seafood, Mexican classics and a beautiful courtyard setting. Enjoy a special dinner menu as you get ready to welcome the new year. Details: $150/person. Reservations required. More Info at: Edith's
---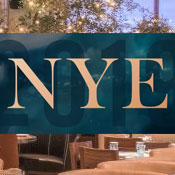 New Year's Eve Dinner at Herringbone
The glamorous dining setting at Herringbone in San José del Cabo is matched by exquisite dining. Enjoy a gourmet 5-course prix-fixe menu for New Year's Eve. Details: $2,650MXP/person. Wine pairings available at additional cost. Two seating times available: 6PM or 9PM. Reservations required. More Info at: Herringbone
---
New Year's Eve at Sunset Mona Lisa
Enjoy a 7-course menu at this beautiful restaurant. Reserve an unforgettable evening of dining with ocean views on the terrace or palapa dining area. You'll love the festive ambiance, entertainment and special menu. After dinner, enjoy dancing at the Sunset Point Bar. Details: $200/person. More Info at: Sunset Mona Lisa
---
Ultra Violet Party at Breathless Cabo San Lucas
Featuring special guests DJ Farid Behe, Pink Noise and James Ponette, this fun-filled evening will feature dining, a bottle of Veuve Cliqcot Ponsardin per couple. This stylish resort is located adjacent to the marina & Médano Beach. Details: $125/adult. VIP tables and other pricing options available. More Info: Breathless Cabo San Lucas