School's Out: Plan Your Summer of Fun in Cabo!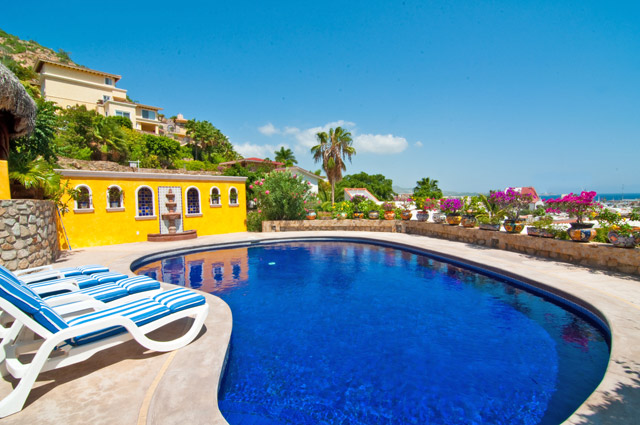 With the end of the school year nearing, it's time to trade in the school books for suntan lotion and plan a great summer getaway in Los Cabos that will keep the whole crowd happy. Whether you want to plan an amazing graduation trip or simply a laid-back retreat with extended family, here are a few suggestions and ideas for an unforgettable escape in Cabo this summer vacation:
Where to Stay…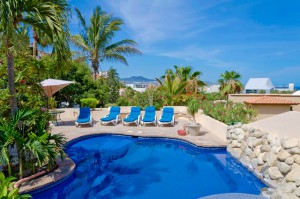 Villa Mira Flores
Cabo San Lucas, Pedregal –
2BR-2BA / Ocean View
From $450/night
Warm and welcoming, enchanting Villa Mira Flores offers plenty of traditional charm in a great location. Located in the private development of Pedregal, this 2-bedroom villa overlooks views of downtown Cabo San Lucas and the Sea of Cortez from its inviting private pool terrace. This villa sleeps up to 4 guests and is a comfortable home base for a great vacation in Cabo, just steps to all of the fun, dining, nightlife, activities and action of downtown and the marina. More information: Villa Mira Flores
Villa Costa Brava
Corridor / 3BR-2BA / Ocean View
From $440/night
Plus: 4th or 7th Nights Free!*
A consistent favorite among our guests for family getaways, this inviting 3-bedroom villa boasts a winning combination of comfort and an excellent Corridor location just steps to a gorgeous beach in a small private development. Relax in the hammock, soak up the sunshine around the swimming pool, prepare a snack in your well-equipped kitchen or just gaze at the Sea of Cortez and swaying palms. More information: Villa Costa Brava *see link for full details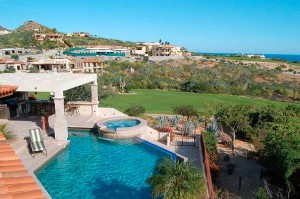 Villa las Piedras
Puerto Los Cabos /5BR-7BA / Ocean View
From $996/night
Located in the luxurious community of Puerto Los Cabos just a few minutes outside of historic San José del Cabo, this villa offers an incomparable setting for a summer getaway with family and friends. Kick back around the private swimming pool or the jacuzzi. The villa also comes with access to the community's inviting private beach club. More information: Villa las Piedras
Make your villa stay even more special with these optional extras:

Search More Los Cabos Villa Rentals…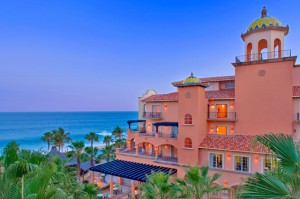 Sheraton Hacienda del Mar
Corridor, Cabo del Sol
From $293/night
Stunning hacienda-style architecture, a breathtaking oceanfront location overlooking the Sea of Cortez and excellent dining are just a few highlights at this beautiful resort. Guests appreciate the authentic Mexican accents, attention to detail and gorgeous swimming pools with separate family-friendly and adults only areas. More information: Sheraton Hacienda del Mar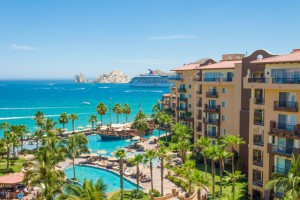 Villa del Arco Beach Resort
Médano Beach, Cabo San Lucas
From $210/night
Located right on Cabo's famous Médano Beach, this beloved resort features excellent service, comfortable suites and even a swimming pool with a pirate ship! Best of all, the gorgeous views of Cabo San Lucas Bay and Land's End are truly magical. More information: Villa del Arco Beach Resort
Where to Play…
There are so many ways to enjoy the natural beauty and fun of Los Cabos, Mexico, whether while exploring the desert outback, sunny beaches or the beautiful sea. Here are a few unique experiences: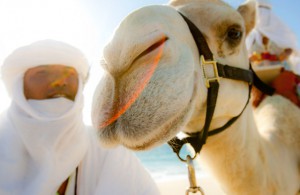 Camel & Outback Safari
From $109/adult; $79/child
A truly unforgettable experience awaits. You will enjoy a combination of an off-road 4×4 excursion, a leisurely nature walk and a beach camel ride – the perfect way to see the beautiful sights of the desert and sea in Baja California Sur. This guided tour is not to be missed and is fun for young and old! More Information: Camel & Outback Safari
Horseback Riding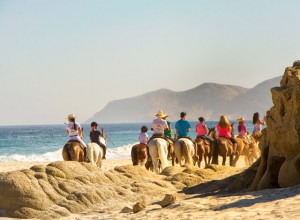 From $70/person
Cuadra San Francisco offers exhilarating horseback riding tours in Los Cabos. Take in the vistas of the region's natural diversity as you ride a well-trained horse that will be matched to your riding ability and experience. Professional and friendly guides will ensure a fun-filled outing. More Information: Cuadra San Francisco Horseback Riding
Cabo Sailing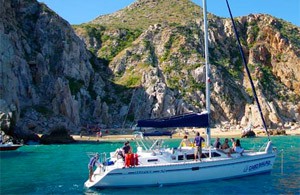 From $74/adult; $37/child
Feel the wind in your hair as you set sail for a wonderful cruise on the waters of Los Cabos! With a variety of tours available, Cabo Sailing provides a great time as you head to some of Cabo's most scenic locations aboard a stunning vessel. More Information: Cabo Sailing
These are just a few of the many tours and activities available in Los Cabos!
See links for full details and restrictions. Prices subject to change.