Sea Change: Cabo's Transformation Dazzles
Intriguing glimpses of a dazzling metamorphosis are everywhere in Cabo these days. Whether you're a first-time or returning visitor, you can't help but notice the burgeoning luxury construction projects, updated infrastructure and a captivating variety of new restaurants and shops. Hot new world-class resorts, updated infrastructure and a commitment to luxury hospitality are making Los Cabos better than ever, while the timeless spirit of Baja remains at the destination's heart.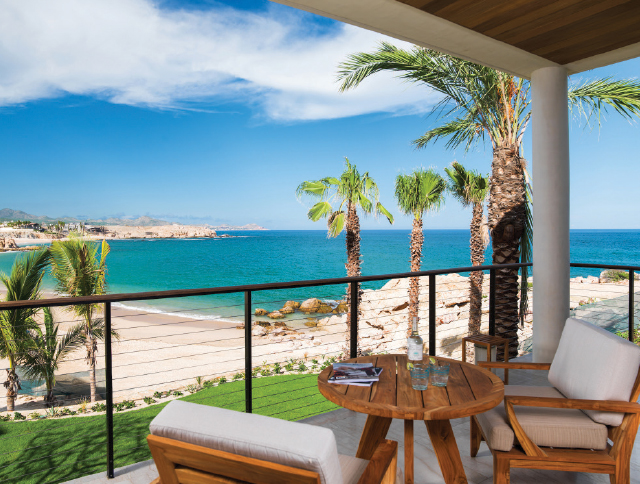 Los Cabos has been pouring resources into reinventing and remaking itself to become even more attractive to its treasured guests. Although development is reshaping the vacation landscape in Los Cabos, it's readily apparent that great care is being taken to preserve the unique natural and cultural heritage of this breathtaking destination. After all, it is the spectacular natural beauty, sunny climate, sparkling beaches, pristine waters, enchanting desert landscapes, big-game fishing, world class golf and eco-tourism adventures that are Cabo's main attraction. Los Cabos boasts something for everyone and there is still plenty of charm to be found at local eateries and shops offering authentic tastes and handmade goods for those seeking local flavor.
Your first glimpse of the region's transformation takes place on the new road from the Los Cabos International Airport to Cabo. This toll expressway runs inland and parallel to the older road along the Corridor, whisking you from the airport to Cabo San Lucas in record time and getting you to your poolside margaritas faster than ever. In addition, the new road linking Cabo to Todos Santos has made it quicker to visit this seaside town (just a one-hour drive up the Pacific coast) to enjoy its unique art scene, restaurants and culture. More road improvements are expected in the future with the goal of improving safety and traffic access to the Los Cabos Corridor area.
Los Cabos is a short flight from most major U.S. cities and many new routes are being added. Recently Southwest and Delta airlines added convenient new routes from Los Angeles and Oakland. In August of 2016 a bilateral agreement relaxed restrictions on the number of airlines that can fly between Mexico and the United States, which is expected to make Los Cabos more accessible than ever in the future.
While Los Cabos has already become synonymous with luxury, a boom in new resort development is capturing the attention of visitors and travel industry insiders. Over the next several years, many high end resorts are set to open their doors, providing even more deluxe options for travelers. Already opened offerings include the stunning adults-only Breathless Cabo San Lucas Resort & Spa alongside the Cabo San Lucas marina and the ultra-modern Mar Adentro in San José del Cabo. In Puerto Los Cabos, visitors can now enjoy the new JW Marriott and the luxurious Secrets Puerto Los Cabos. Additional new resorts include the stunning Chileno Bay Resort and Grand Velas Los Cabos. Opening soon: Solaz Los Cabos, Le Blanc, Hard Rock, Nobu, Four Seasons, Villa la Valencia, Garza Blanca, Ritz Carlton and a new Grand Solmar along the Pacific coast.
These new resort properties are creating quite the buzz, however some things never change in Los Cabos. Sport fishing for marlin, tuna and wahoo (with a greater conservation focus these days on catch-and-release) still draws thousands of anglers each year, as it has for decades. Solidly ensconced among the world's top golf destinations, lovers of the game flock here to play prestigious courses designed by some of the most recognized names in golf. And, of course, there's the ever-present Sea of Cortez with endless recreational opportunities including sunset cruises, kayaking, scuba diving, snorkeling, sailing and standup paddling.
The best of all worlds awaits you in Los Cabos, where you will experience warm hospitality, luxurious accommodations and the majesty of nature all in one very dynamic destination.
Start Planning: