The Colorful Treasures of The Art Market in San José del Cabo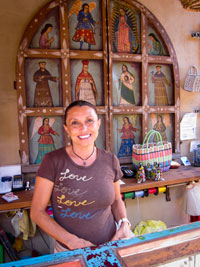 Strolling around the picturesque Art District in San José del Cabo is always a pleasure, with countless boutiques and galleries offering captivating, unique artworks that are hard to resist browsing.
Several weeks ago, I stumbled upon a charming new gallery nestled along a side street. An entryway from the sidewalk through a rustic brick wall opened up to an inviting courtyard jam-packed with colorful folk art, lanterns, pottery, jewelry and home décor items. Brilliant glass globes dangle from a central tree, Dia de los Muertos pieces line garden shelves and whimsical painted tin pieces hang from walls.
I had the chance to talk to Lupita Childers, who with partner Gaby Sanchez runs the lovely The Art Market Mercado, to chat about what makes the San José Art District—and the shop—so unique.
What brought you to San José del Cabo? I have been in Los Cabos over 22 years now. I lived in Cabo San Lucas for 10 years and decided to move to San José to raise my children in this quiet, historic, very Mexican town. San Jose is the typical Mexican town, with a big church in the town square where families bring their children to play and buy a colorful balloon, and to grab a bite to eat, whether it's a piece of fire-roasted corn on the cob or the tacos and tostadas available on every corner.
What is the focus of The Art Market shop? We have a specialized store offering handcrafted pieces from different regions of the country. We have a great variety of Mexican crafts, from original 7-foot wooden crosses that come from very old haciendas in the state of Hidalgo to tin mirrors handcrafted with decorative roses, to hand painted pottery and blown glass hearts and bowls.
What makes the San José del Cabo art/historical district so special? San José is very conscious of its culture and loves to share it with visitors. A few years ago an association was formed to beautify the historic center where the now famous Art District is. Every Thursday night from November-May there's a great Art Walk, with all the galleries and shops open late into the evening, and restaurants opening their doors to offer hors d'oeuvres and wine or tequila tastings while folkloric dances are performed in the street.
What's are your favorite insider tips for Los Cabos? I recommend Salsitas Cantina, a Mexican restaurant on Obregon street in a beautiful San Jose house built in 1812 and Tequila's Restaurant at 1011 Manuel Doblado, a fine dining venue located in a beautiful courtyard in another beautiful old house of San José.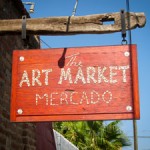 Check out The Art Market at 1907 Alvaro Obregon in San José del Cabo.
You can find them online at TheArtMarketLosCabos.net