Tips on Tipping in Los Cabos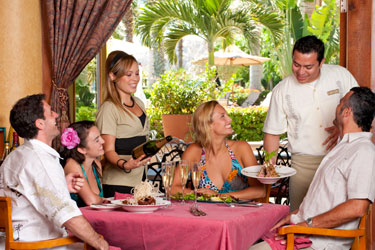 Tipping while traveling can be tricky business, because the ways of commerce and gratuity in one corner of the world might be wildly different in another. Did I just insult the waiter by leaving a toothpick of a tip? Did I just fund her child's education by leaving a diamond-studded tiara of a tip?
The Los Cabos area is distinguished by many fine restaurants, resplendent resorts and prime-time shopping areas. Service levels are generally high, though as with any broad area, your mileage can vary. Rest assured though—from the concierge at your hotel to the gardener at your villa to the waitperson at your restaurant, almost all of the folks that tend to your whims are eager to please—and should be given their just desserts.
Sterling Service Deserves Shiny Rewards
One can't always generalize: consider that the tips that you might leave at Las Gardenias for their incredible fish tacos should naturally be on a smaller scale than that for the grilled lobster at Edith's. But there are a few rules for your Los Cabos wallet that will hold true for most tipping situations. Consider these:
Villa maid service – $2–5 USD per person/night.
Destination Specialists – $100-$200 USD depending upon length of stay and amount of service rendered would be appropriate.
Trans Cabo (airport/activity transportation) – $10–20 USD.
Tours – 10–15% of tour total.
Catering – Between 10-20% of bill.
Spa – Suzanne Morel Face & Body Care includes a tip in the final bill for their services. However, if the therapist was amazing, $10–20 USD would be fine.
Context Is King
Of course, if you receive truly superlative service for any of your Los Cabos endeavors, you should tip accordingly—which means bountifully. And if the service is sub-par, don't feel intimidated into leaving a large tip regardless. Solid service = right reciprocation.
If you do experience some negative service encounter—which is a rarity in Los Cabos—it's best not to make the experience more sour by leaving a truly punitive tip. Better yet to report the circumstance to the management; they will resolve the issue. But we think that in the main, you'll find all the service people in lovely Los Cabos to be happy to make you even more happy.
One last tip on tips: "Thank you" is often the best tip to leave, along with the dollar bills. Everyone likes to be appreciated, and they'll be appreciative right back for all your fellow visitors to come.
La Cuenta:
On a related note, it's customary in Mexico to deliver the check for services, such as in a restaurant, only when requested by the client. To do so without prompting would be considered rude, and a poor showing of hospitality. When you're ready for your bill, just as for "La cuenta por favor."
– By Tom Bentley