Top Ideas for Summer Fun in the Cabo Sun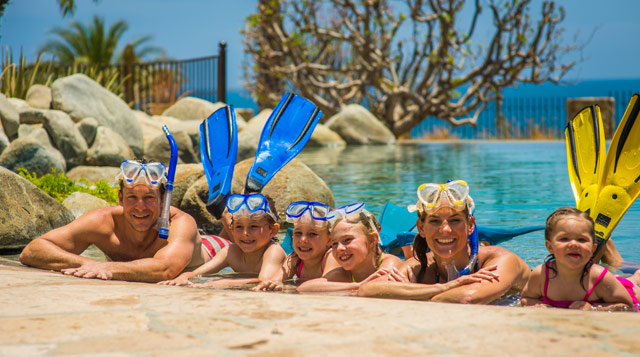 Summer in Cabo means great deals and plenty of fun. With the kids out of school for the summer months, this is a great time to take advantage of great rates and activities. Here are some ideas for summer fun in Los Cabos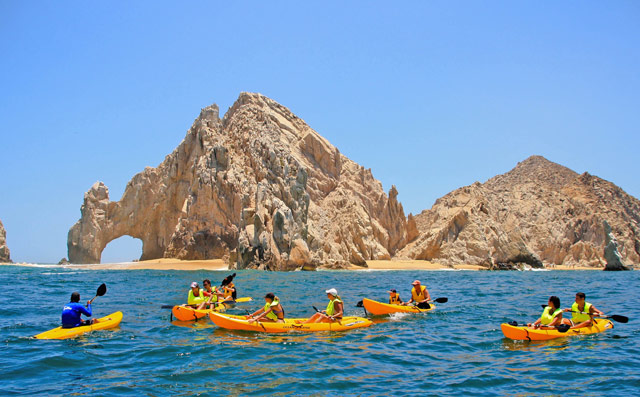 1. Hit the Water to Stay Cool
The Sea of Cortez offers plenty of ways to escape the heat with water activities and cool ocean breezes. Sailing is a fun-filled activity that the whole family will enjoy, whether it's a scenic sunset cruise or a daytime trip to check out one of the area's fantastic snorkeling spots. Set sail on a pirate ship, classic sailboat or elegant catamaran. Another way to enjoy the water is to go kayaking or try standup paddling. The pristine waters of the Bay of Cabo San Lucas offer excellent snorkeling and diving opportunities with unique marine life including exotic tropical fish, dolphins, rays and sea lions. These tours also include jaw dropping views of the iconic stone arch ("El Arco") at Land's End!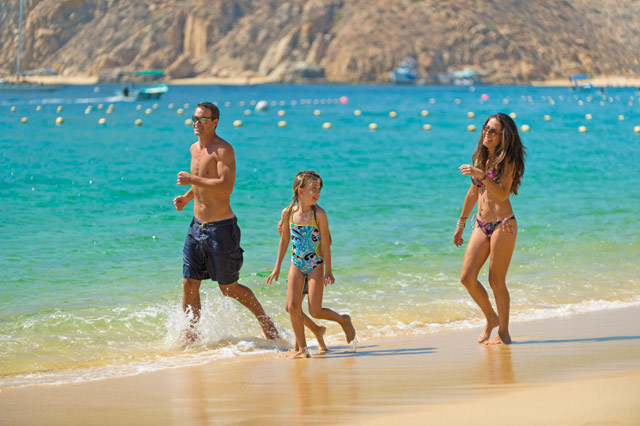 2. Find the perfect beach
No trip to Los Cabos would be complete without basking in the sunshine on one of the area's beaches. Médano Beach is the heart of Cabo San Lucas. Great for people watching, it's lined with resorts, vendors and cantinas. Lover's Beach is another fave. Located at Land's End, Lover's Beach is accessible via water taxi from the marina or Médano. Bring what you'll need for the day and arrange your return trip with your boat operator. Adjacent Pacific-facing "Divorce Beach" is not safe for swimming due to strong surf.
Along the Corridor between Cabo San Lucas and San José del Cabo, you can enjoy Santa Maria Bay (km. 13 on the main highway) and Chileno Bay (km. 14.5) – both great spots for snorkeling. Close to the One&Only Palmilla Resort, Palmilla Beach (km. 27 on the main highway) is a beautiful spot to spend a few hours as you enjoy views of local fishing pangas. These are just a few of Cabo's many wonderful beaches. Avoid getting in the water on the Pacific side as strong rip tides make the waters too rough for swimming.
3. Sip & Nosh with a View
After working up an appetite playing in the sunshine, cool down with a designer cocktail, local seafood and an ocean view. In Cabo San Lucas, head to Hacienda Cocina to enjoy great views of Médano Beach, excellent ceviche and a cucumber mojito. Along Médano Beach, you'll also discover a variety of great spots to sip a margarita while sitting in the shade at a table on the sand while watching the vibrant beach scene. Or, head to the marina to enjoy views of the luxury yachts from one of the stylish waterfront eateries. At the stunning new marina in Puerto Los Cabos not far from San José del Cabo, be sure to hit up the Container Bar for a quirky casual vibe, creative cocktails and the freshest fish tacos. More Cabo dining ideas…
4. Take Advantage of Summer Resort Deals
If you want a great vacation value, summer's the time to visit Cabo. Villa del Palmar is a perennial family favorite. Overlooking Médano Beach, this wonderful resort offers gorgeous ocean views, comfortable accommodations, great food and friendly service. Summer specials at Villa del Palmar start from $140/night + Kids Free.
More Specials:
5. Bring the Family & Friends for Great Summer Villa Savings
When traveling with a group, a villa can be an unbeatable value offering privacy and comfort. Plus, you can add on a range of extras including in-villa spa massages, chef services and pre-stocking packages. Villa Costa Brava is offering a great rate from $440/night plus your 4th night free. This 3-bedroom villa offers pretty views of the Sea of Cortez from its private pool terrace and is just a short walk to a lovely beach.
More Specials: