Trip Report: A Dream Fishing Trip in Cabo – PART 2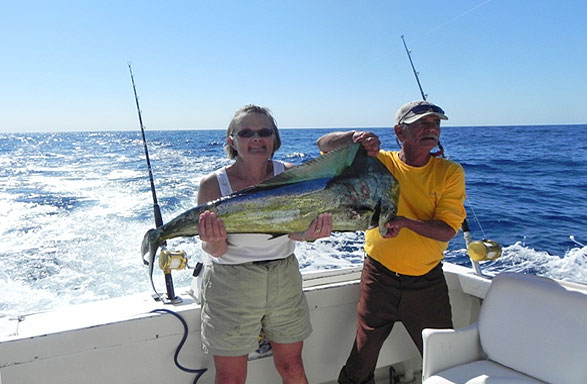 Here, Tim and Brenda share the endlessly entertaining and hilarious Part 2 of their dream fishing vacation in Cabo San Lucas. Read Part 1 here…
Day Two
On November 22nd we awoke at 5:30 and had our morning coffee. Today we would begin fishing with Pisces Sportfishing. They are a tremendous outfit. Our Captain Orlando and mate Ernesto were fantastic. Again, our whole trip was set up was done by Earth Sea & Sky Vacations (ESSV, Cabovillas.com). Sales agent Hernan put the package together and it would be tough to find much wrong with what we were fortunate to participate in.
We arrived at the Marina by cab ($10.00 tip included) at 6:40, at 6:45. The Captain (Orlando) asks what we would like to fish for, we ask if there is any tuna action. Unfortunately, the answer is no. So our response is "let's go catch some marlin or dorado." This question would start our fishing day each day and the answer was always the same, "no tuna." We stop again at the harbormaster to prove we had our fishing license and then again to buy our live bait on the way out of the harbor.
With our bait on board we're off and running we head to the Pacific side and run north until we reach a point out from a lighthouse; we are a mile plus off shore. The sun is already warming the air as we set the rods and begin trolling, it's now 8:00 and the anticipation is in the air. After a while I ask my bride the time, "8:30" she says. I tell her, "you know we didn't catch a fish until we had a beer yesterday." So as I get the beer and tomato mixed to start the day, we continue our way north. About ½ way through the beer I decide as long as we're on vacation I may as well add a cigar to the formula. Two minutes later a huge dorado comes bolting out of the water. Ernesto grabs the live bait rig that he had previously set up as I reel up the extra lines. Brenda fights the fish for several minutes with the encouragement from Ernesto "easy-up," reel down fast. The dorado puts up a nice fight but Brenda wins the battle and lends her second (of many) dorado of the trip.
By the end of the day we had landed 6 dorado and released 2. Brenda landed 6 of the 8 and was smiles from ear to ear. Each time we landed a fish she would head to the table a write a commentary about the fish; the time it was caught, the toughness of the fight, the approximate length. So with day two of fishing complete, we headed back to the Marina. With the warm sun on our face and smiles from ear to ear this truly was turning into a fantastic trip. We arrived at the Marina and were again greeted by the "Flipper and Feather welcoming committee." We docked the boat and were welcomed back by some the Pisces crew. Before leaving the boat we gave Orlando a tip for a fantastic day. The Pisces group advertises that "you will fish on top quality boat, with a tried and tested crew, in some of the best fishing waters in the world" –  absolutely true as far as we are concerned. We had 6 fish but we only wanted 2, they cleaned them and put them in zip lock bags for us to take back to the hotel, the cost was a small tip. We began our walk back to the hotel, it was a gorgeous day. The walk took 45 minutes from Pisces to Villa del Palmar Resort. We had ample opportunity to buy items from vendors and shops. When we got back to the hotel I washed the fish and re-bagged them and put them in our freezer. We made a reservation for dinner at the restaurant in the hotel. The menu would be fresh mahi-mahi and an arrangement of tortilla shells with vegetables. The chef cooked the fish to perfection it was SPECTACULAR! After dinner we took a walk in the beautiful evening air and headed back to rest for tomorrow's adventure.
By the way, after two days of fishing a theory has been established (or at least I had established a theory) that if the fishing slows, having a beer and a cigar would speed it back up. Brenda is a little more than skeptical, well I'm convinced it worked Just take a look: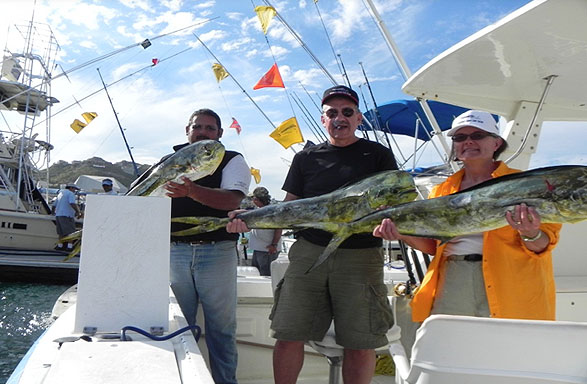 Day Three
Following the same routine we took a cab to the Marina. We were greeted by the familiar faces from the previous day. We grabbed a cup of coffee (furnished by Pisces) and walked to our boat. (If you are a coffee lover I would suggest that you bring a thermos). Orlando wanted to know what we wanted to fish for, my follow up question was, "are the tuna biting?" The answer was still "no". So let's try for marlin. It's 6:45 and were headed through our now usual routine: check in, buy bait and we are off for day three. With the sun up a full foot on the horizon we can feel the heat building as we head out to the Sea of Cortez. At 7:15 we are putting the lines in the water. Today is a slower day the time is slipping by fast with no action even as Orlando and Ernesto are changing colors and sizes of bait frequently.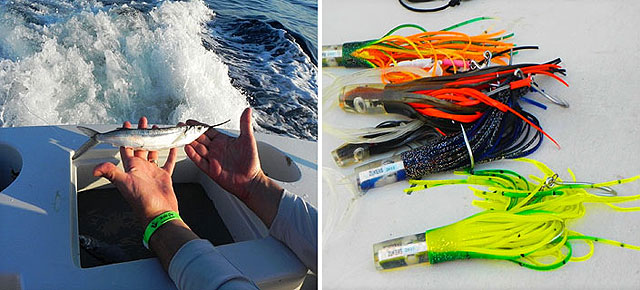 BTW my beer theory is now being tested as it is 10:00 and we have not had a bite. Suddenly, Ernesto is hollering "Whale, whale, whale!" We jump from our chairs and look out the side of the boat to see a whale less than a 100 yards away, now this was pretty cool indeed (no extra charge by the way). We watch the whale for a few minutes and settle back in our chairs. We tried to get photos but we were never pointed in the right location to get a good picture. So it's back to fishing, maybe one more beer will break up the shutout. As I get up to head for the cooler (stocked with your choice of beverage by Pisces), the rod closest to me begins to scream as the line is being ripped off by something large. Orlando is off the flying bridge like a cat, I begin gathering up the other lines when the rod in front of Brenda with the Ballyhoo starts to sing in unison. I get the 3 lines not involved with the fight stored and get in the chair for what we believe is a double on marlin. The thought is short-lived as Orlando announces that we have the same fish hooked. So in unison we begin to pull him toward the boat. Luckily for Brenda however my line is spit free only a few minutes into the fight, and it is her and the marlin locked in a battle that will last for 20 minutes. She does a masterful job of playing the fish to the boat, we get pictures and successfully release a beautiful striped marlin.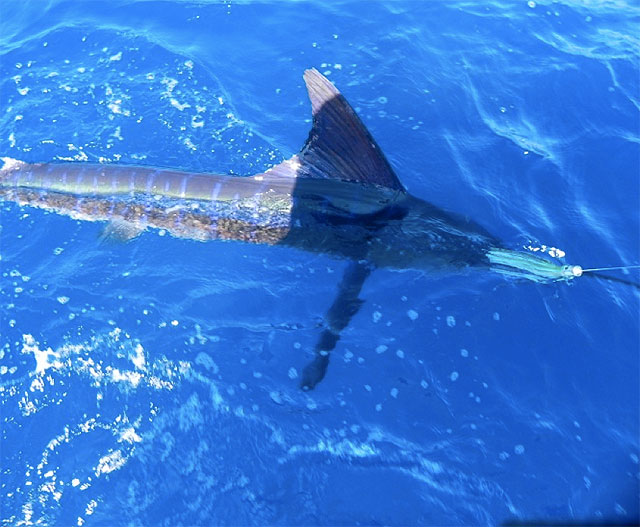 Brenda is smiles from ear to ear, as she should be. It's now around 11:30 we are delighted with the day, but there would be more. As we release the marlin Orlando says, "look dolphin" and we are off and chasing a pod of wild dolphin. Ernesto changes bait to something that looks like a wood dowel with a lead nose and a hook. We are hoping to find tuna under the aerobatic dolphin, but it is not to be. So, we start back on our previous tactic…marlin. In the next 2 & ½ hours we would land 4 dorado and keep 2. If you're keeping score (and Brenda does), she landed 3 of the four dorado. But it is now 2:00 PM and it's time to return to the Marina.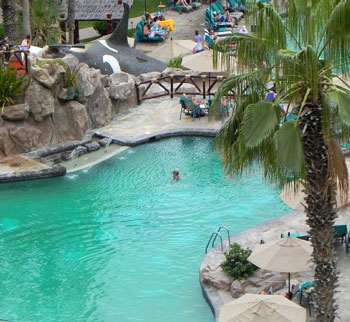 It is the same fanfare with our welcoming committee. As we make our way to the dock. Again, we give Orlando his well-deserved tip as we exit the boat. Today we do not want to take any fish we have enough. As we exit the boat we are greeted by one of the Pisces dock masters who, like us, is all smiles. He thanks us for releasing the marlin and we are off for a walk in the warm afternoon sun. During our walk we discuss the fact that we now need to purchase fish flags, a blue marlin, a striped marlin, a dorado and a release flag. So on our stroll we back we stop at the Pisces office to do our flag shopping unfortunately, they are out of stock on what we need. So we continue back and arrive at the hotel at 3:30. We clean up and Brenda adds the day's notes to her journal. As we unwind before dinner we gaze out at the ocean and activity below it is truly beautiful in Cabo from our room.
For dinner tonight we venture over to the Villa del Arco (part of our Villa del Palmar Resort package) and there is a free trolley that runs every 5 minutes or so. We arrive at 5:45 and sit at the bar at the pirate ship where Lety and Enrique would wait on us and make the perfect suggestion for dinner. We finish our dinner and walk back to the hotel. We discuss all of the highlights of the trip beginning to feel the inevitable regret that we have only two days left and only one of fishing. But we go to sleep that night knowing that no matter what happens fishing-wise this trip has been successful!
Day four
The final day of fishing starts as the previous three we head to the marina by cab arriving at 6:20. Coffee to go we greet Orlando and Ernesto and exchange the same question and answer…still no tuna. Let's go chase some marlin and dorado and we are on our way by 6:30 stopping at the harbor master and then the bait guy. It seems a bit cooler but we are 15 minutes earlier than the previous days. The sun is lower in the horizon today. Today we head back to the Pacific side and view the mansions & resorts built on / in the cliffs.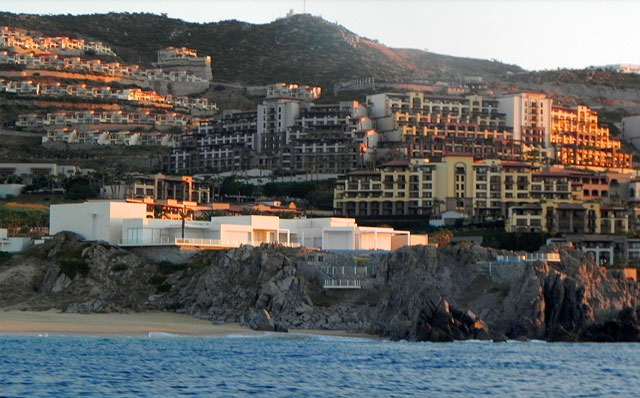 So we start heading back toward the lighthouse, as we are moving I comment to Brenda about the changes in the air temperature it has gone from relatively cool to warm. Those words barely left my lips and the boat slows to almost a complete stop and Orlando is off the flying bridge down on the main deck and screams "sailfish!" as he grabs the live bait rod and casts the bait in the nearly calm water toward shore. Then, he hands me the rod. One second later the sailfish is out of the water like a Polaris missile not once but over and over again. I tell Brenda to grab the video camera and try to catch some this high flying jumps. That experiment gave us some pretty nice shots of water, then sky, then water, then sky. Oh well. The fight with the sail fish lasted 20 minutes and we were able to release him unharmed.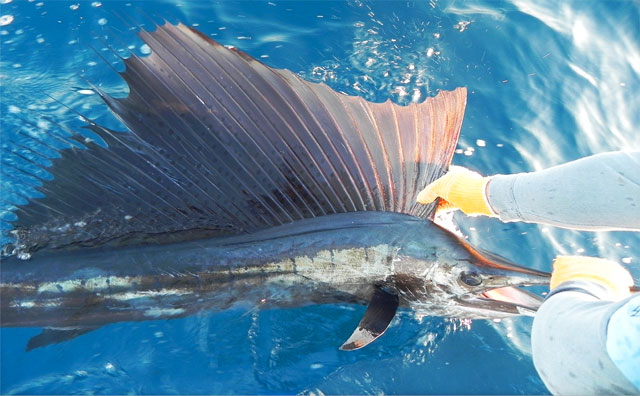 It is 7:30 and we have a sailfish caught and released. The trip couldn't go any better…but did. We continue toward the lighthouse and after 20 minutes we arrive at our destination. We set the 5 lines and began to troll. At a little after 8:00 I got up to grab a beverage (that's correct, a beer) 'cause it had been a ½ an hour. Well you can almost guess what happened next; we connected with a dorado that came shooting out of the water as if fired from a gun. Then a second rod started screaming while I finished gather up the "unnecessary" lines, I grabbed the rod with the screaming reel while Orlando was pitching a live bait in behind Brenda and my active rods…sure enough it was official: not a double, but a triple as Orlando set his rod in the holder and watched the fight on our two lines. Brenda landed hers first and was immediately handed the live bait rod.  In the next 10 minutes we had 3 additional dorado and it was only 8:30. As I looked out the back of the boat, a couple of hundred yards away a pod of whales is surfacing this time I get to yell up to Orlando & Ernesto, "Whales!" I think they were impressed. We did not have a repeat of day 3 where a marlin would enter the picture but the fun would continue. The day would fly by because by the end our fourth day we would hook 11 dorado, and land 7, plus the sailfish. Of the seven dorado, Brenda landed 5 (for those keeping score). We smiled all the way back to the Marina. We did not have any treats for our welcoming bird and sea lion committee, as we used all of our live bait catching fish.
We backed into our spot at the marina, shook hands, offered up another well-deserved tip and offered to buy Orlando and Ernesto a drink. We finished our beverage while two of the dorado were cleaned by the guys at Pisces and said goodbye to Orlando and Ernesto. I want to repeat Pisces did exactly what they advertise, they fished for what we wanted, they have top line boats and equipment and a Captain and crew that you can only dream about and I would be remiss if I didn't mention the supporting cast of helpers, dock masters and office staff they are all truly superb! And don't forget, you get to do this in one of the most beautiful places in the world–Cabo San Lucas. There is a fishing adage that goes something like "they don't call it catching, they call it fishing." But for us at the end of this trip it felt a lot like catching. Thank you Pisces, thank you Hernan and ESSV!
A Shopping Adventure
So we take our now usual walk back to the hotel. We stopped looking for flags at a couple of different stores with no luck. We walled back to the hotel and decided we needed to go to Costco, to pick up a cooler to take some of the fish home. Our bellman summoned a cab and instructed the cab driver to take the short way to Costco. Prior to leaving, the Bellman (Eliel) said, "don't forget the beer." Brenda strikes up a conversation with our cab driver as we head down the back road to Costco. Our cab driver is a very nice young man that speaks very good English. He tells us that his wife is expecting their 3rd child a baby girl; in fact her due date is today. Our young cab driver shows us a pictures of his wife and two sons which excites Brenda even more as this will be his first daughter. I forgot to mention one small detail, when we got to the hotel after fishing Brenda polished off 2 margaritas. We get to Costco we ask the cab driver if he will wait for us, and he gladly agrees. As we enter the store, we discover it is laid out like ours in the Midwest. Let the shopping begin. So I begin pushing the car toward the luggage area when Brenda stops me and adds a case of Pacifico Beer. I explain that we don't need beer, we are on an all-inclusive package. She explains to me that the beer is not for me! It's for Eliel. OK. So we pick up the cooler we need and I am directed to the newborn clothing area. Why are we going here I ask, because our cab driver is having his 1st daughter and we're buying her an outfit. OK. So I say if you're getting her an outfit, I'm getting him some champagne for his last celebration (there will now be two women in his house). That settled we head back to the cab load the goods and its back to the hotel. We give our driver the presents and he is most appreciative. We arrive at the hotel pay our driver and leave the beer with Eliel. Again, there is overwhelming appreciation for the gesture. Back at the room we make dinner reservations for fresh mahi-mahi. The chef repeated his performance; the dinner was again superb! Another walk, a chat about only one day left. We will plan to go to 7:00 am mass to start our day.
The last day
We awake, and get ready for church. We head down stairs and the bellman summons a cab. We tell him that we want to go to the Catholic Church. Its 6:30 AM there is plenty of time, or so we think. So we start driving and we have been on this route 5 times now we start heading for the marina. I tell him we need to go to the Catholic Church and he explains "no English." Well as it turns out we get the only cab driver in Cabo that has no idea where the Catholic Church is or what we're even talking about, so at 6:55 we tell him to head back to the hotel. But we feel so bad we end up paying him anyway. We have now wasted enough time that we can go grab breakfast at the restaurant that overlooks the ocean. It is very, very nice.
We spent the rest of the day walking back to the marina and shopping for the flags and a replica of the bait that I caught the 110-inch marlin on. Unfortunately, those shops are closed on Sunday. We grabbed a bite on the water front and chatted about what a glorious trip it had been. A walk back to the hotel in the late afternoon and begin to pack to go home. We went back to the pirate ship for dinner at the Villa del Arco Resort, enjoyed a marvelous meal and walked back to the hotel.
Day 6
Our cab met us at 3:45 AM; we made it to the airport in plenty of time checked bags and cooler of fish, and made it home without incident.
In summary, this was the trip of a lifetime. Great planning (thank you Hernan & ESSV), great weather, great fishing (thank you Pisces), great company (thank you Brenda). We can't wait to do this again! We will never forget this trip it could not have gone better.
A few tips…
1) Bring plenty of small bills no one has change it seems.
2) If you love coffee and you're going fishing, bring a small thermos.
3) It is cheaper to buy another cooler for fish at Costco than over packing one.
4) If you want to get flags and replica baits of what you catch your trophy on you should head to the tackle (Minerva's) store before Sunday.
5) Cuban Cigars do not come in boxes of 5 or 10 with glass tops.
6) Learning a little Spanish would be very helpful.
7) If your wife likes margaritas don't let her go to Costco (unless you want to adopt some of the locals).
8) If you're going to book a trip like this, let ESSV (CaboVillas.com) and Hernan take the hassle out of it.
Tim & Brenda,
Minnesota