Whale Sharks: Swimming with The World's Biggest Fish in Baja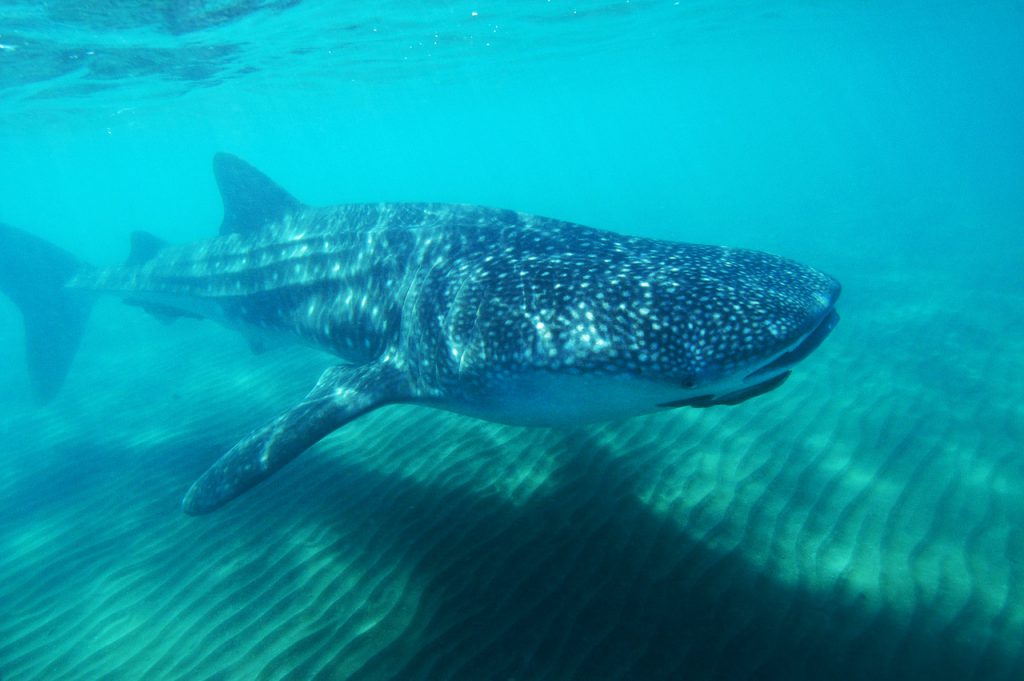 The word "shark" often strikes fear into the minds of those who hear it, conjuring legendary scenes from Hollywood movies. A notable exception to the shark infamy, whale sharks are gentle giants that cut a graceful figure swimming through the Sea of Cortez in Baja California Sur. There are only a few places in the world where visitors can view these majestic creatures up close, and La Paz, Mexico happens to be one of them. From early winter to late spring, excursions are offered to view whale sharks accompanied by expert guides. You can cross the experience of swimming with whale sharks off your bucket list when you take a tour with the team of Cabo Expeditions.
Whale sharks are filter feeders who visit the warm waters of the Sea of Cortez to feast on plankton, small fish, krill and fish eggs in what is known as a "biodiversity hot spot." The massive mouths of whale sharks are uniquely equipped to suck in vast volumes of water and filter out their food, expelling the water via their gills. Migrating vast distances across the world's oceans, these enormous spotted fish can grow up to 33 feet in length, with some reports of even larger animals. The tours offered by Cabo Expeditions allow guests to view this captivating feeding behavior.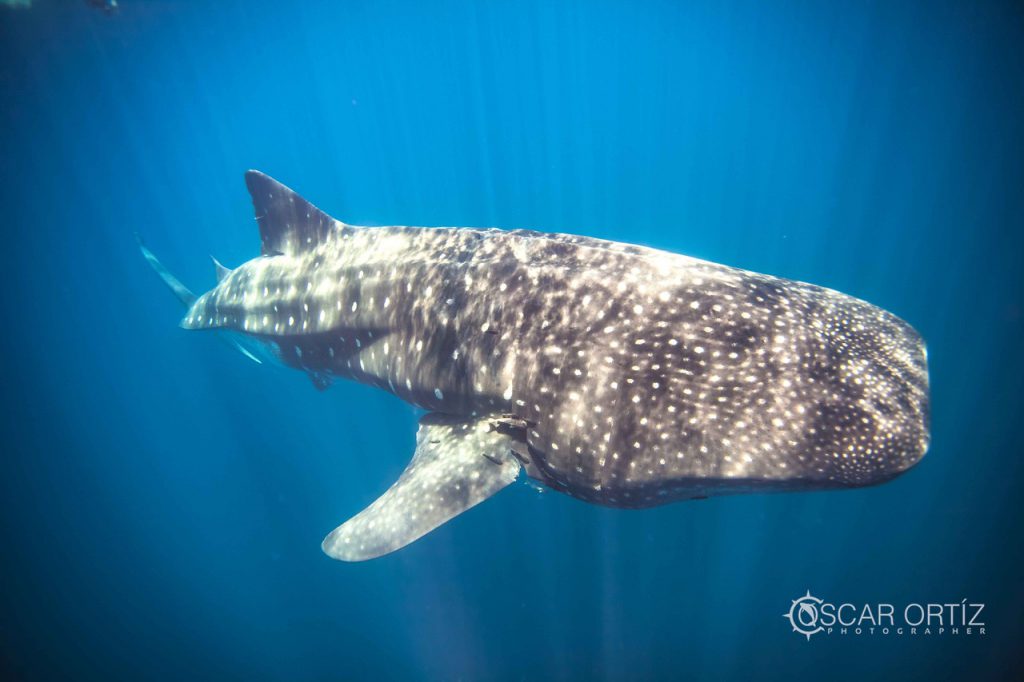 Despite their massive size, whale sharks are gentle denizens of the sea. Swimming slowly through the aquamarine Sea of Cortez, whale sharks cut a serene figure through the water. Whale sharks feed near the surface, where the sunshine helps plant plankton bloom. An unforgettable, intimate encounter awaits with your Cabo Expeditions guide. As the enormous fish glides gracefully through the water, you'll be able to approach closely and safely. Snorkel in the water to view them up close or watch from the boat as the whale sharks drift by.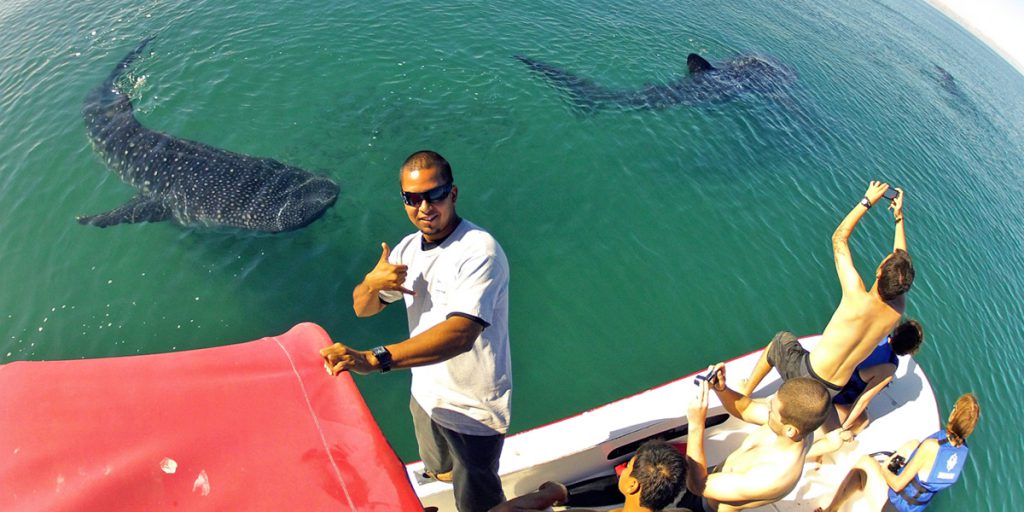 Traveling long distances across the Pacific, whale sharks make their way to La Paz to give birth in the pristine waters and take advantage of nature's bounty. The distinctive underwater geography of the region creates a profusion of marine life in the Sea of Cortez, once prompting famed marine explorer Jacques Cousteau to nickname this the "World's Aquarium." Whale sharks face conservation challenges. An endangered species, these breathtaking fish are threatened by overfishing and boat strikes.  Cabo Expeditions is committed to educating the public about whale sharks and their special ecological needs via these extraordinary tours.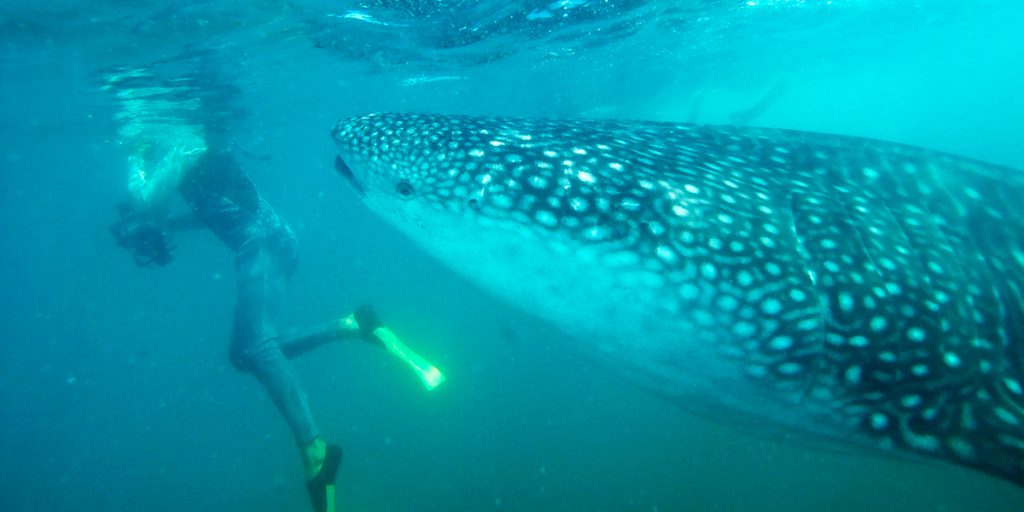 More Information:
Swim with the Whale Sharks Expedition…
Peak viewing months: Late winter through early spring