Your Private Beach Bed is Waiting at Villa Marcella
Luxurious beachfront villa rental Villa Marcella just got a little more glamorous with the addition of two king-sized private beach beds right on the sands of one of Cabo's most scenic shores.
Located in the exclusive community of Pedregal just moments to all the action of downtown Cabo San Lucas and the marina, Villa Marcella is a Mediterranean estate like no other in Los Cabos. Situated on the warm sands amongst the coconut palms of Pedregal Beach, this stunning villa rental is an unforgettable location for a Los Cabos vacation with friends or a destination wedding.  The two new beach beds are the perfect setting to enjoy the sounds of the waves and the amazing views. One offers a shady canopy with privacy curtains – ideal for a nap or a massage on the beach. The other (without shade) is a wonderful spot for sun bathing. While the waters along the Pacific coast fronting Villa Marcella are generally not advisable for swimming due to strong surf, Pedregal Beach is a wonderful spot for long sandy strolls and sunset views.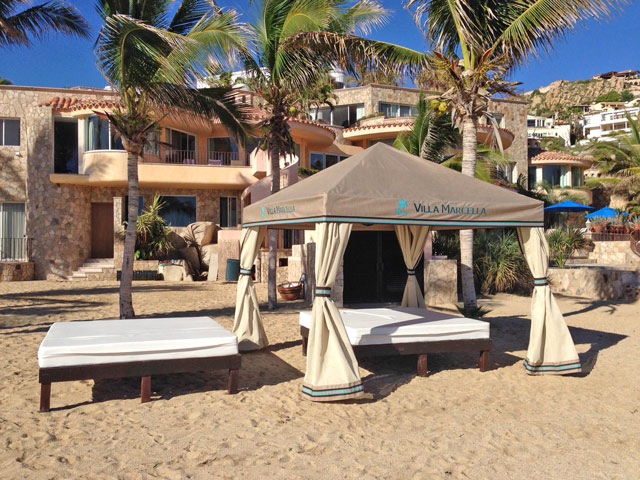 Offering 5 bedrooms and 6.5 baths, Villa Marcella sleeps up to 14 guests in comfort and boasts over 10,000 square feet of luxurious interior space. Top-of-the-line amenities, beautiful furnishings, tasteful décor and the ever-present Pacific Ocean vistas create an ambiance of casual elegance.
More Info: Villa Marcella