$13k Villa Giveaway Winners! Jan & Claudia's Dream Vacation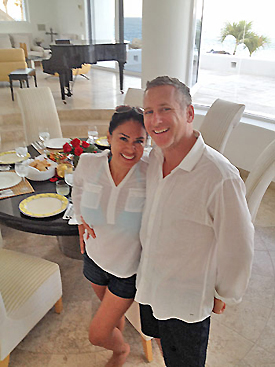 Our annual vacation giveaway is always a hit. This  contest offers the chance to win an unforgettable vacation in a luxurious Los Cabos villa rental. Our most recent winners, Claudia and Jan, won a stay at the incomparable Villa Tres Sietes. This glamorous 4-bedroom oceanfront villa is perfectly situated in the scenic Santa Carmela neighborhood of Los Cabos overlooking the Sea of Cortez. Villa Tres Sietes offers a host of outstanding amenities, including a breathtaking swimming pool, a billiard table, a baby grand piano, stylish decor and stunning modern architecture.
Below, Jan shares some highlights of their vacation at Villa Tres Sietes.
Enter to win our current Villa Vacation Giveaway Contest…
Was this your first time in Los Cabos? What do you love best about vacationing in Cabo? We love Cabo so much, we normally go to Cabo as much as we can! Winning this was such a treat! What we love most about Cabo is the people and their happy go-lucky attitude!  As Cabo locals say, "No bad days in Cabo!" It's true!
When you heard you'd won the trip, what was your reaction? Well, the original email came into my spam mail, so we were slightly suspicious. However, when we found out that it was the real deal, we were overwhelmed with joy and gratitude!  We were actually in the midst of planning Claudia's birthday and so we used the sweepstakes win as the celebration haven!  It was perfect!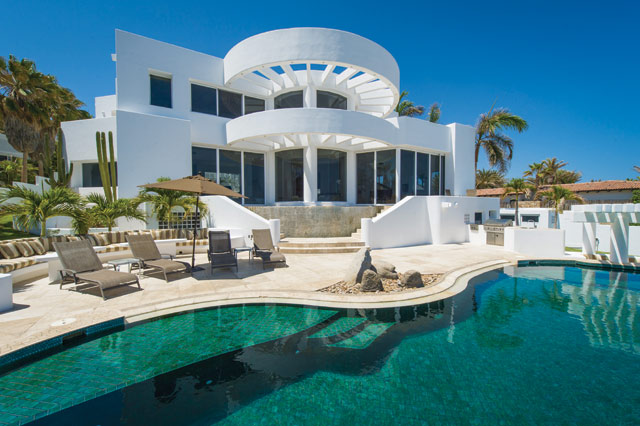 Who came along with you for the villa vacation? Besides us, we had Claudia's mom Claudia's aunt and few selected good friends.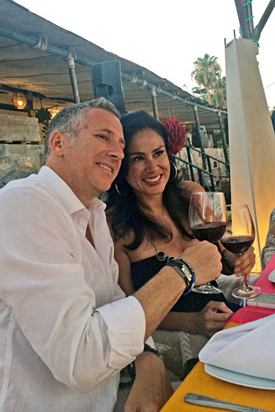 What were your favorite features of Villa Tres Sietes? There were almost too many to count: certainly the oceanfront panoramic view was breathtaking! The ever-present sound of the waves crashing onto the rocks – just amazing! Then the pool area and the whirlpool, especially at night when the stars were out and so bright.
As part of your prize, you got to enjoy chef services in your villa. How was this experience? It was a great experience, we enjoyed full service catering with an amazing chef, tacos, drinks, etc. First class food and service. They also made organic margaritas…oh so good!
You also won some in-villa spa massages as part of the contest prize. Suzanne Morel Face & Body Care provided a beautiful custom setup in the villa with qualified masseuses.
Did you do any activities while in Los Cabos? We had a birthday dinner at Medano Beach at Moxitos Beach Club. We toured our friends and family around, we went to Hotel California in Todos Santos (about 45 north of Cabo), toured our potential wedding venue, and spent a day at Cerritos Beach.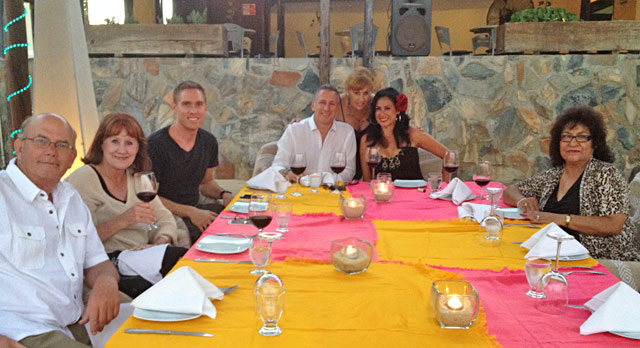 How was working with our team? It was a delight. The concierge awaited us when we arrived and was available the whole duration with minimum notice. All requests were met in no time!
Would you stay in a villa rental again? Absolutely – we are generally not fans of hotels and all-inclusive concepts, therefore we normally chose condos/apartments. A villa vacation was new to us, but certainly makes a lot of sense when we vacation again with family and friends
Any favorite local discoveries? Moxitos Beach Club, Puerto Vieja (listening to Rosalia de Cuba) ,Solomon's Landing (at the marina), Baja Cantina, massages at Cerritos Beach, Mandala for some good partying.
 Thank you for the unforgettable experience!   
Enter to Win our Latest
Vacation Giveaway Contest
You could have the chance to win an amazing vacation in Los Cabos with friends and family!
See Link for full details