Swim with Dolphins in San José del Cabo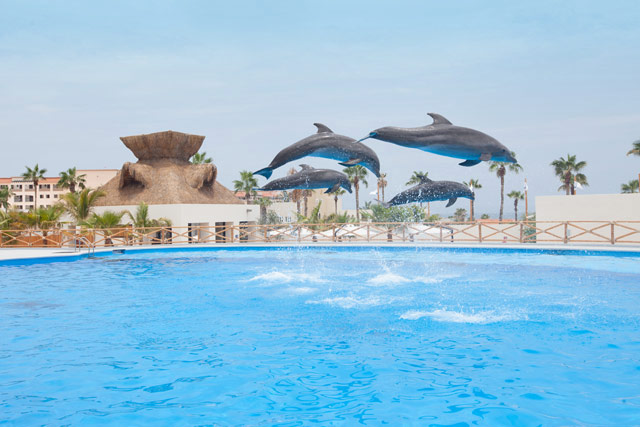 The Cabo Dolphins facility in Cabo San Lucas is one of the area's most recognizable landmarks situated right alongside the marina. Conducted by the expert team of Cabo Adventures, this world-class program offers the rare opportunity to swim with and observe Pacific bottlenose dolphins. The informative program allows participants to learn about these intelligent marine mammals, their unique physiology and worldwide conservation concerns via a range of different interactive tours. Now, visitors staying in San José del Cabo won't need to travel into Cabo San Lucas to experience this unforgettable program. A second state-of-the-art new Cabo Dolphins facility is now conveniently located right in the Hotel Zone in San José del Cabo, steps from many of the area's major resorts. This attractive new dolphin center offers the same wonderful programs that have made Cabo Dolphins so popular.
For a limited time, Cabo Dolphins is offering Los Cabos visitors a special promotion to come experience their new location.
San Jose Location Promotions
4 x 3 promotion – Choose 4 spaces on any dolphin program and pay for only 3
3 x 2 promotion – Choose 3 spaces on any dolphin program and pay for only 2
Promotion is valid only in new Cabo Dolphins center in San José and  not valid with any other promotion.
More information: Cabo Dolphins Tours