A Modern Masterpiece: Luxury Vacation Rental Villa Bellissima Dazzles in Cabo San Lucas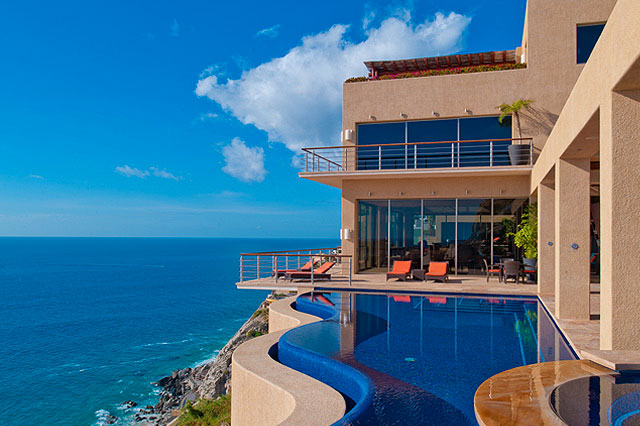 When you step out onto the terraces at Villa Bellissima, it's easy to see why this has become one of the most photographed spots in Cabo San Lucas, Mexico for destination weddings and events. Located in a setting of rare natural beauty, the views take center stage. From the unparalleled vantage point high on a cliffside above the Pacific, you can take in a sweeping view of the ocean, beaches, resorts and mountainsides extending to the rock formations of Land's End. It's simply one of the most dramatic views in Cabo San Lucas.
While the view from Villa Bellissima is a showstopper, the villa itself is a masterpiece of modern architecture harmonizing with the breathtaking location. The home was designed by highly respected architect Jacinto Avalos for its owner Andras Hites to take advantage of the oceanfront location in Pedregal, Cabo's most prestigious residential neighborhood. Hites originally came to Cabo San Lucas for the fishing, and chose Pedregal for its secure, gated community and captivating views. Due to the sloping angle of the lot (up to 60 degrees) and the elevation above the beach, the villa includes a private elevator for convenient access to all 5 levels. Hugging the hillside, the contemporary lines of the structure are complemented by the sensuous curves of two infinity-edge swimming pools. Retracting glass walls extend interior spaces to spacious outdoor patios.
The result is a magnificent 8-bedroom, 11-bath villa with approximately 24,000 square feet of construction that simultaneously seems solidly part of the rocky slope and yet feels like its floating above the shoreline, in no small part due to vast windows and soaring ceilings. The focus remains on the million-dollar vistas. Hites explains that an ingenious architectural touch is "the elevation staggering of the daytime living areas, giving each area a totally unobstructed view of Land's End, even with people in each of those rooms."
Beyond the views, the privacy afforded by the location is priceless. Hites says, "when you enter the villa and close the front door, you are in your own world – as though the outside no longer exists." The Pedregal boasts a wonderful sense of exclusivity and security. Villa Bellissima takes it a step further, offering a private and tranquil sanctuary with a glorious feeling of seclusion, yet it is only a few minutes' drive from the bustling heart of downtown Cabo and the marina.
In addition to maximizing the location, Hites had a specific vision in mind – a majestic space ideal for large parties yet homelike despite its impressive size. Hites explained he wanted a villa that could handle events, with a separate commercial kitchen (designed by local catering company, Lazy Gourmet) but he also wanted the villa "not to feel like a big hotel, but more intimate like a home that is very comfortable for 16 people." Avalos beautifully met the challenge.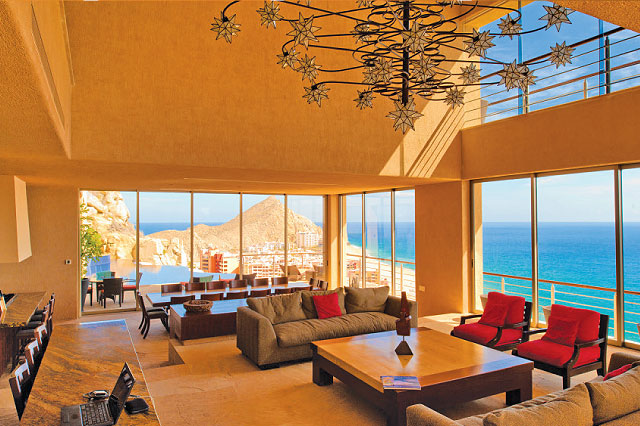 Aside from its stunning architectural design, Villa Bellissima possesses numerous unique touches throughout. Hites explains that no expense was spared in outfitting the villa. The striking furnishings are an intriguing complement to the minimalist modern architecture. Designed by famed artist and craftsman Esteban Chapital from Puebla, the bulk of the furniture was custom-made for Villa Bellissima and epitomizes understated elegance. In the villa, visitors also enjoy a range of world-class amenities rivaling the finest resort. Among the distinctive offerings at Villa Bellissima, guests will find an ocean-view gym, a fire pit, a professional-sized pool table, and a theater room with a 112" screen and reclining seating for 12. The two swimming pools are the ideal setting to appreciate the ocean panorama and watch for migrating whales and passing cruise ships just offshore. In the evening, the jacuzzi invites friends to gather under the stars and gaze at the twinkling lights of Cabo's beachfront resorts. Bellissima's opulent bedroom suites feature plush linens and terraces. As Hites explains, "this villa is ideal for those guests who are used to nothing but the best."
With special events firmly an inspiration for the villa's design, Villa Bellissima is in high demand for luxurious group getaways, anniversary parties, destination wedding receptions and other festivities. There is no more stunning backdrop for an unforgettable day. The combination of elegant interior spaces, scenic terraces and a commercial gourmet kitchen makes Villa Bellissima a uniquely equipped venue. Our team of highly qualified caterers, event planners and entertainers can completely personalize each event.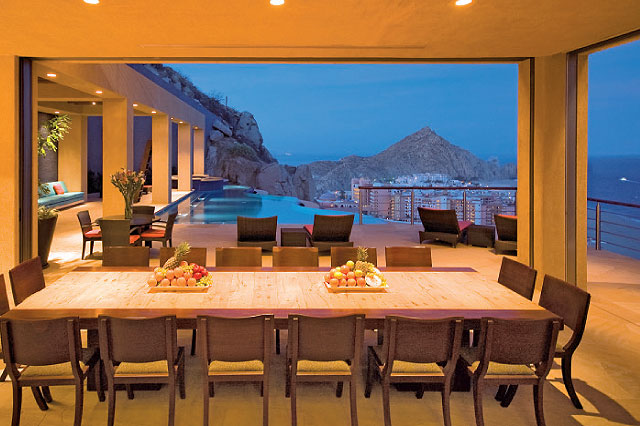 While the villa's amenities create an ambiance of refined sophistication, optional villa services can propel the experience into the exceptional. Visitors can enjoy private chef-prepared gourmet meals, all-inclusive villa dining packages, food and beverage pre-stocking, butler and bartending services, and more. In addition, in-villa spa treatments and beauty services are a great way to enjoy an added bit of pampering.
Whether seeking a relaxing vacation with friends or the destination wedding of a lifetime, Villa Bellissima invites guests who seek an incomparably luxurious vacation setting. Ready to plan your escape at Villa Bellissima? Contact us today to get started.