A Private Retreat at Villa Cortez: Guest Blog by Stephanie Diehl
Stephanie Diehl's well-known throughout the travel blogging world and "Twitterverse" (@traveldesigned) for her signature blend of humor, Mexico expertise and vast industry knowledge. Recently, she had the opportunity to experience one of our Los Cabos vacation villas up close. Here she shares her memories of a perfect retreat at Villa Cortez!
Do you need to get away from the everyday to something different and special, to a place dreams are made of? Somewhere that is luxurious, spacious and private where you feel at ease, a place to reconnect with yourself and each other. A destination that is full of culture, art, nature and world class culinary experiences where you can let your hair down or kick up your heels. Somewhere you can be pampered beyond your wildest dreams. That's exactly what we found at Villa Cortez when we were guests of the villa for a day.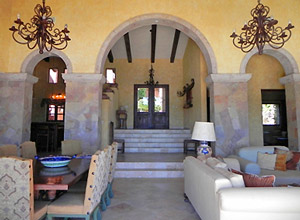 Villa Cortez is simply stunning and so are the views. We couldn't believe our eyes from the moment we got out of the car. We listened to the fountain trickle while admiring the lush tropical landscaping in the gated courtyard. To the left sits the casita- a private guest room with ensuite bathroom. It's perfect for an au pair or grandparents who want a little more privacy when traveling with family.
A villa well designed and beautifully appointed. Steps down from the entrance lead to a grand open floor plan which opens to the terrace. The living room features a fireplace, dining room easily seating 8,  a full kitchen with a breakfast bar and a separate family room complete with an entertainment center. There's plenty of space to relax together without being crowded, though we can't imagine ever wanting to be too far away from the terrace.  This is where we spent all our time; watching for whales, lazing poolside with margaritas in hand, in the Jacuzzi.
We didn't even pull ourselves off the terrace for a couples aromatherapy massage. Yes, a private sunset spa experience set on the terrace as the ocean breeze caresses you. It's an unbelievable experience, opening your eyes to see the painted sky!
Several times throughout the day we chatted about how wonderful it would be to fill this 2 level villa with our family.
Staircases lead to the bedrooms at Villa Cortez –one to the left of the foyer with the second to the right. We envisioned how our son with his 2 girls could stay on the left side and our daughter with her 2 children on the right.
Each family would have their own bathrooms with master bedrooms and the children sharing rooms. With 4 bedrooms in the house everyone would have their own sanctuary with views of the Sea of Cortez while we would sneak off to the casita for our quiet time alone. What a perfect family reunion it would make!
There are fabulous restaurants within 10 minutes from Villa Cortez, though the ultimate dining experience is under the stars.  Arrangements were made for a private chef to prepare a 4 course gourmet meal with wine pairing served by wait staff on the terrace by candlelight.  Of course, leaving the clean up to the staff is the end to a perfect day!
A day dreams are made of- without a care in the world, luxurious and private- that is what we found the Villa Cortez experience to be.
---
Stephanie Diehl is a travel expert and blogger. Follow her on Twitter @traveldesigned and visit her blog.