An Organic Oasis in Los Cabos: Huerta Los Tamarindos
When most people think of Los Cabos, the image that comes to mind involves long sandy beaches set against the brilliant blues of the Sea of Cortez and the stunning backdrop of Baja Sur's desert terrain. While the rugged expanses of the desert outback evoke romance and mystery, there are a number of surprisingly verdant spots tucked along the countryside in Los Cabos. One of these gems is Huerta Los Tamarindos, located in the Animas Bajas area outside of San José del Cabo. A combination of a working organic farm and gourmet restaurant, Huerta Los Tamarindos is also developing a loyal following of visitors who come for a range of cooking classes throughout the year.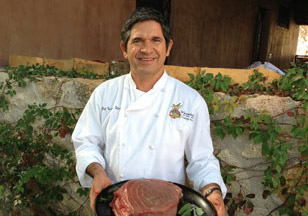 With a restaurant spearheaded by Chef Enrique Silva and Chef Gabriel Castillo, Los Tamarindos is also a 17-acre farm that hosts a spacious event area and a historic ranch home dating to the late 19th century when the plot was used for sugar cane cultivation. Today, the farm grows over 100 varieties of organic vegetables including tomatoes, zucchini, eggplant, onions, beets, carrots, bok choy, herbs, flowers, mangoes, figs, bananas and the namesake tamarind. The focus is on sustainable farming on the mineral-rich soil. Farming in the arid landscape of Los Cabos presents some challenges. Chef Enrique explains that the biggest challenge is the very dry and hot summer weather. However, the benefits of farming in Baja Sur include a long growing season and mild winters without freezing temperatures.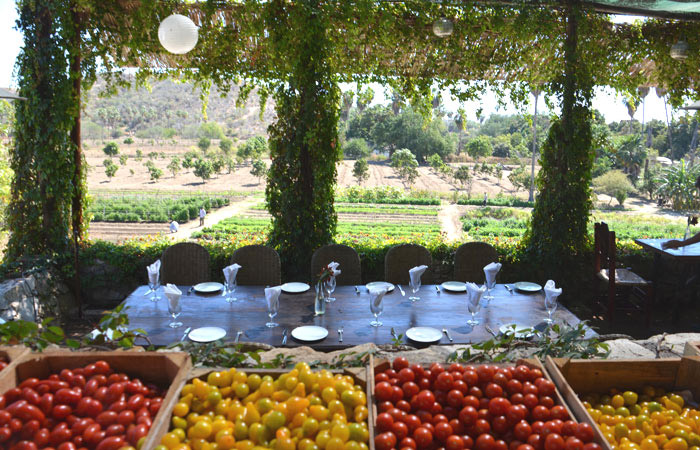 Visitors can enjoy creative organic cuisine in the restaurant. Chef Enrique and Chef Gabriel bring an extensive culinary background to the dining experience. Their international influences inspire the cuisine with sophisticated flavors and artful presentation. Chef Enrique explains that the menu is inspired by the "farm-to-table" concept of dining, focusing on the freshest produce in season. Their team uses produce raised right on the property and acquire their meats from local ranchers, and seafood from local fishermen.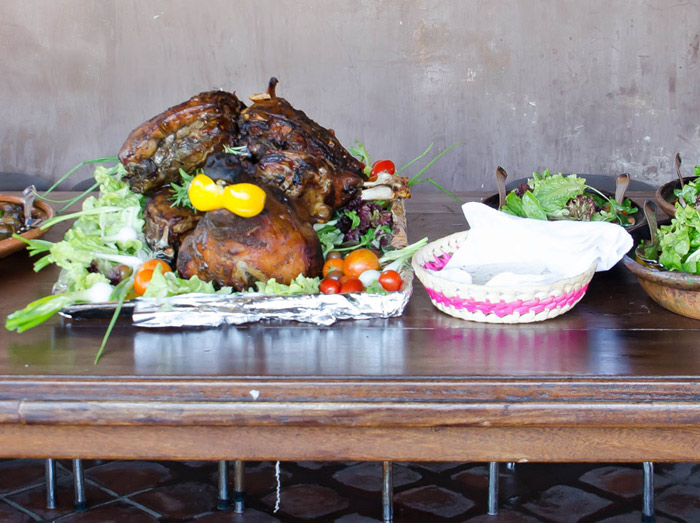 When asked to describe the cuisine, Chef Enrique calls it "Mexican-Mediterranean with a local twist!" The centerpiece is a wood-fired oven and mesquite grill. The menu evolves with the seasons, showcasing lush pastas, pizza, grilled meats and seafood. Some highlights from the menu include mini sopes with cochinita pibil, grilled catch of the day served with sautéed farm-fresh vegetables, stuffed zucchini blossoms with regional cheeses, mint ceviche – and so much more!
For visitors wanting to take some fresh produce to prepare back at their villa rental, the farm's organic market offers a great selection. The market is open Monday through Saturday from 8:00 AM to 3:00 PM.
Another great way to experience Huerta Los Tamarindos is to take part in one of their organic cooking classes. Beginning with a tour of the farm, participants will then head out into the field to gather ingredients and then participate in a chef-guided lesson in preparing a 4-course meal.
And no visit would be complete without browsing the offerings of the gift shop with a range of wonderful hand-made goods.
Newest Updates:  Huerta Los Tamarindos just finished a new raw kitchen where they will offer raw food cooking lessons. In addition, they've begun the production of bee honey and wax, as well as delicious mango preserves and dried mangos.
More Information: Huerta Los Tamarindos

More Organic Options in Los Cabos:
–  San José del Cabo Farmers Market
– Eat Healthy, Eat Local in Cabo
Photos courtesy of Huerta Los Tamarindos