Top 5 Ideas for a Double Date Weekend with Friends in Cabo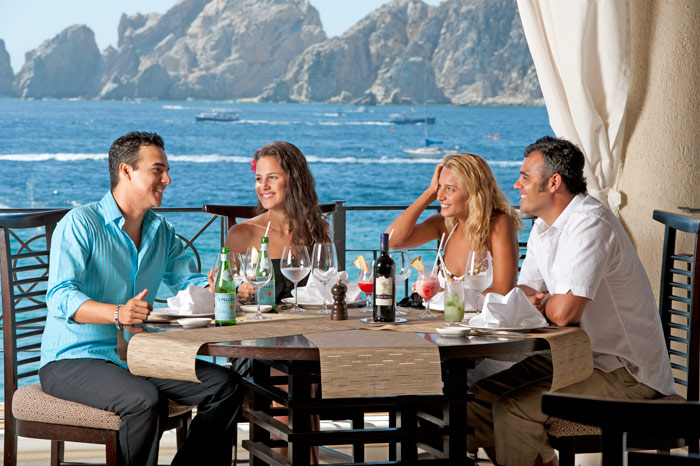 If you're looking for both a romantic vacation with your main squeeze and a fun-filled weekend with some of your closest friends, Cabo San Lucas is perfect choice for a couples' double date getaway. The trick when traveling with another couple is finding the ideal balance of quiet romance and exciting activities you can share together with a couple of your besties. Just a short flight from many major U.S. cities, Los Cabos is an easy beach destination for a long weekend. Throw in some postcard-worthy natural beauty, gorgeous weather, great accommodations and gourmet dining, and you have the makings of an unforgettable trip. Here are some of our favorite ideas…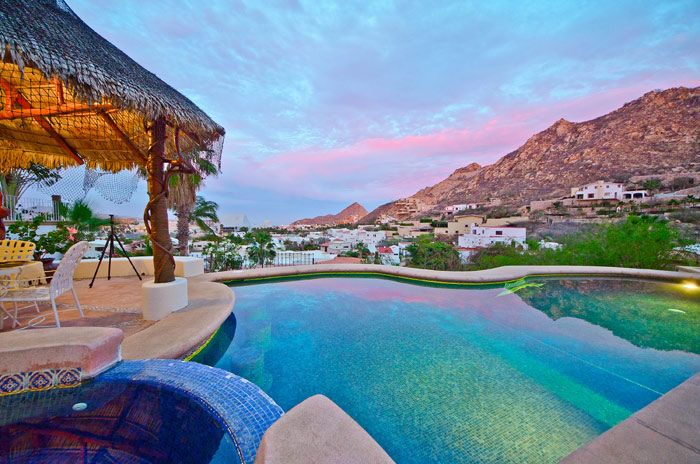 1. Find Your Vacation Home Base:
First up is finding accommodations that will make everybody happy. When traveling with another couple, it's important to discuss upfront what your expectations are in terms of budget, location and amenities. For example, do you want to be close to town? Do you expect a magnificently luxurious property or are you looking for the maximum value for your budget? Do you plan on kicking back at an all-inclusive resort or will you be heading out to explore as much as possible?
A smaller villa rental can be a good value-minded choice for couples traveling together, offering a great blend of privacy and inviting communal areas. You can relax around your private pool with your friends (without having to fight a crowd for a lounge chair), or cook up some yummy snacks in your own kitchen. In addition, guests in villa rentals through CaboVillas.com can take advantage of free extras, including a free arrival transfer to the villa (contact us for details), car rental delivery to the villa, welcome appetizers and margaritas at the villa, a dedicated local concierge available 24/7 and more.
2-bedroom/2-bath Villa Serrana sleeps up to 4 guests (from $192.50/couple, per night), and is just a short walk into downtown Cabo. This charming traditional villa has a beautiful private pool terrace, complete with a covered patio dining area and a jacuzzi. The terrace is an amazing spot to spend hours enjoying the sunshine and views of downtown Cabo and the bay.
With plenty of traditional Mexican charm in a fantastic Cabo location, another enchanting villa within walking distance of downtown and the marina is 2-bedroom Villa Mira Flores (from $217.50/couple, per night). You'll admire the vibrant colorful accents and your scenic pool terrace. Stroll into town for dinner then return to your patio to enjoy a cocktail under the stars with your friends as the lights of Cabo sparkle before you.
If you're worried about sacrificing pampering by staying in a villa, rest assured that you and your friends can enjoy some resort-style perks in the comfort of your villa. Plan a romantic chef-prepared dinner on your terrace complete with gourmet appetizers and champagne. You can also treat yourself to a soothing spa day right in your villa.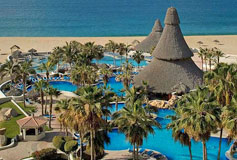 If an all-inclusive resort is more your speed, Sandos Finisterra Los Cabos (from $286/couple, per night) boasts an enviable setting steps to both the Pacific-facing beachfront and Cabo's bayside marina. Long a Cabo favorite, the resort was recently completely remodeled, making it better than ever. You'll enjoy the variety of international dining choices, a spa, excellent service and some of Cabo's most spectacular views.
In the heart of the action at wonderfully swimmable Médano Beach, Cabo Villas Beach Resort (from $235/couple, per night) has built up a very loyal following of guests. The laid-back luxury of their suites is highlighted by a chic contemporary style and marvelous views of Cabo San Lucas Bay and Land's End. The rooftop Baja Brewing Company boasts some truly amazing vistas. On a moonlit night, there's no better place to enjoy some tasty pub fare, local brews and live music. Also directly overlooking Médano Beach, Casa Dorada Beach Resort (from $289/couple, per night) is another romantic fave with superior amenities.
2. Head out on a Sunset Cruise
 No trip to Los Cabos would be complete without getting on the water. There are few more romantic settings for an ocean sunset, whether you're heading out with your significant other or with friends. The iconic rock formations and stone arch at Land's End mark the terminus of the Baja Peninsula and the meeting of the waters of the Pacific Ocean and the Sea of Cortez. A great way to see these sights is by hopping on a sunset cruise. There's a sunset cruise for every style, from smaller vessels accommodating only a few guests to larger party boats complete with buffet dinners, open bars and dancing. For an authentic sailing experience aboard a beautiful sailboat, Cabo Sails offers a variety of classic intimate vessels. For a lively evening of salsa dancing, hop aboard the Cabo Mar Catamaran to enjoy Latin rhythms and a grilled taco dinner along with a tropical bar. A smaller catamaran, The Rissalena is another visitor favorite for sunset cruises, serving dinner, margaritas and wine as the sun dips into the ocean.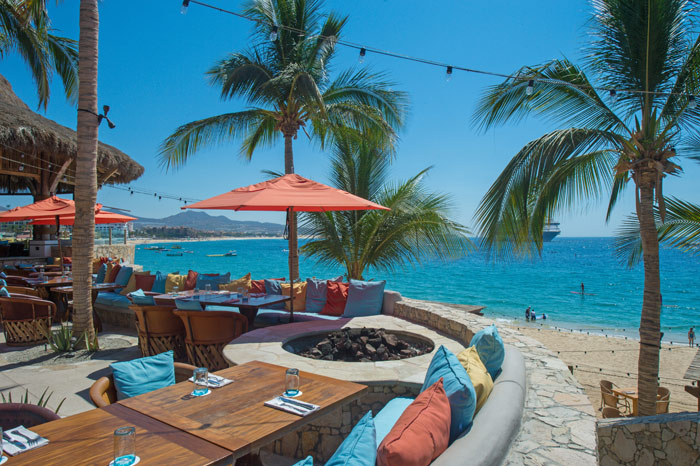 3. Wine & Dine Your Way Through Cabo
While grilling up some fresh fish on the terrace of your private villa with friends is always a good way to go in Cabo, you can't pass up trying at least a few of the area's many wonderful restaurants. Of course, fresh seafood is always a highlight in Cabo. However, you'll find everything from neighborhood taquerias to award-winning gourmet restaurants serving up international cuisine. If you're looking for casual but exciting dining, Bar Esquina at the Bahia Hotel serves up "Mexican influenced Mediterranean" cuisine and designer cocktails in a hip setting. Looking for some of Cabo's best fish tacos? The inexpensive and no-frills Tacos Gardenias is a favorite with locals and visitors in the know for wonderfully authentic tacos and cold beer. If you're in search of a magnificent beachfront setting with magical hacienda-inspired architecture, Hacienda Cocina fits the bill. Overlooking Médano Beach, this excellent eatery serves up some of the best ceviche around. These are just a handful of the many great restaurants in Cabo.
4. Get Active
It's tempting to spend your entire vacation lounging around the pool with a margarita in hand (really, it's OK to do this). But if you and your friends are active travelers, Cabo won't disappoint. From kayaking in the brilliantly aquamarine sea, to standup paddling and golf, there's never a dull moment. Water-based activities take center stage, with snorkeling and diving very popular in the warm waters of the Sea of Cortez. But there are also plenty of land activities as well, including zip-lining and horseback riding. Of course, Cabo has also long been known for its legendary sport fishing for marlin, tuna, dorado and more.
5. Dance the Night Away
If you came to Cabo to party it up, local nightlife ranges from dance-all-night venues and casual watering holes to swank cocktail lounges. Passion at the ME Cabo is a popular spot, with a sultry vibe and frequent sightings of young Hollywood glitterati. For a more laid-back vibe and amazing sunset views, the aptly-named Sunset Point (at the famous Sunset da Mona Lisa Restaurant) is a wine and pizza lounge that's perfect for an evening cocktail. And if you're just looking to dance until dawn with a steady stream of tequila shots to keep the fire going, El Squid Roe is a multi-level monument to legendary Cabo-style partying.
Ready to plan your couples' getaway in Cabo San Lucas? Contact us to get started!