Cabo is for Lovers: Top 5 Valentine's Ideas at Land's End
As countless celebrity couples and honeymooners already know, Cabo San Lucas is a perfectly romantic winter getaway, whether you're stoking the fire of new love or rekindling an old flame. It's easy to fall in love in Los Cabos. After all, the destination's glamorous resorts, palatial vacation villas, brilliant Sea of Cortez waters and sun-drenched beaches are an incomparable backdrop when you're in the mood for love. Here are our team's top ideas for Valentine's Day fun at Land's End.
1. Make some memories at Lover's Beach: Hop aboard a sailing cruise, water taxi or glass-bottom boat at the Cabo San Lucas marina and head over to Playa del Amor (Lover's Beach). This small, extremely photogenic beach is tucked between the rock formations at Land's End near Cabo's famous arch. Lover's Beach faces Cabo San Lucas Bay; depending on conditions, you may be able to snorkel in the Sea of Cortez waters and witness hundreds of tropical fish. The main attraction here is the drama of the location. If you stroll over to the Pacific-facing beach, avoid getting in the water. The crashing waves and powerful undertows have leant lent this stretch the name "Divorce Beach." If you do take a panga or water taxi ride out to Lover's Beach, be sure to arrange return transportation. As there are no services at the beach, you'll also want to pack in your lunch, suntan lotion and towels.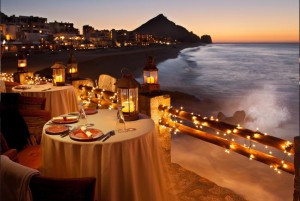 2. Wine and Dine under the Stars Cabo's well known as a gourmet destination. With a variety of award-winning restaurants, it won't be difficult to find a very special spot for a memorable evening of fine dining. For sheer charm, head over to Sunset da Mona Lisa, one of the best locations in Los Cabos to enjoy Mediterranean cuisine while watching the sun go down and the twinkling lights of Cabo San Lucas. Looking for a hint of the Italian Riviera in Baja? Fellini at the Pueblo Bonito Rosé Resort offers unforgettable cuisine overlooking the Sea of Cortez. And to experience the raw, untamed passion of the Pacific Ocean, head to Capella Pedregal Resort's Ocean Grill Farallon, where the ocean mist and endless horizon create an atmosphere of timeless beauty. For a truly exceptional evening, many Los Cabos resorts can arrange a private beach dinner for two, surrounded by tiki torches and with a customized menu.
3. Sunset Cruise to El Arco No visit to Cabo is complete without a sunset sail to view El Arco, the famous stone arch marking the meeting of the Sea of Cortez and the Pacific Ocean at the tip of the Baja Peninsula. While larger party boats offer a fun-filled evening of booze cruising, more romantic outings abound. The intimate Rissalena Catamaran and the Salsa & Sunset Cruise aboard the Cabo Mar are both great choices. For a touch of classic style, try a traditional sailing yacht like the Yael Chica or a genuine America's Cup Racing Yacht. Sip a glass of wine as you watch the sun melt into the Pacific—priceless!
4. Cultural Charmers If art and history are your passion, you'll discover plenty to love around Los Cabos. About an hour north of Cabo San Lucas along the Pacific Coast, you'll find the lovely town of Todos Santos. Originally a sugar mill town, Todos Santos is now home to a variety of intriguing art galleries and a sizeable community of ex-pat American surfers. Stroll the streets to browse the boutiques and stop in at the famed Hotel California. Another taste of the area's historic past can be found in San José del Cabo is the gracious counterpoint to the non-stop action of Cabo San Lucas. A thriving artistic community, traditional town square with a beautiful old church and plenty of courtyard restaurants are perfect for an afternoon of strolling with your sweetie. Be sure to pick up a bottle of vanilla liqueur.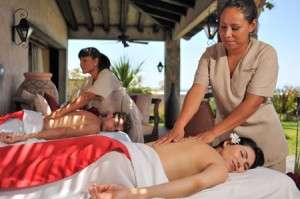 5. Spa Retreat Nothing says "I love you" like a day of spa pampering. If you're staying in a villa rental, the team of Suzanne More Face & Body Care can deliver a lavish spa experience right to you, complete with stylish spa décor, professional attention and a range of soothing treatments in your villa. Try one of their couple's packages, including a rose petal aromatherapy bath, massage and champagne toast. To experience one of Baja's most extensive spa facilities, head over to the 31,000-square-foot Desert Spa at Villa del Arco. The "his and hers" package offers a jacuzzi soak followed by a relaxing 50-minute massage.
Ready to plan your Valentine Getaway in Cabo? Call our team at 1-800-745-2226 to start planning!