Our Top 5 Cabo Villa Rentals of 2010!
Our villa guests have spoken! While all of our Los Cabos villa rentals offer unique personalities, locations and great amenities, here are our 5 most popular villa rentals of the past year:
1. Villa Alegria, Cabo San Lucas
7BR/7.5BA, sleeps 14, ocean view, 9000 sq feet
Villa Alegria is a home where beauty is as prevalent as the balmy Baja sunshine. With each of the lovely bedrooms complemented by a private bath, each with a becoming balcony and terrace, it's easy to see that Alegria is a vacation home of substance and style. Read more…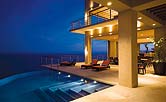 2. Villa Bellissima, Cabo San Lucas
8BR/11BA, sleeps 8 couples or 8 singles, 14,500 sq ft
A stunning hillside villa in the elite Pedregal community of Cabo San Lucas perfectly blending the best of modern architecture, the warmth of Baja, luxurious amenities and boundless views of the Pacific. Read more…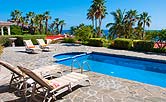 3. Villa Costa Brava, Corridor
3BR/2BA, sleeps 7+2 children, 3,000 sq. feet
A favorite for family getaways, this warm and comfortable villa is just a short stroll to a beautiful stretch of beach and offers a great location between Cabo San Lucas and San José del Cabo. Read more…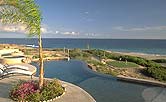 4. Villa Cortez, Cabo del Sol
5BR/6BA, sleeps 10, oceanfront, 4,000 sq. feet
Embrace sweeping views of the Sea of Cortez from nearly every room of this stunning, oceanfront villa. A great location for hitting the world-famous greens of Cabo's golf courses. Read more…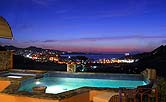 5. Villa Haydee, Cabo San Lucas
4BR/4.5BA, sleeps 10, ocean view, 2,500 square feet
This charming villa offers romantic architecture, views of Cabo San Lucas Bay and a convenient setting just a short walk to all the fun of downtown and the marina. Read more…
Explore more Cabo villa rentals…
Ready to plan your next getaway in Cabo? Call our team at 1-800-745-2226 to start planning!