Cabo Trip Report: Sunsets & Serenity at Solmar Resort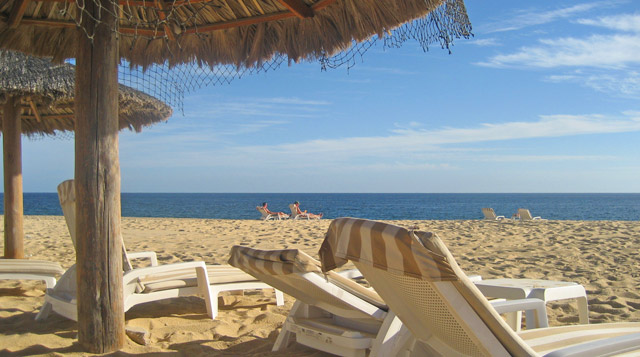 Rodney & Downs were looking for a peaceful getaway in Cabo San Lucas with an authentic atmosphere evoking Los Cabos in its earlier days, before the expansive luxury resorts came to grace these shores. They chose Solmar Resort ("Hotel Solmar") for their vacation and couldn't have been more pleased. Just minutes to the bustling heart of Cabo, this timeless resort offers tranquility and breathtaking views. Here they share some photos and experiences from their stay at this Cabo classic. 
What do you love best about visiting Los Cabos? We love the almost 100% guaranteed warm, sunny, dry weather, gentle breezes and blue skies of the Baja – as well as the friendly Mexican people.
What makes Solmar Resort so special compared to other resorts? Hotel Solmar is special because it has an "old" Mexico feel. It evokes Cabo before Cabo was Cabo! I remember seeing Hotel Solmar from the Finisterra's Whale Watcher's Bar sitting all by itself on the beach years ago! Now big hotels surround Solmar Resort, and the Finisterra sits amongst the new big hotels. But, Solmar has been able to maintain the feel of an old Mexican resort with the uneven colorful Mexican tile and the local artisan crafts that decorate the rooms. It is "old" Mexican elegance and luxury.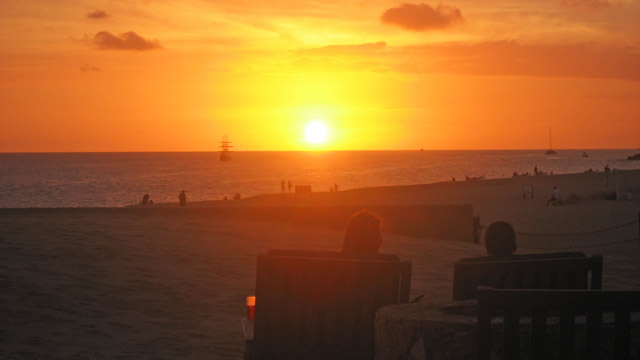 What did you enjoy about the location of the hotel? The location is fabulous. The quiet, private Solmar Beach was great for walking and surprisingly empty considering how many big hotels are now located along the beach. It was nice to not have beach vendors. We used the resort's palapas every day for reading and relaxing. The whale watching was fabulous. It was a five-minute walk to the rocks at Land's End, which we climbed over to reach Lover's Beach which has a nice view of Cabo San Lucas and Médano Beach. From Hotel Solmar Beach we could see the sun rise and set over the ocean, that was so amazing to us! It took five minutes to walk to Cabo San Lucas, where there was a lot of action at the Marina – restaurants, bars, markets, boats and vendors galore! We loved returning to the quiet intimate setting of Solmar Resort.
How were your accommodations & atmosphere? Our accommodations were excellent. Our one-bedroom two-bath suite was perfect for a family of three-our daughter slept on the pullout bed in the living room and had her own bathroom! We had three balconies overlooking beautifully manicured cactus gardens full of colorful bougainvillea with a view of the ocean. The king bed was the best bed I have ever slept in! Everything was very clean.
How was the service? The service was superb. All of the staff from the gardeners to the housekeepers to the front office to the bar to the restaurant were so friendly and kind and so willing to make us happy. We did the all-inclusive plan and ate every meal in the Tejaban Restaurant. Miguel always had our favorite table ready for us and Alejandro and Samuel made all of our meals a delightful experience. Their service was exceptional, as was all of the other wait staff as well. We enjoyed watching the chefs cook in the open-air kitchen, they were always laughing and having fun, and in fact all of the staff was having fun!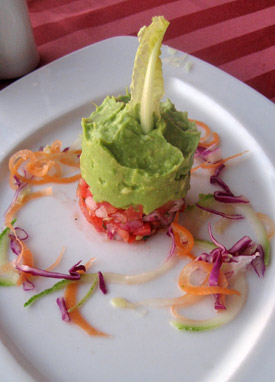 Anything else you'd like to add. Our favorite dining spot was at Solmar's Tejaban Restaurant. There was no need to look any further. We wanted a relaxing, no pressure vacation which to us means never having to leave a resort, Hotel Solmar was that resort for us. It was easy to be there, and easy to let the staff pamper us in a very quiet, intimate old Mexico feeling resort. This resort is not for those looking for the glitz of mega hotels, the granite countertops, the chandeliers and the infinity pools that are so prevalent in Cabo now. Hotel Solmar is for those looking for the way Cabo used to be – quiet, intimate, simple, and authentic.
P.S. There is construction going on next door at the Grand Solmar Resort. But we decided not to let it bother us and it didn't! We still loved Hotel Solmar and we will return in January 2015.