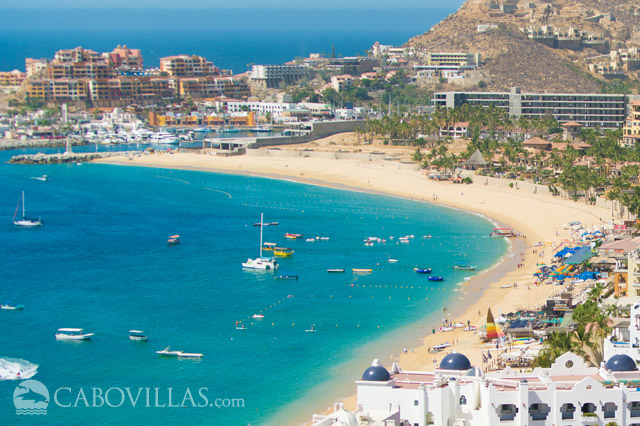 You can soak up the sunshine on the breathtaking beaches of Los Cabos. Discover the area's best spots for swimming, snorkeling, sunsets, siestas and long sandy strolls.
Here are some of our favorites…
Cabo San Lucas
Médano Beach is the heart of Cabo San Lucas and is the area's best spot for swimming and people watching, with bustling cantinas, resorts and beach clubs lining the shore. You're sure to enjoy the never-ending panorama with great views of parasails, yachts, jet skis and sailboats on the bay. Strolling beach vendors peddle everything from jewelry to hair braiding. To visit Médano, hop aboard a water taxi from the marina, access via one of the resorts or take a cab, as parking is tight.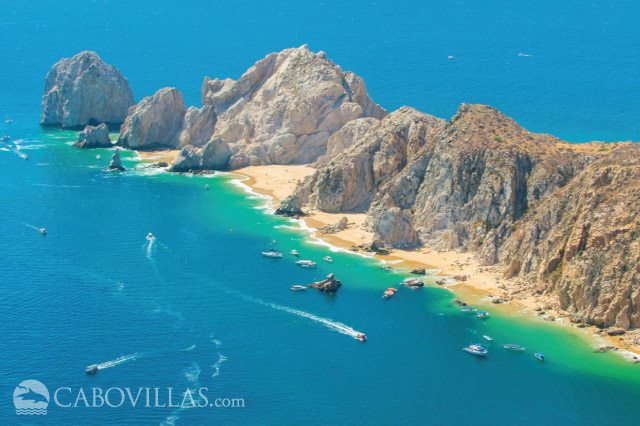 Lover's Beach is nestled at the base of the rock formations of Land's End. You can reach this small, pretty beach via water taxi from Médano or the marina, via kayak or stand-up paddle board. The views of Cabo San Lucas are marvelous. Bring whatever you'll need for the day as there are no services. Depending on conditions, you may be able to snorkel on the bay side. "Divorce Beach" is the adjacent beach facing the Pacific and is unsafe for swimming due to powerful surf.
Pacific Ocean beaches in Cabo (accessible via resorts or the Pedregal neighborhood when staying in one of our villas) are perfect for leisurely strolls and viewing radiant sunsets. These include Solmar Beach, Pedregal Beach and Sunset Beach. While they're incredibly pretty, exercise caution here as the waters are too rough for swimming due to rip currents and strong surf.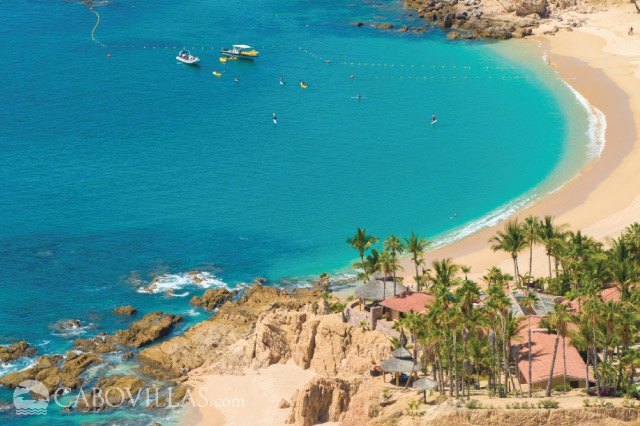 Corridor
Chileno Bay on the Corridor is a consistent favorite for snorkeling. This gorgeous bay is located between Cabo San Lucas and San José del Cabo on the Corridor near Km. 14.5 on the main highway. This is a beloved spot for families and tour boats departing out of the Cabo marina. You'll encounter tropical fish in sheltered waters. Villa Cielito, an incredible 7-bedroom vacation rental, commands a breathtaking view over Chileno.
Santa Maria Bay lies not far away and is another popular spot for snorkeling. This lovely crescent bay is accessible near Km. 13 on the highway (follow the dirt road to the parking area).
Bledito Beach (also known as "Tequila Cove") is located near the Hilton Los Cabos and Melia Cabo Real resorts on the Corridor near Km. 19.5 on the main highway. This long, glorious stretch of sand offers good swimming near the breakwater, depending on conditions. You can rent water sports equipment on the beach.
Palmilla Bay (located near Km. 27 on the main highway) is a protected spot that is often good for snorkeling, swimming or kayaking. Popular with both tourists and locals, this beach is situated near the famed One&Only Palmilla Resort.
San José del Cabo
Costa Azul is one of the area's best-known surf spots, home to the famous Zipper's break (near Km. 28 on the main highway). A beachfront restaurant with a bar offers a prime spot to watch the surfers in action on the waves.
Hotel Beach in San José del Cabo (accessible via the beachfront hotels) is generally not safe for swimming but is great for beachcombing, walking, sunbathing, and beautiful views of the Sea of Cortez. You'll find the surprisingly lush San José Estuary at the easternmost edge of the beach. A natural oasis, the estuary is home to verdant palms and a variety of bird species.
East Cape
Cabo Pulmo is a marine sanctuary on the East Cape that's an easy day trip from Cabo San Lucas. Cabo Pulmo boasts one of North America's only living coral reefs and is an unforgettable scuba diving destination with a marvelous abundance of marine life, from colorful fish to giant manta rays. It's also a wonderful spot for snorkeling and kayaking. Guided excursions are available; contact us for information.
Ready to plan your Cabo beach vacation? Call our team of Cabo Specialists today to get started.