Cod with Habanero Cajeta – Recipe from Capella Pedregal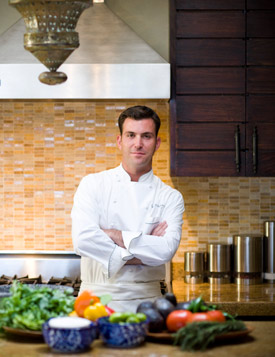 One of the newest ultra-luxury resorts in Cabo San Lucas, Capella Pedregal has already drawn rave reviews for its striking architecture, breathtaking beachfront setting and exceptional cuisine. A steady stream of celebrity guests has focused the spotlight on this beautiful resort, nestled dramatically along the rocky hillsides overlooking the Pacific Ocean. Already establishing its presence as a favorite of the jet set, Capella is also claiming a reputation among Cabo's top gourmet experiences. Overseen by Executive Chef Marco Bustamante, Capella's three restaurants offer contemporary twists on traditional Mexican cuisine, using the freshest local ingredients and seafood to evoke the true spirit of Baja.
Chef Bustamante, who is a graduate of the acclaimed French Culinary Institute in New York and brings a robust background in five diamond and Michelin-rated restaurants, describes his approach as "farm to table," developing close relationships with local farmers to supply ingredients to Capella's restaurants in peak season. Here he shares a delectable recipe from the resort's Don Manuel's restaurant.
Suggested wine pairing: Mexican Chardonnay from Casa Grande Chardonnay, Valle de Parras, Coahuila, Mexico.
---
Black Cod with Habanero Cajeta, Braised Tomatoes, Purslane and Piloncillo
Ingredients
4 ea.               Black Cod (6 oz. Portions)
4 oz.                Habanero Cajeta (see recipe below)
3 Cups.          Purslane
2 Tbs.             Shallots
4 portions      Braised Tomatoes (see recipe below)
1 oz.                Olive Oil
1 ea.               Piloncillo
Procedure
1.         Season fish with salt, then brush each filet with ½ oz. of the Habanero Cajeta and cook under the broiler for 5 minutes  Remove from the broiler and brush wit  remaining cajeta and return to the broiler for 5 minutes.
2.         Heat tomatoes in a 400 degree oven for 5 minutes.
3.         Heat a large sauté pan with 1 oz. of olive oil over high heat. Once sauté pan is hot, add the shallots and sauté until golden brown. Quickly add the purslane and sauté very quickly. Once the purslane turns bright green and begins to wilt remove from the pan.
4.         Using your favorite serving pieces, plate the fish on the bed of purslane.  Arrange the vine ripe tomatoes as desired and finish the dish by grating the piloncillo table side.
Habanero Cajeta
1 gallon         Whole Milk
¼ Cup           Sugar
1 pinch          Salt
1                     Habanero
1.         Combine all ingredients in a deep saucepot and reduce over medium heat stirring occasionally with a whisk.
2.         Reduce until thick and the color of caramel.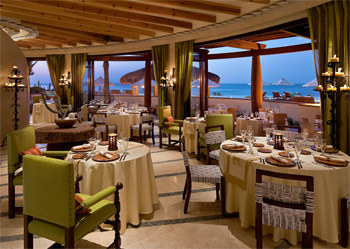 Braised Tomatoes
12                   Vine Ripe Tomatoes (Portion into groups of three leaving the stem)
2 cloves         Garlic (Minced)
¼ Bunch        Thyme
¼ Bunch        Rosemary
Olive Oil
Salt, Pepper and Sugar
1.         Chop herbs and garlic.
2.         Layer and sheet pan with parchment paper.
3.         Place tomatoes on parchment paper and drizzle with olive oil.  Then season heavilywith garlic, herbs, salt, pepper and sugar.
4.         Cook in a 350 degree oven for 10 minutes until they begin wilt and caramelize.