An Afternoon Kayak to Land's End with High Tide Los Cabos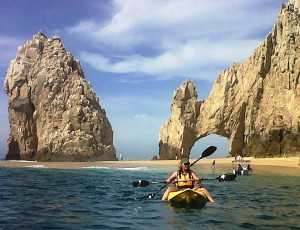 Recently, our Director of Sales, Julie Byrd, hopped aboard a kayak excursion to Lover's Beach and the dramatic stone arch at Land's End ("El Arco") with, Julianne Warriner (of A Matter of Taste Catering), and the team of High Tide Los Cabos Sea Expeditions. The group was treated to the unusual sight of an exposed beach under El Arco. Often, a small stretch will appear at extremely low tides for a very short time frame. However, approximately every 6-8 years (estimates vary), just the right conditions come together to push up sand under the arch and a wider beach stays around for longer—sometimes as long as several months. Various factors, including tides and ocean currents play a role.
Julie says, "In the almost 10 years I have worked selling Cabo vacations, this is one of the MOST fun experiences I've hard. The kayak, snorkeling, views of the arch and guide were top notch. I even jumped off Pelican Rock and this was my very first real snorkeling experience (normally I am out of the water within the first 60 seconds). We got to walk on the arch and the guide showed us the caves. It really was a once in a lifetime experience!"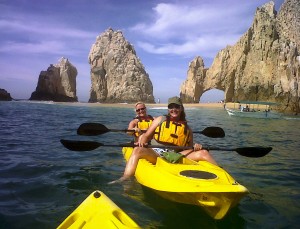 Many fascinating legends surround the caves at Land's End. One cave, according to the guides of High Tide Los Cabos, is called San Augustine and is purported to be the site of buried pirate treasure. Other legends attribute fertility powers to these mysterious caves nestled along the rock formations lining the shore.
High Tide's highly professional team knows how to lead a great excursion, offering up fascinating tidbits about local ecology, sea life and folklore while overseeing guest safety—a great way to get up close and personal with some of Cabo's most breathtaking scenery, both above and below the water.
More about High Tide Los Cabos Snorkel & Kayak Tour…