Exploring the Waters with CABO SUP
One of the fastest-growing water sports in the world, stand up paddling ("SUP") is gaining momentum as fun way to exercise and take in the sights while on the water. Los Cabos offers a great setting for stand up paddling, with the gorgeous Sea of Cortez and amazing weather. Even if you've never stand up paddled before, you can experience this amazing activity while vacationing in Los Cabos. We talked to Meredith Vosburgh of CABO SUP about their offerings.
How did CABO SUP get started? We (owners/operators Lee and Meredith Vosburgh), first started stand up paddling 7 years ago in Montauk, Long Island. After relocating to Cabo 6 years ago to be the onsite partners at Bahia Hotel & Beach Club, we continued paddling in beautiful Baja Sur. The decision to share stand up paddle via Cabo SUP in Los Cabos came from the amazing location of the Bahia Beach Club, located just one block from the Bahia Hotel on Médano Beach along the Sea of Cortez, one of the most beautiful and pristine bodies of water in the world. This is Cabo's most swimmable beach overlooking the amazing rock formations of Land's End.
What makes Cabo San Lucas a good location for SUP? MédanoBeach offers  safe flat water in a unique geographic location with gorgeous views.
Is SUP appropriate for all ability levels? Yes, both beginners and experts will enjoy SUP in Cabo.
What are some special aspects of your program? We are ASI  (Academy of Stand Up Paddleboard Instructors) Certified Guides. We offer the ideal location for the entry-level paddler or the avid expert paddler. We also provide private lessons and excursions to other locations. Our beachfront location is great, with parking, food and beverages available. We are a full-service rental and teaching facility on Cabo's most swimmable beach with over 30 years of experience on the water. We pride ourselves on providing a safe personalized experience for paddlers of all skills.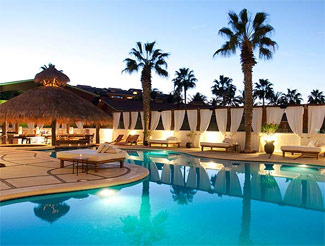 What makes the Bahia a great home base for CABO SUP? The Bahia Hotel's proximity to the Beach Club is outstanding, and the hotel's unique urban vibe makes it ideal for the active traveler.
What are some of yourfavorite spots to SUP in Cabo? Some of my favorites are Médano Beach, El Tule Beach, Chileno Beach, Acapulquito Beach, Santa Maria Beach and Cerritos Beach.
Any exciting new features etc. coming to the CABO SUP program in the future?  We will be having our 2nd Annual CABO SUP Event "Paddle to the End" coming up on May 16-19. We'll also be offering Yoga SUP and Boot Camp SUP.
2-for-1 CABO SUP Special: For a limited time, guests staying at the Bahia Hotel & Beach Club can take adventure of 2-for-1 pricing on SUP. Details…