Newly Protected Area at Pelican Rock / Lover's Beach in Cabo San Lucas Bay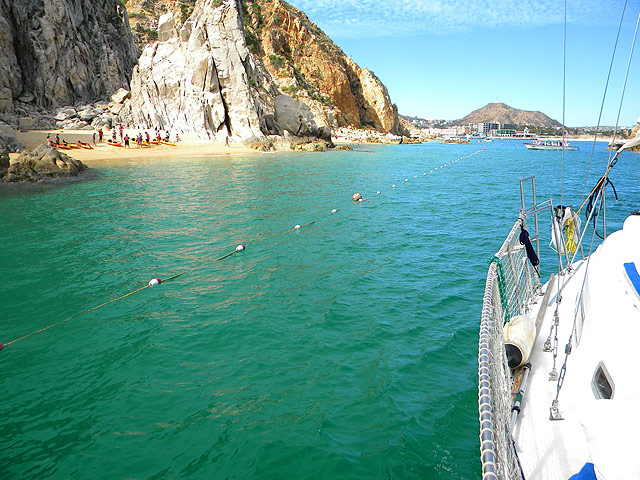 Our friends at Cabo Sails report that buoys have been set up around Pelican Rock in Cabo San Lucas Bay as part of the National Marine Park effort to protect this precious marine habitat from motorized boats. Placement of the buoys originally began in November, but now the buoys completely prevent access by motorized boats in the area between Lover's Beach and Pelican Rock.  Buoys also extended from Pelican Rock along the Lover's Beach shoreline. This will help preserve a beautiful and pristine marine ecosystem.
According to the Cabo Sails team, "They have designated an area where the water taxis drop people off and pick them up at Lover's Beach but they are not allowed to enter any areas where the buoys are marked for swimming, snorkeling and diving."
Thanks to Cabo Sails for the photographs. Cabo Sails offers unforgettable sailing tours of the breathtaking waters off of Cabo San Lucas for sunset cruises, snorkeling tours, diving cruises, whale watching and more.