Island Magic in Baja Sur: A Journey through the Islands of the Sea of Cortez
Many poolside vacationers in Los Cabos may be lucky enough to catch a glimpse of a gigantic tail breaking the surface of the Sea of Cortez, of a pod of dolphins frolicking in the distance or the majestic sight of pelicans dive-bombing into the sea. And, they might just wonder what magic lies beyond. In fact, the incomparably abundant Sea of Cortez—once called the "World's Aquarium" by Jacques Cousteau and extolled for it's unique abundance by John Steinbeck—is what originally drew hardy travelers to the tip of the Baja Peninsula and into the turquoise waters of this awe-inspiring body of water.
While Earth, Sea & Sky Vacations (CaboVillas.com) is known as the leading provider of luxury vacations in Los Cabos, the company was originally founded nearly 25 years ago by eco-tour provider Don Hirschaut. One of those free-spirited Baja devotees,he was drawn to the magnetic pull of unpopulated beaches, isolated coves and the kaleidoscopic colors of the tropical sea life under the waves. Initially offering kayaking and diving excursions to Los Cabos, Don's passion for Baja grew into a lifetime vocation helping others experience the region's timeless beauty, eventually expanding his business into private villa rentals and luxury resorts. Over the years, development at Land's End has blossomed, transforming the once sleepy fishing destination to one of the world's hottest high-end getaways. However, the company's deep roots in ecotourism remain strong and, in addition to an impressive roster of first-class accommodations, the company continues to provide a variety of whale watching, snorkeling, diving and off-road excursions.
Recently, Don got back to basics, joining the respected team of Cabo Expeditions for a special excursion to explore the very islands in the Sea of Cortez that originally lit the fire of his imagination and kicked off a successful quarter-century career in Los Cabos travel. I sat down with Don to talk about what made this trip so unique and special.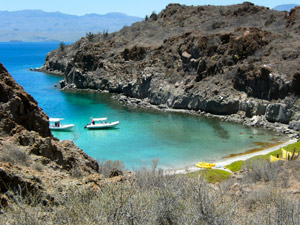 What prompted this return to the islands of the Sea of Cortez? When I came down to the Baja in the first place, I instantly fell in love with the natural diversity and incredible beauty of the environment—the austere rust colored desert mountains and the cobalt waters, the flourishing underwater life and the spectacular diving. I wanted to reconnect with that old feeling—this was a chance to get away from my cell phone, my computer and really unplug. It was a chance for me to dive, explore and re-experience the natural beauty of the Baja. Los Cabos is a thriving, bustling center of activity, which I've enjoyed promoting over the past few decades. It was amazing to get back into remote areas of the Sea of Cortez and to find that the waters are still very abundant with life and that there are still many areas that remain pristine—and that there's still an unadulterated frontier out there that needs to be treasured and protected.
What makes the Sea of Cortez so unique? I have a background in marine studies and have worked for the USGS and NOAA, so it's interesting for me to experience the Sea of Cortez from the standpoint of its unique geography and ancient history and from my perspective as a diver.  To me there's no place like it in the world—a mesmerizing combination of some of the richest waters on Earth with a striking desert landscape ringed by towering mountain ranges.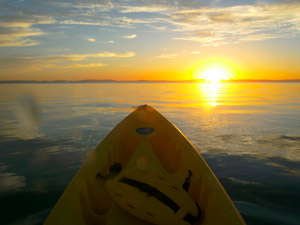 What was the focus and route of the expedition? We started our excursion in La Paz and the evening before we set out, we did the traditional evening stroll along the city's waterfront malecón. This was our last taste of civilization for a while, as the next morning we were up at 6:30 am to board inflatable APEX boats and head out into the Sea of Cortez. Over the next 6 days, we explored Espiritu Santo, Partida, Los Islotes, San José, Danzante, and Coronado Islands. Along the way, we stopped to camp, snorkel, kayak and hike. While Cabo Expeditions does offer seasonal excursions to Espiritu Santo Island (as well as a wonderful menu of other eco-tours), this private excursion brought together photographers, naturalists, and an anthropologist to experience and document this fascinating ecosystem.
What were your top highlights from the trip? There were so many truly amazing moments—from the swarming sea lion rookeries of Los Islotes to the quiet, shallow mangrove estuary of San José. The trip was full of unexpected surprises, including jumping schools of mobula rays and a massive pod of playful dolphins which accompanied our boats near Coronado Island. Another highlight was a dramatic sunset ceremony performed by an anthropologist in recognition of the area's ancient peoples. It was unforgettable! Another highlight for me personally was reconnecting with a slower pace of life, following the rhythms of the Baja and the natural environment.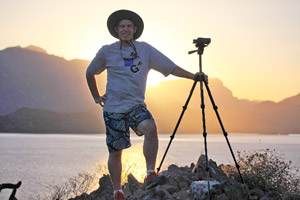 What would you recommend for travelers wanting to experience the Sea of Cortez themselves? There are so many ways to enjoy the area's beauty. It could be as simple as a sunset cruise out to El Arco or a snorkeling tour to Santa Maria Bay for those vacationers whose time is limited or who want to stay close to Cabo San Lucas. For those seeking a little more adventure, I highly recommend Cabo Expeditions and our other partners offering eco-tours. In addition, we're looking forward to offering Loreto as a destination very soon. This town is about 200 miles north of La Paz and still retains a very authentic feel, with a slow pace and a traditional fishing community. Ecologically-responsible hotels offer eco-adventures and an alternative taste of Baja Sur.
See the Complete PHOTO GALLERY from the Expedition
Video Trailer for Sea of Cortez Island Documentary:
Sea Of Cortez islands from Hector salgado on Vimeo.