Just Relax: Cabo's Most Unique Spa Experiences
Vacations are all about treating yourself to an escape from daily stress—and no getaway in paradise would be complete without a luxurious spa treatment or two! Cabo spas span the gamut from intimate retreats to lavish facilities offering every conceivable therapy. Each spa comes with its distinctive personality, signature treatments and atmospherics—here are some of our favorite unique spa experiences in Los Cabos.
Inner Sanctuary
One&Only Palmilla's Spa Villas
As you're lead through the grounds at the One&Only Palmilla spa, passing by tropical flowers and peaceful water features, you'll feel like you've stepped into an incredibly romantic hacienda. One of the original resorts in Los Cabos, the One&Only Palmilla carries on its timeless tradition of ultra-luxurious accommodations in a breathtaking  setting that has made it a favorite with Hollywood elite. Among the resort's distinctive offerings are the thirteen private treatment villas, each offering a beautifully-appointed massage pavilion and a private garden. The double villas are  perfect for a couples massage. Try one of the signature experiences, like the Aztec Aromatic Ritual starting with a foot bath followed by a stimulating wrap using cloves, cinnamon and ginger, an invigorating massage and a relaxing soak in an outdoor bath.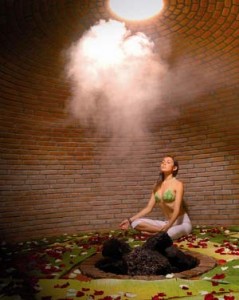 Sweat it Out – Feel the Heat in Pueblo Bonito Pacifica's Temazcal
Situated at the end of a pristine Pacific beach just minutes to downtown Cabo San Lucas, adults-only Pueblo Bonito Pacifica feels wonderfully remote. This sun-swept resort harmonizes dramatically with its oceanfront setting, with warm Southwest-influenced architecture. A centerpiece of its state-of-the-art Armonia spa is the beachfront temazcal, a type of sweat lodge with roots in pre-Hispanic Mesoamerican traditions. Led by an expert in the ritual, participants enter the darkened chamber and are immersed in a an aromatic steam bath to encourage deep relaxation and improved circulation.
Worth Your Salt –  Ocean-Water Treatments at Thalossotherapy Spa
One of the finest Thalasso treatment centers in North America can be found at the Playa Grande Beach Resort in Cabo San Lucas. Originally developed in the mid-1800's in France, thalassotherapy focuses on the healing powers of seawater baths to calm and detoxify. The Thalassotherapy Spa at Playa Grande uses waters from the Pacific Ocean and the Sea of Cortez in many of its signature offerings, including the European Seaweed Body Treatment consisting of a full-body seaweed body mask, a thermal blanket and a Vichy shower using pure sea water.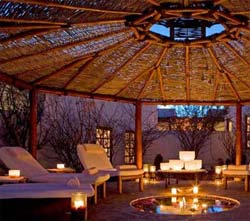 Ancient Harmony – Sound therapy at Las Ventanas al Paraiso
Among Cabo's most exclusive resorts, the name of Las Ventanas al Paraiso carries with it a much-deserved cachet. This white-washed resort overlooking the turquoise Sea of Cortez is the very definition of Baja luxury, with star-studded clientele, award-winning dining and an incomparable level of guest service. The resort's spa boasts a secluded desert garden setting and a vast menu of holistic healing rituals inspired by the elements of earth, water, fire and air. You'll be welcomed with a traditional herbal tea made from the jamaica (hibiscus) flower and a haunting ancient ritual of Tibetan singing bowls. With vibrating bell-like harmonies, the singing bowls are said to inspire relaxation and meditation before your body treatment.
Celestial Aura – Capella Pedregal's Auriga Spa
With an intriguing design inspired by an oyster shell revealing its pearl to the Pacific, stepping through the massive wooden door into the Auriga Spa at the Capella Pedregal resort is like uncovering a rare treasure. The unique circular pod-like treatment rooms surround an outdoor pool with dramatic ocean vistas. Treatments are meant to cleanse and restore both mind and body, with special rituals and remedies designed by an authentic Mexican curandera (healer) using folk traditions and organic herbs. Signature treatments are also inspired by lunar phases, with themed treatments focusing on awakening the senses, purification or nourishing the body depending on the rhythm of the moon.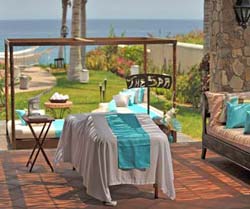 A Personalized Retreat – In-Villa Spa Services by Suzanne Morel
When you're relaxing in your villa rental, it might be hard to drag yourself from your private ocean-view terrace. With Suzanne Morel's mobile spa services, there's no need to leave your villa to experience a refreshing facial or reinvigorating massage. One of Cabo's most respected mobile spa companies, Suzanne Morel Face & Body care offers a professionally-trained team of massage therapists and cosmetologists who can create a customized spa sanctuary for you in your private villa or yacht. The Mexican Spa Ritual is a true treat, starting off with a cup of organic herbal tea, followed by therapist-led stretching, an energizing exfoliation and a healing massage. When your treatment is through, just saunter right back out to your private villa swimming pool.
Wine Down – Fiesta Americana's Wine Spa
Wine and massage? This unusual pair headlines the offerings at the Fiesta Americana Grand Los Cabos SOMMA Wine Spa, featuring treatments focusing on the healing properties of grapes. Among the "vinotherapy" treatments you can choose from wine-themed massages, facials and baths. After a soothing jacuzzi soak, sip a fine vintage as you feel your worries drift away.
Have it All – Playground of Pampering at the Desert Spa
Wander into the Desert Spa at Villa del Arco and you might just find yourself succumbing to a full day of head-to-toe pampering. Baja's most extensive spa facility, the 31,000-square-foot Desert Spa was designed to impress. On-site you'll find an expansive hydrotherapy center, plush treatment rooms including two exclusive VIP suites with private jacuzzis, a full beauty salon and a world-class fitness center. Treatments focus on the therapeutic properties of desert herbs and fruits native to the Baja peninsula.
---
Ready to plan your spa vacation in Los Cabos, Mexico? Call our team of Cabo experts at 1-800-745-2226 to get started!