Los Cabos Dining: 5 Local Faves for Great Flavors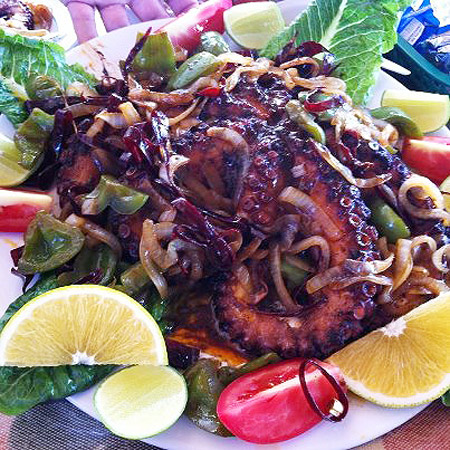 Julianne Warriner heads up our amazing Los Cabos concierge team. Julianne also heads up A Matter of Taste, a wonderful local catering company. As a local with a taste for great cuisine, she's got some great tips for the area's hidden culinary gems. Here are just a few of her insider faves.
Mariscos El Torito – At Janette Wilson 1530, Cabo San Lucas, Mexico
This casual eatery is truly a local favorite and a hidden gem. If you're looking for incredible authentic mariscos (seafood), this is the place. It's no wonder celebrity chef Rick Bayless has raved about this place. The pleasant palapa-covered dining area, friendly staff, kids' play area, generous portions and affordable prices only add to the restaurant's charm. Try the whole grilled octopus, the bacon-wrapped prawns stuffed with cheese or the wonderfully fresh ceviche. This is definitely worth getting off the beaten path in Cabo.
Tacos the Hangman ("El Ahorcado"), At Pescadores and Marinos st., San José del Cabo, Mexico
Locals and visitors in the know flock to this cozy family-friendly eatery featuring some truly eccentric décor and amazing tacos. The interior is chock full of funky knick-knacks hanging from every corner. On the menu: a variety of vibrant salsas (proceed with caution, some are volcanically hot!) and tacos with fillings ranging from traditional classics to squash blossoms. This is a don't-miss experience in San José. No alcohol is served but the atmosphere and food more than make up for it.
Mi Reyna Taco Truck – in the Arroyo on the beach side between Dreams Los Cabos Resort & Las Ventanas
If you're passing through the Corridor, stop here for some truly yummy fish and shrimp tacos, as well as hamburgers and Mexican-style sandwiches ("tortas").
Buzzard's Bar & Grill – Old East Cape Rd., Laguna Hills (follow the signs to El Encanto & Laguna Hills, about 10 minutes outside of San José del Cabo)
Take a scenic drive out of San José past desert ranchos to an incredibly serene, secluded beachfront where this beloved bar & grill serves up tasty fare and cervezas. The atmosphere is genuine laid-back Baja at Buzzard's. Coconut shrimp, fish tacos, burgers and a great breakfast menu are a few highlights.
Corazon de Alcachofa Av. del Pescador 4312, Cabo San Lucas, Mexico
Part of a family of excellent Mexican restaurants, this relative newcomer on the Cabo dining scene is already receiving rave reviews. The beautiful restaurant is perfect for a very special, elegant evening of gourmet dining. The ever-evolving menu at Corazon de Alcachofa showcases the freshest ingredients. Start with the restaurant's signature roasted artichokes, then move on toKobe beef, lush pastas, fresh local seafood and more.