Make a New Friend in Cabo: Fun & Educational Experiences at Cabo Dolphins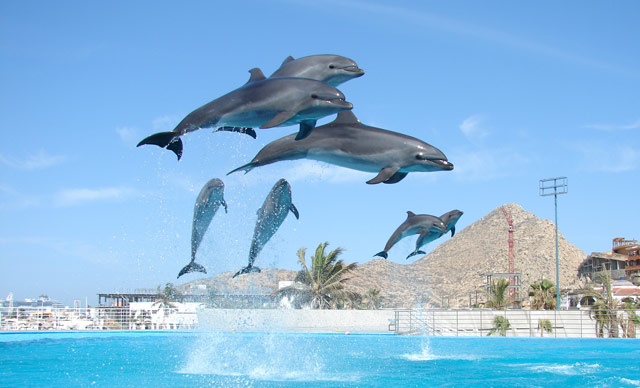 A sleek, modern concrete structure (designed by award-winning Mexican architect, Enrique Norten) tucked alongside the marina in Cabo San Lucas is home to some of the area's most popular locals—Pacific bottlenose dolphins. Cabo Dolphins (part of the Cabo Adventures family) is a world-class facility offering a range of educational programs focused on raising awareness about marine mammals. Visitors have the chance to get in the water with the resident dolphins (along with experienced trainers) and interact with these extremely intelligent creatures while learning about their biology, physiology, habits, communication techniques and environmental concerns. We sat down with Mark Watson of Cabo Adventures to find out what makes their program so special and unique: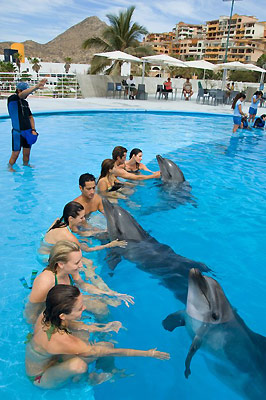 How did Cabo Dolphins get its start? The owners are animal lovers, passionate about conservation and education. They started the program over 15 years ago in Puerto Vallarta and were very conscious of creating a learning experience for visitors, not just a spectacle. We eventually brought our wildly successful program to Cabo San Lucas.
Where do your dolphins come from? We have a combination of dolphins that were rescued from the wild and could not be re-released, and captive-born dolphins. The fact that they've bred successfully in captivity is a testament to the fact that we have a happy and healthy population in our program.
What makes your dolphin program different? We're very focused on the health of our dolphins. Our primary concerns are the safety and well-being of both our dolphins and human friends. We have long-term staff that have established solid relationships with the dolphins—there's an intimate personal connection and mutual trust that is a joy to see in action.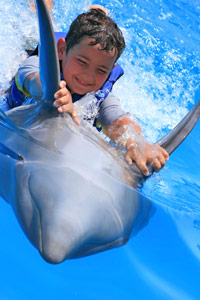 What can visitors expect when they come for a visit? We offer a variety of programs, ranging from our Dolphin Encounter to a "Trainer for a Day" program. Each of the activities allows visitors the rare opportunity to get in the water and interact with these amazing beings. In addition, our world-class facilities include a casual restaurant/bar and a great gift shop—the perfect spot to pick up a souvenir or two. Our location right next to the Cabo San Lucas Marina means we're ideally situated for convenience.
More information: Cabo Dolphins