The Heart of Cabo San Lucas: Marvelous Médano Beach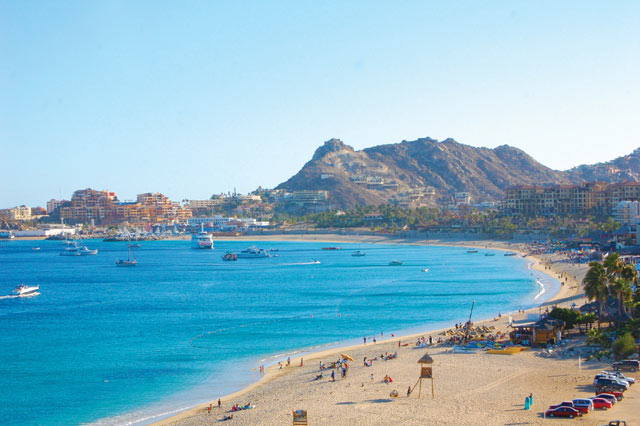 The heart of Cabo is vibrant Médano Beach – a nearly two-mile stretch of wonderful soft sand overlooking Cabo San Lucas Bay and the spectacular rock formations of Land's End marking the meeting of the Pacific Ocean and the Sea of Cortez. Lined with beach clubs, cantinas and luxurious resorts, this is a great location for first-time Los Cabos travelers and a must-visit for any Cabo vacationer. Médano ("The Dune" in Spanish) also happens to be one of Cabo's most welcoming beaches, with gentle waters and a host of activities including kayaking, jet skiing and parasailing.
The place to see and be seen, Médano Beach is host to plenty of beach vendors, on-the-sand dining, lively beachfront bars and glamorous VIP beach clubs with luxurious amenities. It's also a great spot to grab a water taxi for an outing to Lover's Beach, an incredibly pretty small stretch of sand tucked near the famous "El Arco" stone arch at Land's End. Here are a just a few of our favorite Médano Beach activities and resorts:

Médano Beach Bracelet – Discounts at Area Attractions


Available only through select Medano Beach Association participating resorts & restaurants, this bracelet is available for purchase for $5 USD with 50% of the earnings going to local sea turtle conservation efforts.
Discounts include*:
Nikki Beach: 20% Off Sunday to Friday  in Food and Drinks
Passion Club: Welcome Domestic Drink
YHI Spa: 15% Off
Casa Dorada: 25% Off Maydan, 12 Tribus, Okianus, Bar B & Saltwater Spa
Cabo Villas: 10% Off SPA & Baja Brewing
Bahia Hotel: 10% Off  Hotel & Restaurant
Mango Deck: 15% Off Restaurant
Baja Cantina: 10% Off Restaurant
& more!
Guests of the Bahia Hotel will receive a bracelet for free* with their stay. You can also purchase your bracelet at Casa Dorada Beach Resort, ME Cabo, Cabo Villas Beach Resort and participating restaurants.
* Subject to change
Médano Beach Resorts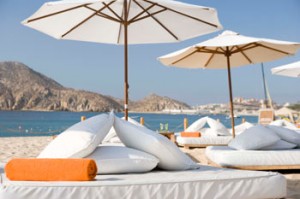 ME Cabo – A chic retreat popular with Hollywood's young jet set and party-lovers of any age, this resort is home to the sexy Nikki Beach Club and the sultry Passion nightclub. Poolside DJs and spectacular beach beds set the scene for a fun-filled getaway.
Casa Dorada Beach Resort – This beautiful resort offers a magnificent beachfront setting, outstanding service and luxurious suites—plus amazing views of Land's End and cruise ships in the bay. Ready for some pampering? The resort's Saltwater Spa offers a host of soothing body treatments and massages—perfect after a day playing in the sand and sun.
Cabo Villas Beach Resort – This stylish and affordable resort is just steps to all the best of Médano Beach, including the fine dining of the award-winning Edith's restaurant. For some of the most spectacular views of Médano Beach, check out their beautifully decorated penthouse suites (one of the best deals in town) or grab a local brew at the rooftop Baja Brewing Company. Laid-back, friendly and popular with a variety of vacationers, this inviting resort is a true treat.
Villa del Palmar – A family favorite, this inviting resort offers the perfect combination of comfortable suites, scenic location and great amenities. Guests of all ages will enjoy the unique whale-shaped water slide and themed dinner nights with live entertainment.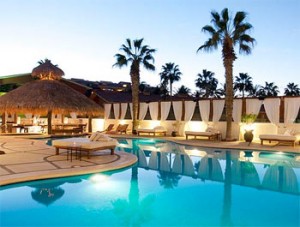 Bahia Hotel – While not located right on the beach, this newly updated  boutique-style hotel is just a short walk away and offers smartly decorated accommodations and an intimate atmosphere. Affordably priced from $93/night, this is a great option for visitors looking for value in a perfect central location just minutes to all of Cabo's best.
Médano Beach Dining & Nightlife
Baja Cantina – On the beach in front of Cabo Villas Beach Resort , this popular restaurant offers comfortable lounge chairs and a more elegantly relaxed setting than some of the rowdier beach clubs along Médano. An international menu and theme nights make this a great spot to enjoy a wonderful evening on the sand.
Baja Brewing Company – Another gem at the Cabo Villas Beach Resort, this friendly rooftop brewery offers breathtaking views of the bay and is a fantastic spot to start the evening with some interesting locally brewed beers and casual pub fare including wood-fired pizza. Live music makes the atmosphere even more magical!
The Office on the Beach – A Cabo legend, The Office has been a Cabo San Lucas fixture since the 70's. Now one of the most popular stops on Médano Beach, this is the place to enjoy margaritas, cold beer, tequila and some tantalizingly delicious dining, from fresh lobster to grilled steaks and Mexican favorites.
Mango Deck – When folks think of the Cabo stereotype of endless tequila shots and Spring Break-style beach shenanigans, they think of Mango Deck. Expect a wild-and-crazy crowd that's here to party. Open for breakfast, lunch and dinner, you'll also appreciate the great menus—including breakfast "hangover specials."