Mango Margarita & Ceviche Huichol Recipes from Tequila Fusion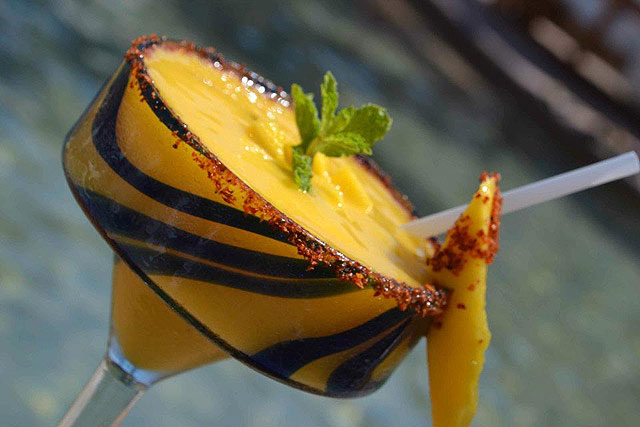 One of our favorite new spots in Cabo is Tequila Fusion at the always hip ME Cabo Resort located in an amazing setting on Médano Beach in Cabo San Lucas, Mexico. Here, the chef shares some tempting recipes from the exciting menu for a true taste of Los Cabos!
Mango Margarita
2 oz. Mango & Pineapple Infused Tequila
3 oz. Mango Concentrate
1 oz. Orange Juice
1 oz. Simple Syrup
PROCEDURE: Put ice in a blender, add 2 oz of mango and pineapple tequila infusion. Add 3 oz of mango concentrate, 1 oz of orange juice and 1 oz of natural syrup. Stir and serve with Tajin chile on the cup rim and decorate with mango and pineapple sticks.
CEVICHE HUICHOL
160 gr. Basa Fish Fillet
70 gr. Fresh Lemon
50 gr. Fresh Jicama
50 gr. Fresh Mango
40 gr. Fresh Cucumber
50 gr. Fresh Tomato
50 gr. Red Onion
5 branches of Fresh Cilantro
4 gr. Serrano chilli
10 ml  Huichol Sauce
3 gr. Fine salt or to taste
2 g. Freshly ground black pepper
3 pcs Green olives
60 gr. Fresh avocado
CHIPS:
4 pc. Corn Tortilla
200 ml Oil
Salt
PROCEDURE: Cut the fish fillet into thin strips and marinate with lemon juice for 40 minutes. Drain the lemon juice and keep the fish refrigerated. Wash and remove the skin from the jicama, mango, cucumber and cut into small cubes with the tomato and red onion, finely chop the serrano chilli, cilantro and put everything in a bowl, incorporate the marinated fish and mix well with huichol sauce, add as much salt and pepper as you wish. Refrigerate and serve.
FOR CHIPS: Cut each tortilla into six parts and triangles,  heat the oil and fry the tortillas, remove and add a little salt.
PRESENTATION: Serve the Ceviche Huichol with a few cubes of avocado, the three pieces of green olives and garnish with a sprig of fresh cilantro. Serve with tortilla chips.
More Information:
Photos courtesy of Tequila Fusion Restaurant