Plan Now for the Holiday Season in Cabo San Lucas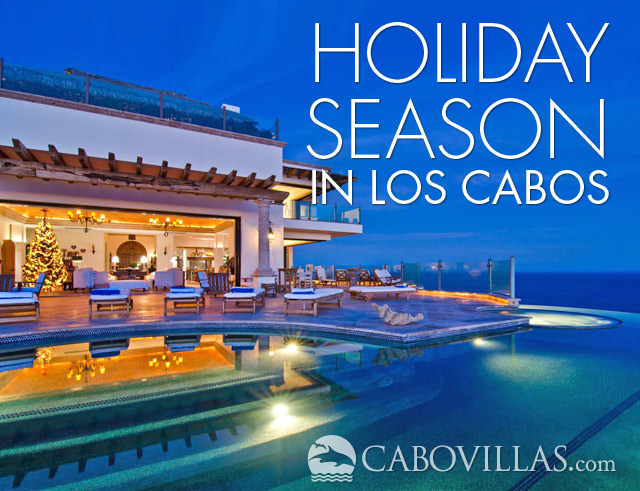 Trade in eggnog and parkas for margaritas and swimsuits this holiday season! Winter is a great time to visit Cabo for a relaxing vacation or to celebrate the holidays. Unwrap Christmas presents on the ocean-view terrace of your villa rental. Plan a New Year's Eve party complete with a gourmet menu and music. The privacy, comfort and value is ideal for groups. We can help plan the details, including chef services, spa services, dinner party décor and even Christmas tree delivery and decorations! Reserve your holiday season vacation rental in Los Cabos before it's too late!
---
Featured Christmas Villas
---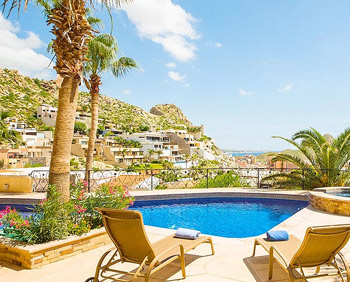 Villa Aurora
From $2,125/nt Christmas Week
5BR-5BA    /  6,000 Square Feet
Just a short drive to downtown Cabo San Lucas, this enchanting vacation rental offers a great location in the private gated community of Pedregal – along with ocean views and excellent amenties!
Read More…
---
Villas del Mar 152 Palmilla
From $2,500/nt Christmas Week
3BR-3BA   /  4,500 Square Feet
Directly overlooking a wonderful swimmable beach, this villa rental offers an ideal blend of luxury, views and location. You're a short stroll to the famed One&Only Palmilla. Soak up the warm sunshine on your inviting private terrace.
Read More…
---
Villa Leonetti
From $1,500/nt Christmas Week
4BR-5BA  /  8,000 Square Feet
You'll be able to enjoy some of the most breathtaking views of Cabo San Lucas Bay and the marina from the spectacular private swimming pool at Villa Leonetti. You're just minutes to the heart of downtown!
Read More…
---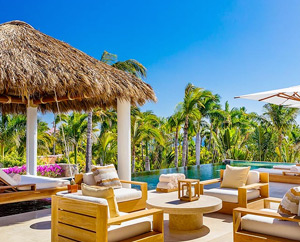 Villa One at One&Only Palmilla
From $15,000/nt Christmas Week
4BR-3.5BA /  5,300 Square Feet
Located at the legendary One&Only Palmilla Resort, this stunning villa offers an incomparable blend of exceptional luxury, beautiful design and access to the world-class services and award-winning dining of this exclusive vacation retreat.
Read More…

Search More 2016 Christmas Villas
---
Featured New Year's Eve Villas
Villa Kash

From $1,813/nt New Year's Week
 3BR-2BA  /  3,250 Square Feet
Looking to truly get away from it all this New Year's Eve? Look no further than beautiful Villa Kash located on the tranquil East Cape region overlooking a pristine stretch of beachfront.
Read More…
---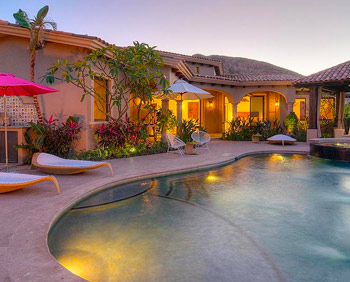 Villas del Mar 62 Las Entradas
From $4,950/nt New Year's Week
4BR-4.5BA   /  3,000 Square Feet
This breathtaking vacation getaway boasts an outstanding location within walking distance of the glamorous One&Only Palmilla Resort. A marvelous pool terrace with captivating ocean views is waiting.
Read More…
---
Villa Bellissima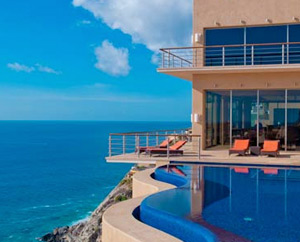 From $5,692/nt New Year's Week
8BR-11BA   /  24,000 Square Feet
One of the most luxurious private villa rentals in all of Los Cabos, Villa Bellissima is a stunning modern estate with two swimming pools and dramatic views of the Pacific Ocean.
Read More…

---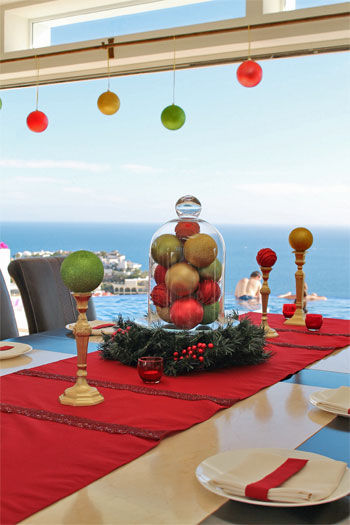 Christmas in Los Cabos
Christmas in Mexico is an enchanting time full of wonderful traditions. The streets in Los Cabos are usually decked out in whimsical style for the holidays. Historic downtown San José del Cabo boasts an annual "tree" created of lights and tinsel.
Las Posadas is one of the most well-known Christmas traditions from Mexico. This tradition re-enacts the search for shelter at the heart of the Nativity story. Processions take place in neighborhoods throughout Mexico on the nights leading to Christmas Eve ("Nochebuena") accompanied by singing and music.
New Year's Eve in Cabo
Cabo San Lucas is legendary for its nonstop nightlife and New Year's Eve kicks the party up a notch. New Year's Eve events include stylish parties at glamorous nightclubs complete with celebrity sightings, sophisticated dinner parties with live music, a spectacular fireworks show over Médano Beach and more.
Find your Holiday Season Villa Rental: